A developer has been ridiculed for using a giant image of socialist icon Che Guevara – to flog luxury flats.
The three-storey high poster of the Cuban guerilla leader chomping on a cigar bears the slogan: "A revolutionary place to live and work."
Homebuilder Ellson Homes has used the famous image to advertise flats at the new Cigar Factory development in Southville, Bristol.
But people around the world have ridiculed the 'outdated' marketing campaign on social media and dubbed the development "Chez Guevara".
A huge image was posted on Twitter by George Rowland and has since gone viral and been shared more than 4,000 times.
And one community group has labelled the poster "tacky" and "cheesy" and questioned whether it breaches copyright.
Nick Ballard of Bristol community union Acorn said: "Using the image of Che Guevara as a marketing tool has been going on since the 60s so this is nothing new.
"Actually it's tacky and dated.
"Presumably some highly-paid marketing exec thought 'Cigar Factory' and made the predictable and cheesy link to Cuban revolutionaries.
"That said, given the desperate housing situation here in Bristol it's particularly tacky to use it to market flats that will be well beyond the means of most local people.
"That Cuban housing policy is so much fairer on tenants than our own only makes it worse.
"The truth is that Bristol and the country as a whole genuinely does need a revolutionary approach to our housing sector that makes it decent, secure and affordable for all.
"I wonder if Ellson Homes have secured permission for use of the image – contrary to popular belief it is subject to copyright."
The site, billed "an exceptional post-industrial building", is destined to become 4,700 square feet of offices and commercial space with luxury flats on the upper floors.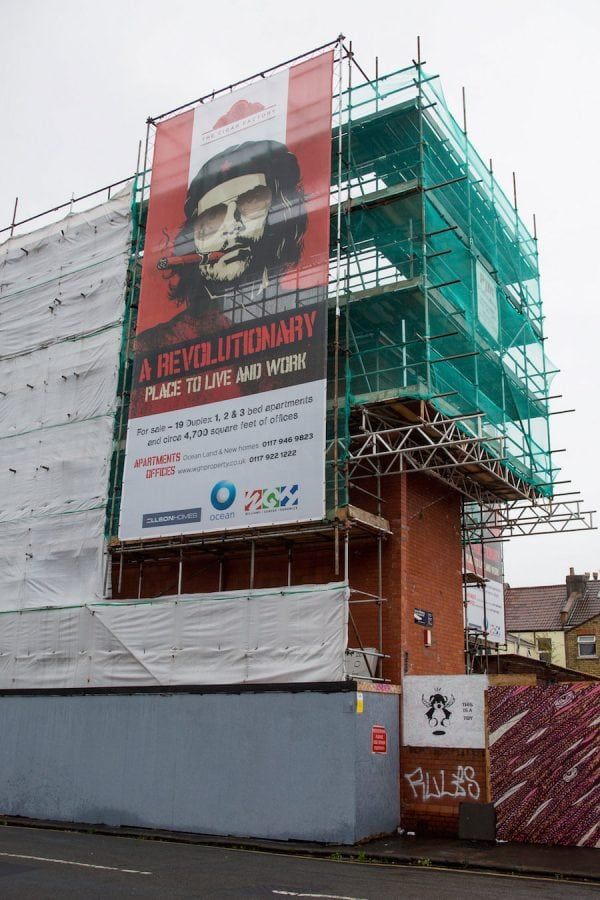 * Ernesto "Che" Guevara was a Marxist revolutionary who led the rebel army with Fidel Castro to overthrow capitalist Cuban government in 1959.
He became a minister in Castro's communist government which brought in laws abolishing landlords, giving renters the chance to buy their own homes at a low cost and made the state responsible for providing housing.
Cuban law prohibits homeowners from selling their homes privately or buying properties because Castro believed property speculation violates socialist principals.
it is likely that Che would have been as upset as the army of Twitter users at his appearance as an advertisement for luxury post-industrial flats.
Ellson Homes has been approached for comment.