UPDATE:
A series of huge explosions that rocked Derby city centre yesterday caused chaos for Bank Holiday travellers after roads and rail routes were closed.
The blasts heard across Derby were caused by gas cylinders in a factory fire, senior fire officers have said.
Dozens of firefighters from three counties dashed to tackle a blaze which broke out at a factory on Enterprise Way in the city.
Residents reported hearing up to four loud explosions at around 1.40pm and were advised to keep their windows closed.
Firefighters are still on the scene at a commercial premises in Enterprise Way, Derby.
A spokesperson for East Midlands Ambulance Service said no-one had been injured by the blasts.
Streets including Fox Street, Clark Street, Stores Road, Prime Parkway, and Mansfield Road were all closed by Derbyshire police yesterday.
This morning, all those streets had reopened.
Train routes were also disrupted yesterday but, this morning, East Midlands Trains and CrossCountry are back to normal so far.
Trains were stationary on the railway bridge near the scene.
East Midlands Trains said routes into London, Nottingham and Sheffield were "disrupted" by the blaze.
Ten fire crews attended the blaze at a factorty that makes rubber matting for children's playgrounds.
A Derbyshire Police spokesperson said: "An investigation is under way as to the cause of the fire, but it is not thought to be suspicious at this time."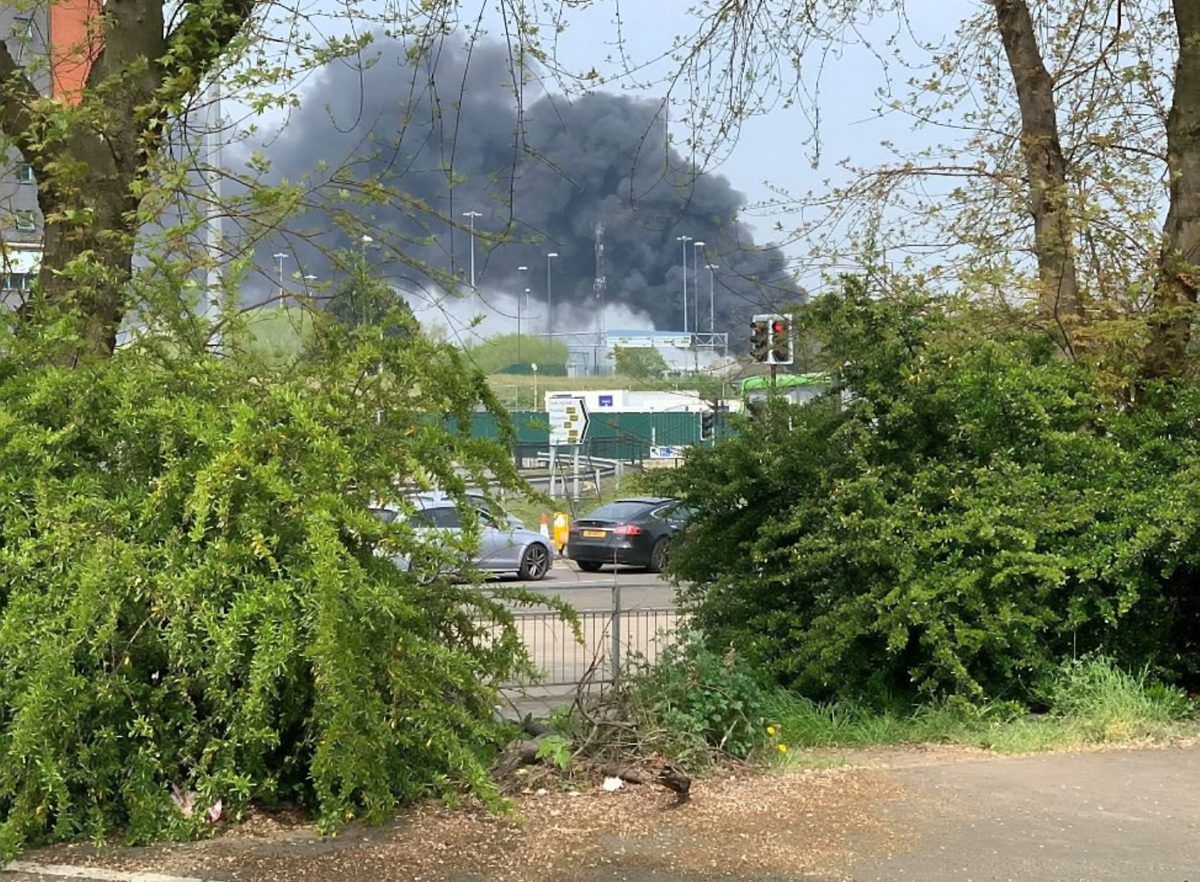 Writing on Facebook, John Collins said: "Bonkers, I heard four massive booms in Derby at lunchtime.
"Thought my windows were going to cave in. Hope no one hurt. You can see smoke all over the city."
Adrian Mannion tweeted: "Goodness knows what just happened in Derby. Heard big explosion and loads of smoke."
Twitter user SarcasticKay posted: "Huge explosions where I live. Saw one of them from my garden. Hope noones hurt."
MORE FOLLOWS