The Daily Mail has been accused of splashing unrepresentative poll results on its front page to give the impression that the public back Theresa May's Brexit deal in a bid to help rally MPs to support the unpopular deal.
Its "exclusive bombshell poll" apparently revealed that Brits want MPs to rally behind her deal and that the public say it is the best on offer "by a huge margin".
But they did not splash the inconvenient truth revealed by her poll: that 46 per cent of Brits would prefer to stay in the EU as opposed to 37 per cent that would rather have Brexit on the proposed agreed terms.
In fact analysis of Survation data ran for the same paper two weeks ago appears to show that – by a large margin.
According to the polling data only 27 per cent of Brits supported the draft agreement while 49 per cent were opposed to it.
Another inconvenient result from the new poll Survation ran for the Daily Mail is that 48 per cent of the public support a Peoples Vote referendum, with just 34 per cent against holding one now.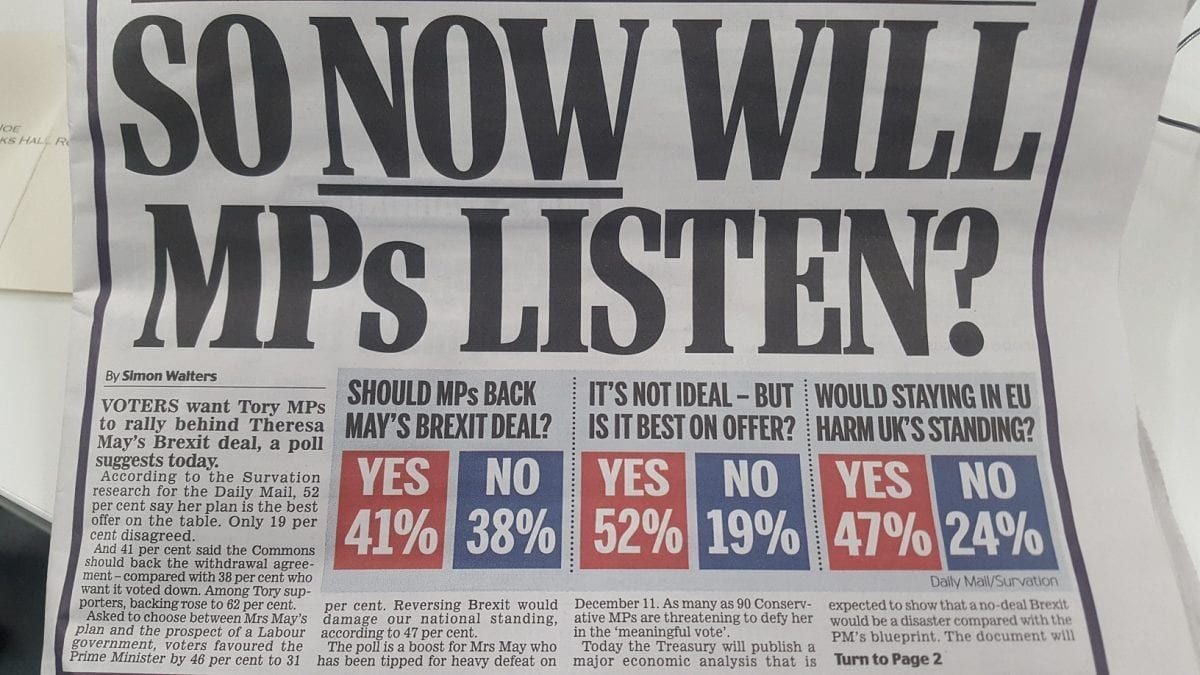 That contrasts with the figures splashed on today's front page of the Mail, which appear to show overwhelming support for the deal.
As a member of the British Polling Council Survation is obliged to publish the results of public polls.
The full details can be found on the Survation website.
After a poll ran two weeks ago returned the "wrong results" the Mail re-ran the survey with new questions, which they forget to mention on the front page today in headlines.
But they do include one line in the small print.
It reads: "Asked to choose between Mrs May's pan and leaving the EU with no deal. voters opt for no deal by 41 per cent to 35.
"When asked to choose between the Prime Minister's plan and staying in the EU, voters opt to remain by 46 per cent to 37".
It seems the Mail, under the stewardship of Geordie Greig, has selected statistics to misrepresent the reality, and gives an early indication of what to expect under the new editor, who recently urged Conservative MPs to back Mrs May's Chequers proposals.
More than 90 Tory MPs have suggested publicly they will not vote for Theresa May's deal; so has the DUP; and the opposition parties are committed to voting against it, which means she has an uphill battle if it is to pass through parliament.
At least she has the support of one Fleet Street chum.
RELATED
https://www.thelondoneconomic.com/news/this-is-theresa-mays-playbook-for-getting-her-brexit-deal-through-parliament/26/11/