The husband of a British mum whose sentence in an Iranian prison may be extended due to a colossal blunder by Boris Johnson, has demanded action.
Nazanin Zaghari-Ratcliffe has been languishing in a prison in Tehran since last April, since attempting to fly home to London after visiting family in Iran.
The Iranian Revolutionary Guard have accused the 38 year old of plotting to overthrow the Iranian government – claims her husband Richard Ratcliffe denies as he campaigns from London to have her released.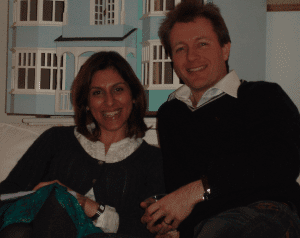 Their three year old child Gabriella has been staying with Iranian grandparents as petitions have called for her mother's release after she was sentenced to five years. – A sentence that an Iranian judge has now told the young mum may be doubled due to a gaffe by Boris Johnson.
While the Foreign Office is meant to be fighting for her release, Britain's Foreign Secretary has now put her at risk of being detained even longer by discussing her case in the House of Commons' Foreign Affairs Committee and making the mistaken statement: "When I look at what Nazanin Zaghari-Ratcliffe was doing, she was simply teaching people journalism, as I understand it."
Her baffled husband said he does not understand why Boris Johnson made the untrue claim, and that he took a "tearful" phone call from his wife saying Iranian authorities have now told her there will be a new charge against her of spreading propaganda, citing Johnson's comments as "proof."
Mr Ratcliffe and campaigners are demanding Boris Johnson publicly corrects his blunder and explains his mistake as Mrs Zaghari-Ratcliffe now faces a doubling of her prison sentence.
So far there has been no apology from Johnson or attempt to correct his error, though he is expected to call the Iranian foreign office.
But there are calls for the Foreign Secretary to address the House of Commons today to publicly make clear that Mrs Zaghai-Ratcliffe was on holiday and not teaching journalism as he publicly claimed.
"I would like him to retract his statement in Parliament to say clearly that Nazanin was was not teaching journalism and Nazanin was just visiting family," insisted her husband, who urged Johnson to make the statement publicly in the House of Commons today before matters get worse, as well as visit his wife in Iran to help secure her release.
Shadow Foreign Secretary Emily Thornberry accused Mr Johnson of ineptitude and called for him to resign if there is any increase to the British mum's sentence.
After the Foreign Secretary's comments, Iran's High Council for Human Rights have said: "His statement shows that Nazanin had visited the country for anything but a holiday.
"For months it was claimed that Nazanin is a British-Iranian charity worker who went to see her family when she was arrested."
Her employer, the Thomson Reuters Foundation have demanded Mr Johnson "immediately correct the serious mistake he made", explaining that Mrs Zaghari-Ratcliffe is a project manager for the charity and has never trained journalists.
Labour are calling for the Foreign Secretary to be sacked, as well as Development Secretary Priti Patel who it emerged, broke serious ministerial code with secret meetings with Israeli politicians while ostensibly on holiday in Israel, after which she asked for British taxpayer-funded development aid be diverted to the Israeli Army for "humanitarian projects" in the contested Golan Heights territories.
Already facing calls to suspend MPs accused of serious offences in the Westminster sex harassment scandal, Theresa May insisted she has "full confidence" in Johnson and Patel.
RELATED:
Boris dubbed a f****** disgrace by Senior Conservative MP
Brit who was detained in Dubai faces losing his job after being placed on Interpol watch list
Boris Johnson's face as Kenneth Clarke exposes Tory hopeless lack of direction on Brexit
Boris Johnson – The most indiscreet man in public life in charge of MI6 and GCHQ
Watch: Emily Thornberry takes aim at Boris Johnson with this paternity test troll
"Boris Johnson pic" in women's underwear 110 years ago is breaking the internet