The 'Beast of the East' claimed its first elderly victim today when a 75-year-old woman was found dead near her home in sub-zero conditions during a blizzard.
The un-named OAP, believed to have been confused shortly before her death, was discovered lying partially under a car at 6am as temperatures plunged as low as – SIX degrees celsius.
It's not known how long she was laid there unnoticed but police said there is nothing to suggest her death is suspicious and enquiries today continued.
It's understood the woman lived close to where she was found in Farsley, near Leeds West Yorks., and was found by a commuter on their way to work.
Police are appealing for witnesses who may have seen the woman in the early hours and say she could have appeared confused at the time.
Officers were at the scene this morning where a tent was put up in the thick snow as blizzards continued in Farsley, West Yorks.
A cordon outside the East Court flats in Well Street also remained in place shortly before 11am.
Detective Inspector James Entwistle, of Leeds District CID, said: "We are currently carrying out enquiries into the circumstances but at this stage there is nothing to suggest her death is suspicious.
"We have established the woman's identity and are in contact with her family.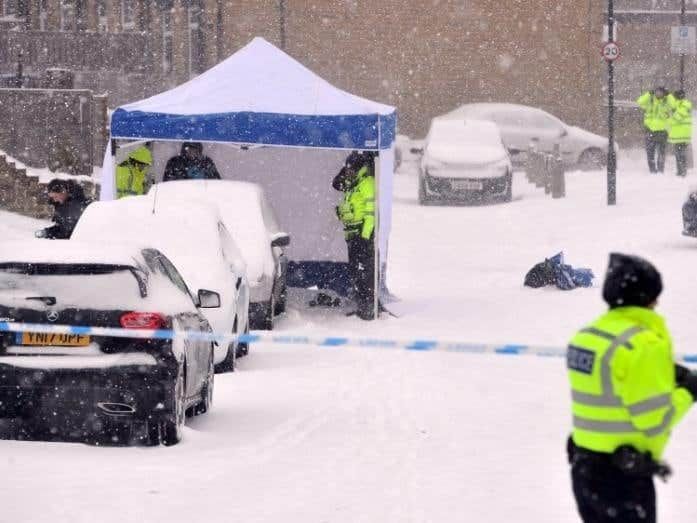 "We would like to hear from anyone who saw her in the area at any time prior to her being found this morning. She may have appeared confused."
Anyone with information is asked to contact Leeds District CID via 101, quoting log number 191 of today.
https://www.thelondoneconomic.com/news/met-issues-first-ever-red-weather-warning-hundreds-schools-closed-uk-gripped-beast-east/28/02/
https://www.thelondoneconomic.com/news/london-cold-regents-canal-frozen-solid/01/03/