An activist scaled a 150-year-old oak tree today (mon) in a bid to prevent it from being felled by a local council.
Residents gathered in the street where the tree is sited today (October 16) in the hope of stopping the council from tearing it down.
TV presenter Vernon Kaye is among campaigners who have appealed to Sheffield City Council to re-think pavement resurfacing plans and save the much-loved oak.
In a video appeal, he said: "Sheffield Council, come on.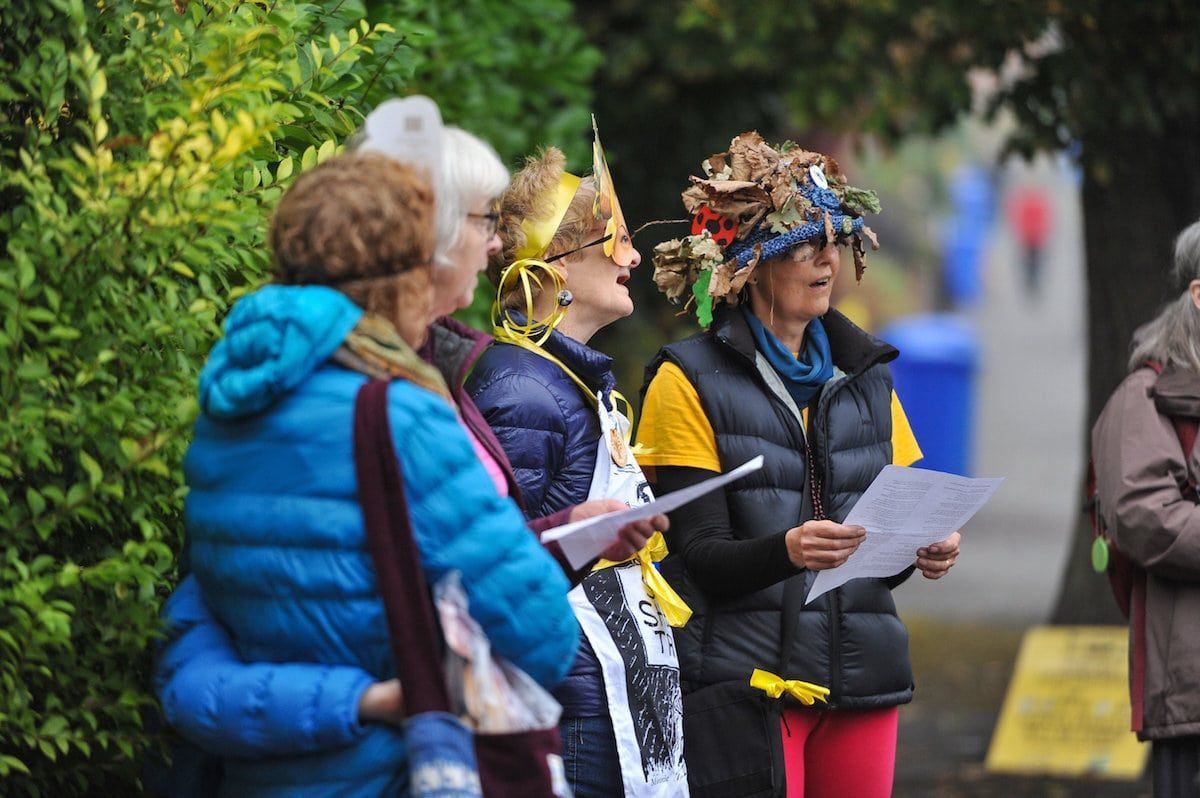 "It's only a pavement – I'm sure you've got a few quid somewhere that you can re-design that pavement around that tree that's been in Sheffield longer than everyone in Sheffield."
Campaigners have converged on Sheffield's Vernon Road, South Yorks., bedecked in yellow ribbons and singing songs ahead of announcement that felling was due to start this week.
One campaigner has even scaled its branches with a climbing rope, telling onlookers "I'll stay here all week if I have to" as they passed him food and supplies from ground level.
Resident Sue Unwin has created a focal point for campaigning in her back garden and has messages on display from various protesters including MP Nick Clegg.
Appearing on the street today, Sue from Sheffield Save Dore, Totley and Broadway Trees, said: "I sincerely hope this tree can be saved.
"I've lived here for 20 years and it's the first thing I see in the morning.
"There's a guy up the road who is 93 – he and his mates used to meet at the tree when they were kids.
"The first part of the street was built in the 1930s and then they extended it in the 1960s with some quite dull houses.
"We just don't have many large street trees in the street here."
The protest comes in the midst of a bitter row between activists and Sheffield City Council over a 25-year highways maintenance project with a private contractor which will see thousands of trees felled.
Since the Sheffield's "Streets Ahead" project began in 2012 5,600 trees have been felled with 400 set for removal by the end of the year.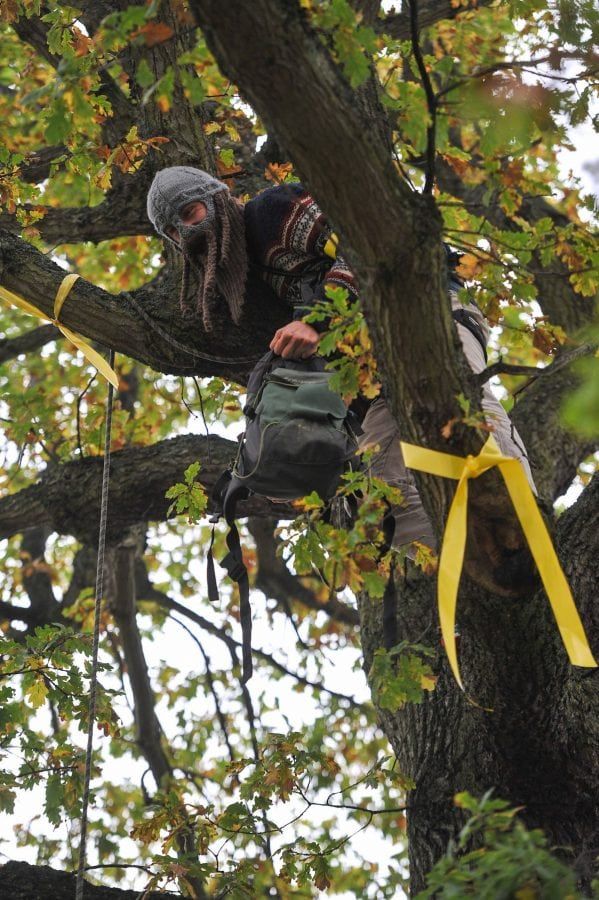 The oak tree on Vernon Road in the well-healed Sheffield suburb of Dore preserves a time when the now built-up suburb was nothing more a few Derbyshire fields.
It has become one of the most important trees in Sheffield's campaign against the city council's campaign against felling.
Protester Margaret Peart, also of Save Dore, Totley and Bradway Trees, who is out on the street, said: "Vernon Oak has been growing where it is for at least 150 years and it is a perfectly healthy tree which preserves a time when Dore was agricultural.
"There was a time when this tree was growing in a field in Derbyshire – before Dore became part of the city of Sheffield.
"There are pictures which show the fields here before Vernon Road was built and the tree is in them.
"Not only is this tree beautiful but it's important culturally and for the area's heritage."
"If we lose this tree it will be more than sad – it will be the disastrous and totally unnecessary depletion of green areas.
"If we don't manage to stop this tree being felled it may help somewhere else."
The latest Sheffield activist facing legal action is Sheffield Green Party councillor Alison Teal.
Calvin Payne, 45, a Sheffield historian and tour guide, is charged with breaking the injunction and inciting others to do so.
He said: "People who have never broken the law in their lives are considering breaking this injunction now.
"I will be pleading not guilty on the basis that I do not think breaking this injunction is a crime.
"I could be looking at a short prison sentence but you get to the point where you don't care what they threaten you with any more."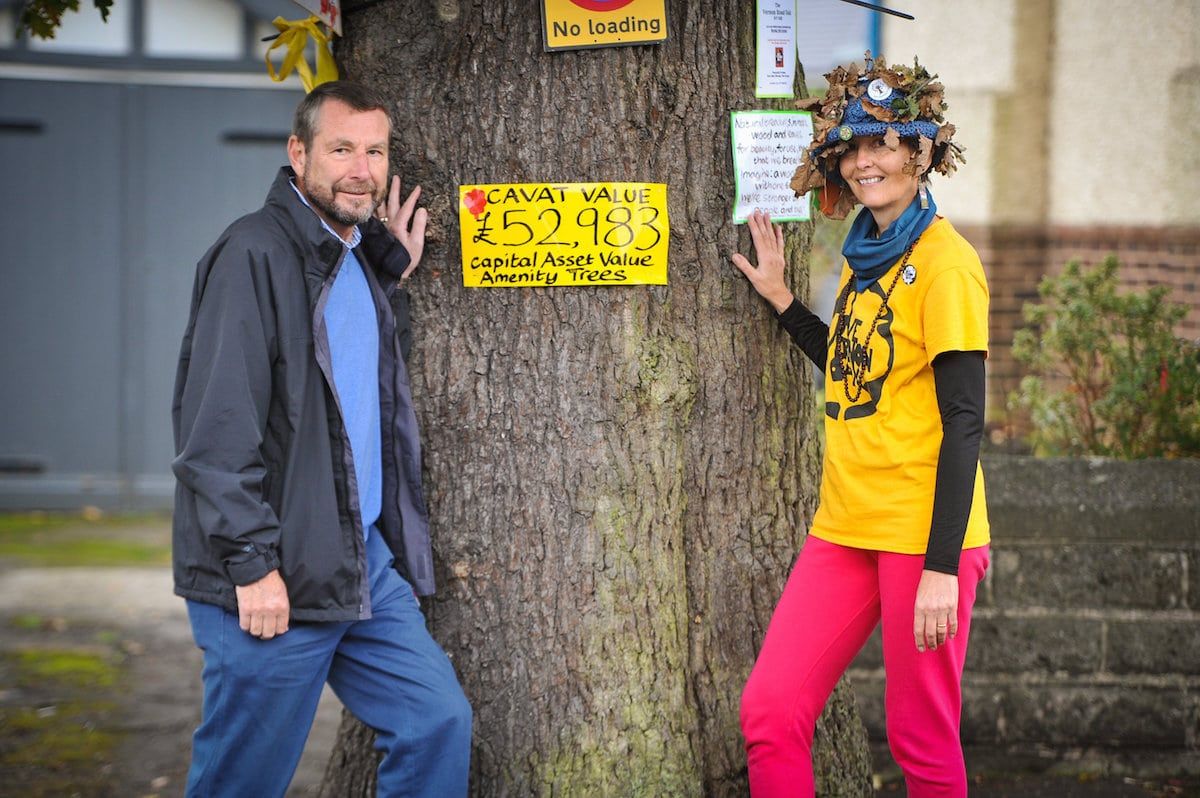 Councillor Bryan Lodge, Cabinet member for Environment and Street Scene at Sheffield City Council said:
"Unfortunately, a very small number of tree activists are continuing to trespass inside the exclusion zone erected around tree works despite a High Court ruling stating that anyone who did so is acting unlawfully and would be in contempt of court.
"The continued breach of the injunction is both disappointing and unacceptable and will now result in further court action and potential imprisonment for those involved.
"What's more, this direct action is in complete disregard of the law and goes against the wishes of the majority of people in Sheffield who are in support of our work.
"The purposeful breach of the civil ruling means the Council will now follow all associated legal steps to ensure committal for contempt for those involved."
https://www.thelondoneconomic.com/must-reads/watch-shocking-footage-shows-fuming-farmer-repeatedly-ram-hunt-sabs-quad-bike/16/10/
https://www.thelondoneconomic.com/must-reads/heartfelt-plea-writer-whose-son-cruelly-stripped-disability-benefits-needs-shared/24/08/