An activist who camped in a tree to protest a hotel development is facing a crippling legal bill of up to £50,000 after losing his appeal against a court ruling.
Simon Byrom, 49, lived 20 feet above ground in a sycamore tree for a week to demonstrate against a 225-bedroom hotel being built in a historic part of town.
The community councillor slept in a leaky tent which overhung wooden hoardings around the perimeter of the site in the Cowgate area of Edinburgh.
Mr Byrom argued development plans would put the nearby Central Library at risk and destroy the unique atmosphere in the Old Town.
And he was backed by more than 5,000 people who signed a petition to protect the library and stop the development of the hotel.
But now Mr Byrom expects a £50,000 legal bill after losing an appeal at the highest civil court in the land.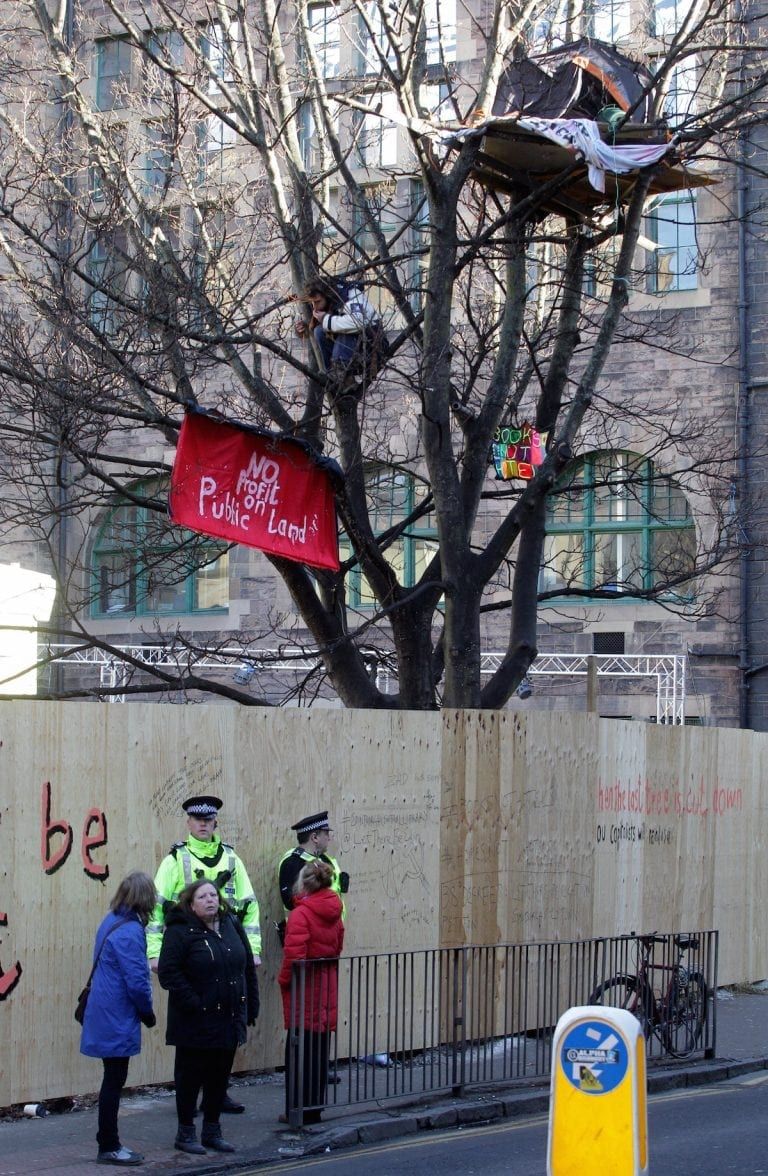 He says his home is now "on the line" as he expects a legal bill of up to £50,000 following the Court of Session ruling.
Mr Byrom was appealing Judge Lady Wise's ruling in October 2017 that the council acted correctly when it allowed developers Dreamvale Properties Development Limited to create a 225-bedroom hotel.
He said: "What's more important than the money is the future of the Old Town and the reputation of the city.
"It didn't go well and I was shown no mercy. I was told I was there to represent myself, not others.
"It's much more than disappointing, it's potentially devastating.
"The Old Town community is now hanging by a thread – ravaged by the Airbnb
movement.
"It now means when we're faced by large planning applications, we simply don't have the means to resist, be it presence of community or finance."
Dreamvale went to court to get him removed from the tree last year.
They claimed they were unable to carry out work which had a significant financial impact on the city and argued the tent was potentially dangerous.
Mr Byrom argued the plans would have a negative impact on the nearby Central Library on George IV Bridge.
The library opened in 1890 after Scots American tycoon Andrew Carnegie donated a large amount of money towards its construction.
Lawyers acting for him argued that councillors failed to follow correct procedure when they granted permission for the scheme in November 2016.
But Lady Wise disagreed, concluding that the local authority had acted correctly.
Her judgment read: "I have no doubt that the petitioner and other residents within the Old Town conservation area are strongly and genuinely opposed to this proposed development.
"However, no errors in the decision-making process have been established and the approach taken by the respondent on the basis of the available material cannot be regarded as irrational or perverse."
https://www.thelondoneconomic.com/must-reads/watch-shocking-footage-shows-fuming-farmer-repeatedly-ram-hunt-sabs-quad-bike/16/10/