One of Britain's oldest criminals has been told he will probably die behind bars after being jailed for sexual abuse aged 97.
Christopher Stowe will spend his 100th birthday in prison after he was caged for six years for indecently assaulting a young girl during the 1970s.
Warwick Crown Court heard the paedophile abused the youngster when she was aged four and five on four separate occasions when he was in his 50s.
Stowe, who was born on Christmas Day in 1921, was arrested after the victim, now in her 40s, finally plucked up the courage to report the matter to police in 2017.
On Wednesday he was jailed for six years after he pleaded guilty to three counts of indecent assault and one of gross indecency on the first day of his trial.
Stowe was told he would more than likely die behind bars unless the Parole Board freed him earlier on compassionate grounds.
Sentencing, Judge Sarah Buckingham told him: "You would have been in your 50s when this happened, and she would have been three, four or five.
"You said in the police interview you wanted to apologise to her to her face. That apology is far too late.
"The effect on her has been profound and long-lasting.
"You did express some remorse when you were interviewed, but you did not plead guilty until the day of your trial.
"Of course I have had regard to your extremely mature age, and that there is a very real prospect that you will end your days in custody.
"But balanced against that is the obvious harm you have caused to her.
"Only a custodial sentence can be justified. Your counsel has submitted it should be suspended.
"I am afraid some offending, however historic, and however mitigated by your otherwise good conduct, is too serious for that."
She said it was open to the Secretary of State, at any stage, to release him on compassionate grounds.
The judge added: "The Secretary of State does have the power at any time to release a defendant on compassionate grounds.
"That is an avenue which may be open to the Secretary of State in your case."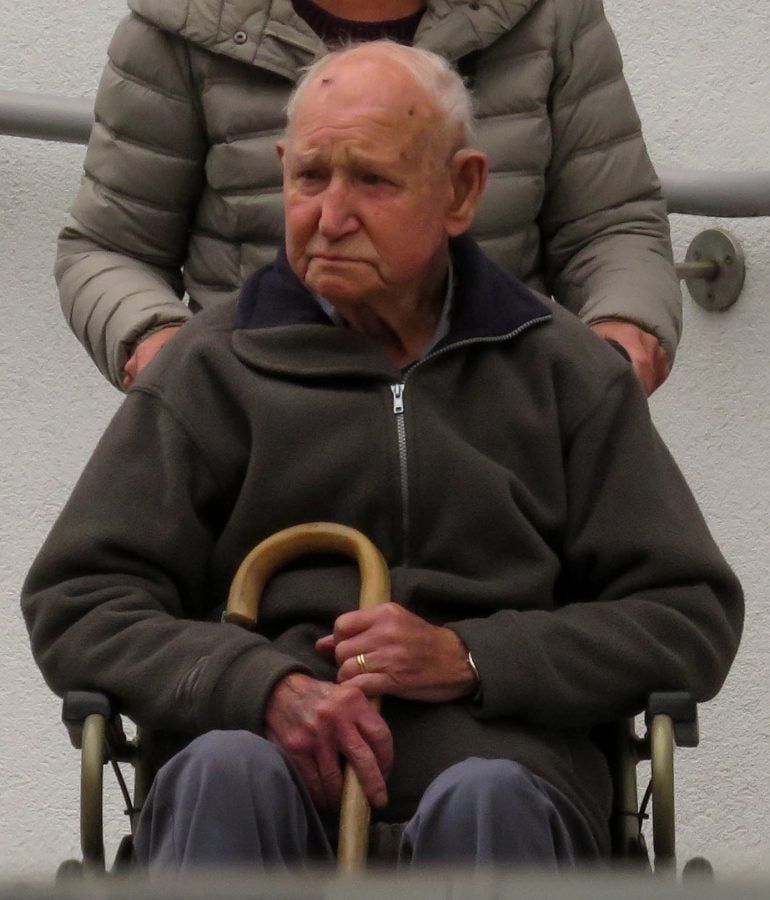 Prosecutor Peter Cooper said Stowe, of Coventry, preyed on the girl, whose parents he knew, when he was alone in a room with her.
On one occasion he touched her intimately and on another occasion he exposed himself and got her to touch him.
Stowe then told her not to tell anyone because they would not believe her.
When police went to his home to arrest him, Stowe "made admissions that what he had done was wrong,"but claimed he had touched her "but nothing else."
Mr Cooper said: "He said it had happened only about twice, and that he wanted to tell her how sorry he was and to seek her forgiveness."
Reading a statement in court, his tearful victim said the incidents had ruined her childhood, making her feel worthless and dirty, and had continued to affect her in her adult life.
Urging the judge to impose a suspended sentence, Adam Western, defending, said: "He is a man reaching the end of his years, he no longer poses and risk or threat to anyone.
"He's someone who has rehabilitated himself.
"He is plainly not the same man who committed these serious offences over 40 years ago. His expressions of shame, remorse and contrition are genuine."
Mr Western said Stowe, who was diagnosed with heart failure in 2017, from which he has recovered, uses a wheelchair and cannot walk unaided, has poor eyesight and has been referred to a specialist because of suspected skin cancer.
Mr Cooper added: "This is a physically and mentally frail man. Prison would bear down on him much harder than on other inmates.
"He would be vulnerable to bullying, and it would bring down his already short life expectancy.
"It's likely any sentence of any length would mean his death in prison."
By Ben Gelblum, Arun Lal and Paul Beard
Member of House of Lords charged with four historic sex offences against children will stand trial
'Dangerous' monster who abused girls as young as six brought to justice by them
MI5 files reveal Thatcher supported key ally over child sex abuse claims