A man has smashed his way into the Guinness Book of World Records – by breaking over 200 walnuts with his head within 60 seconds.
Navin Kumar nutted his way to the bizarre record by breaking 217 walnuts using just his skull.
The 22-year-old was officially recognised as a world record holder yesterday.
Navin said he was inspired to undertake the crackers challenge after watching a previous record-holder on YouTube.
Navin, who lives in Andhra Pradesh in India, said the first time he tried to crack a walnut on his bonce he was left with a headache which lasted a week.
But through "grit and determination" the psychology graduate went on to break hundreds in front of Guinness World Record judges.
"While randomly going through YouTube videos I came across Pakistani citizen Muhammad Rashid setting a Guinness world record by breaking the most number of walnuts in 60 seconds with his head."
Watching those videos, martial arts enthusiast Navin saw a challenge.
He said; "First, he set a record of breaking 155 walnuts in a minute, and a year later he broke his own record by breaking 181 walnuts.
"I then decided to set a new record in this category.
"I had been practising for one year. It was not an easy task. In the very first attempt I made to break a walnut with my head, I had a headache which lasted for a week.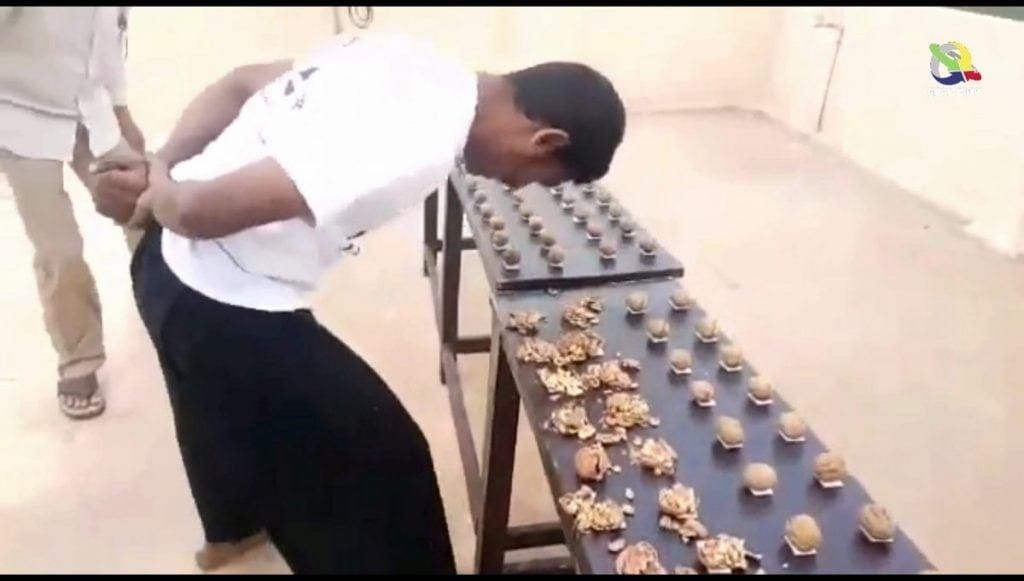 "Gradually, through practice and grit I got used to the pain, and was able to shatter Muhammad Rashid's record.'
In November last year, Navin set a new Guinness world record for smashing the most number of walnuts with head in a minute.
Navin methodically smashed the nuts, which were laid out in rows of two, while keeping his hands locked behind his back, all in the presence of representatives of Guinness World Records.
Yesterday (October 8), he was awarded the official Guinness world record holder certificate.
Watch Video Here