A dad is gutted after his family persuaded him to get a Saturday Night Takeaway tattoo done to win a TV competition – hours before Ant was arrested for drink-driving.
Kelvin Jackson-Bowers, 36, had an image of Ant and Dec inked on his calf with the words '#SaturdayNightTakeaway' in a bid to win a trip to Florida for the final show.
The oil refinery worker entered the show's Twitter competition which challenges viewers to come up with wacky ways of creating the Ant and Dec hashtag.
Winners bag seats for their family and friends on a plane to Florida along with seven nights at a hotel and access to Universal Studios in Orlando.
The 200 lucky winners will also take part in the final show of this series which will be broadcast on April 7.
But the dad-of-three fears his dedication could be in vain after the show's future was put in jeopardy following Ant's arrest on Sunday afternoon.
Ant McPartlin has returned to rehab following his car crash.
And Declan Donnelly has just announced that he will present the last two shows of Saturday Night Takeaway solo putting their TV presenting duo's future in doubt.
Kelvin, of Stoke-on-Trent, said he went under the needle after being inspired to enter the competition by his wife and six-year-old son Harry.
He said: "It took my family about a week to finally convince me to do it.
"My son Harry absolutely loves the show. We all watch it every week and he has been fixated on the competition to fly to Florida so my wife has entered it every week.
"The competition has different Twitter challenges every week and this is the first time they have needed my help.
"They wanted to recreate a hashtag so my wife had the brainwave of using my own skin.
"At first when she asked me on the Monday I said no way but I gave in.
"My father-in-law is a tattoo artist and he did it on Sunday afternoon. I couldn't quite believe it that just hours later Ant was all over the news for being arrested.
"I never thought the show would be in doubt but now that this week's show has been cancelled, I'm not convinced it'll be back on air.
"Now I'm left with a tattoo of Ant and Dec on my calf and the show might never come back on TV.
"I mainly had the tattoo done for Harry. I already have tattoos including a full sleeve but this one was to try and win tickets on the plane.
"To be honest I've taken it well. As far as I am concerned having the tattoo is a bit of a
laugh. If I had won I would have had it framed but Harry is a bit gutted.
"I don't blame Ant at all. I feel sorry for him. I think he probably needs some help. I just hope he gets himself sorted and gets back on TV."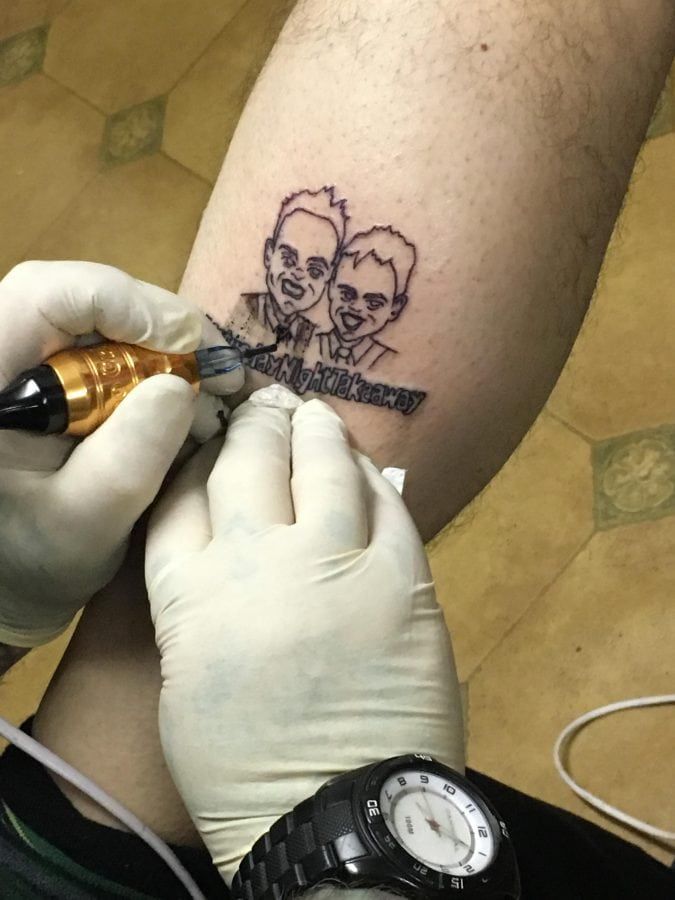 Kelvin, who lives with wife Emma Jackson-Bowers, 35, and their two other children, five-month-old daughter Robin and 11-year-old son Lewis, is beginning to regret his tattoo.
Emma said: "I saw that people were entering the competition and I thought that a tattoo would win it.
"When I saw what had happened on the Monday my first thought was for how sad it was for Ant and then my second thought was thinking about my poor husband having the tattoo and my stomach dropped.
"We told Harry about what happened and he said 'why didn't Ant just ask his mummy to drive the car if he wasn't feeling well?'"