A woman was punched by a racist punter when she turned him down for sex – breaking her FACE in three places.The horrific incident, happened in Doncaster in the early hours of Sunday morning (Apr 16).
The attacker had been demanding sex from the woman, all evening, at the club where she works as an exotic dancer.
Anastasia Frances, 21, suffered a shattered cheekbone and broken eye socket due to the sickening blow while trying to break up a fight with the yob and her partner.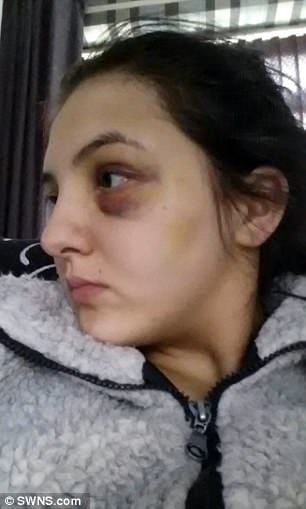 The mother-of-one from Leeds said her attacker offered her cash for sex at the strip club where she worked in Doncaster.
When she turned him down he left – but waited for her outside. He then followed her to a taxi rank and began calling her boyfriend a 'n*****'.  During this confrontation he hit Miss Frances with a vicious blow.
She underwent surgery to have two metal plates put in her face after the horrific attack.
Miss Frances said: 'I'm conscious about my face now and the left had side of it is completely numb.
'I daren't go back to work now – and people might remember me for this now.
'For people saying I shouldn't be a stripper. I'm a erotic dancer – not a prostitute. This bloke has no right to be able to have sex with me.'
'I enjoy stripping – but this has made me think twice about doing it.'
Read "Watch – Police officer leaves the force to become a stripper & makes more cash" Click Here
Watch Video Here