A mother claims a rat the size of a small dog ran up her son's leg after a plague of the rodents has hit her neighbourhood.
Kaylee Kennedy, 28, says the rodents are out of control after invading the area around her home.
She claims they have chewed through the wires of her car and caused her to run out of gas as she's too terrified to go outside.
Kaylee said: "The rats are huge, they are massive.
"If you go out in flip flops, the rats run right across your feet. It is horrible.
"I broke down on the M1 and had to call the AA when they lifted the bonnet they found the rats had chewed through my car cables.
"The AA said it could only be rats."
Kaylee, of Milton Keynes, Bucks., first spotted the rodents last month and says they are becoming fearless of people.
She said: "One rat also ran up my 21 month old son's leg.
"The rat was stuck and couldn't get anywhere so the alternative was to run up someone.
"The rats are not scared they are getting so used to us, they just run past you."
Kaylee says she is so scared of the large creatures that she has even gone without gas because she can't bare to face them.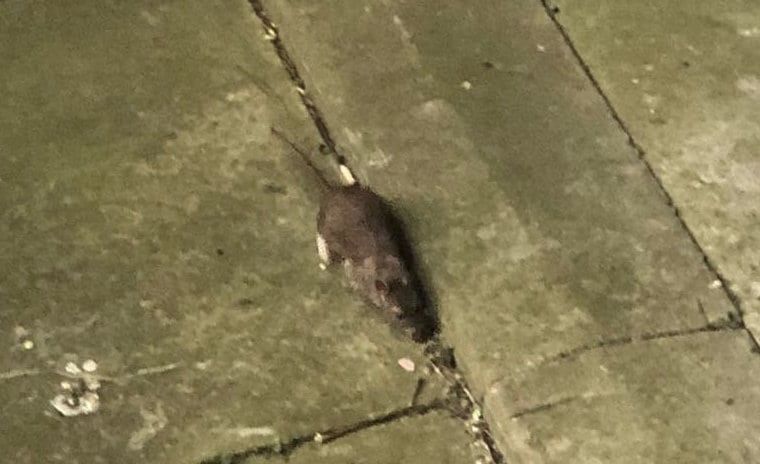 She has to top her gas up on a metre just outside her flat and says the rodents surround her as she stands their.
Kaylee said: "I go down stairs and put our gas on and when you are waiting for the gas to come on, there are rats running up and down.
"I don't ever want to put our gas on.
"I have gone a couple of days without putting my gas on for the simple fact that I don't want to go down there.
"I have to wait for my dad to come round.
"My dad even says that they are the size of a loaf of bread."
Milton Keynes Council no longer has an in-house pest control service.
It uses private contractors called DialAPest, which is part of SDK Environmental Ltd.
They charge £39.50 for rat control, while people on benefits or qualifying for concessions pay a lower rate of £19.75.
A council spokesman said: "Council tenants should contact the Housing Team for advice about pest control in a council property.
"Vermin and other animals are attracted by food waste which is why we urge all residents to put their food waste into the green wheelie bin rather than into black sacks which can be ripped open by animals.
"Rubbish and recycling should not be placed out for collection too early either – the right time to put out waste is before 7am on the usual collection day or after 5pm the day before."
Watch Video Here
Police reveal list of timewasting 999 calls including a person who complained about the Red Arrows waking up their baby
A cocky artist has highlighted the town's potholes by drawing large penises