A teen biker plastered bacon on worshippers' cars after being asked to be quiet outside a mosque, a court heard.
Giulio Vines, 19, took offence at the way he was spoken to after being asked not to ride his noisy Suzuki Bandit as Muslims prayed during Ramadan.
He returned a few days later, bringing with him a pack of bacon, before plastering it on four vehicles outside the Omar Faruque Mosque in Cambridge.
A Suzuki Bandit was caught on CCTV near the scene, which was then traced back to Vines.
At Cambridge Magistrates' Court on Monday, prosecutor Sandra Dyer said: "Some people came out of the mosque and asked him to be quiet.
"He didn't like the way he was treated."
The court heard Vines, of Cambridge, was riding around with friends outside the mosque on June 7, when someone came out to speak to them.
Worshippers found the bacon on their vehicles after leaving the mosque at around 12.15am two days later.
Miss Dyer told the court the words of a worshipper, who said: "I feel I have been targeted because of my faith.
"I am a peaceful, law-abiding person who went to the mosque for prayer."
She said Vines claimed he had "nothing against Muslims" but that he "accepted bacon was offensive to Muslims".
Defending him, Monica Lentin said: "Initially my client and his friends had gone out on their motorbikes in the vicinity of the mosque.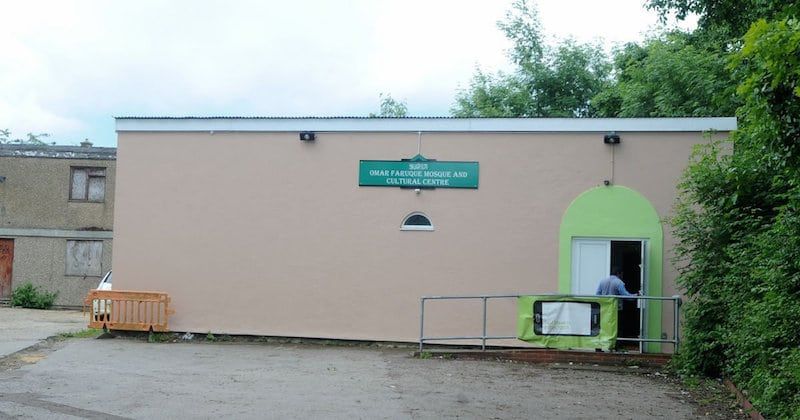 "They rode their bikes up and down. They didn't go out looking for any trouble.
"I think it's accepted by people in the mosque that somebody came out. He [Vines] didn't realise it was Ramadan.
"He said someone came out of the mosque and was actually aggressive to him. He just felt upset at the way he was spoken to."
"He knew what he was doing but he didn't fully appreciate the hurt and upset of the people whose cars he threw the bacon at," said Ms Lentin.
She added: "It was kids making noise, being told off and my client taking exception."
Vines admitted a charge of racially/religiously aggravated criminal damage.
A further charge of criminal damage was dropped.
The court heard that Vines later went to speak with two people from Omar Faruque Mosque, which the defence described as "an extremely constructive and very helpful discussion".
Ms Lentin said: "They accepted my client didn't intend to cause the harm he has. My client doesn't have and has not been brought up to have any hatred of anyone based on their colour, creed or anything else."
Vines was handed a 12-month conditional discharge and was ordered to pay £85 in costs, £25 compensation to each victim and a victim surcharge of £20.
Sentencing him, the bench told him: "We accept the defence's version of events. It wasn't hate crime. We believe this was an act of immaturity.
"We have heard that you have made contact with the victims who have shown compassion towards yourself."