A bridal party stranded after their Rolls Royce broke down still made it to the church on time after they were given a lift – by POLICE.
The car hired to take the bride, named Chloe, to her nuptials had broken down nearby so officers came to the rescue.
Police were called to reports of the car breaking down, and took time out of their lunch break to whisk Chloe to the altar where she married hubbie David.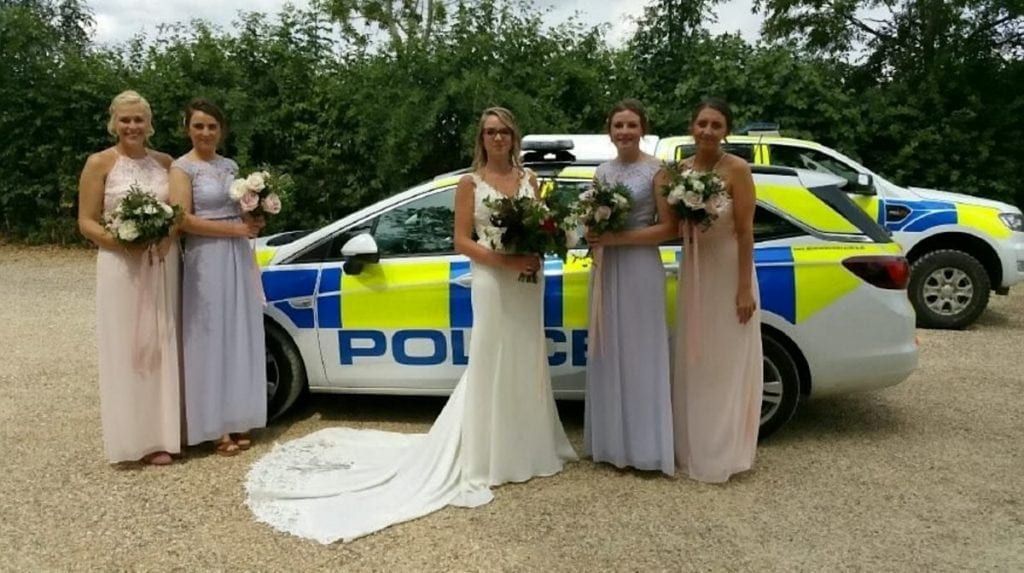 Chloe was waiting at a home for the wedding cars to arrive and was astonished when a police car turned up, driven by PS Andy Wood and PC Mark Weedon.
The kind-hearted officers gave the bridal party a lift to nearby Cripps Barn, Cirencester, Glos, and Chloe got to her wedding on time.
A post on the Cotswold Police Twitter account said: "Cotswolds officers on their lunch break gave a bride a lift to her wedding today after her transport broke down on the way to pick her up.
"The Rolls-Royce had broken down on Crickley Hill so PS Andy Wood and PC Mark Weedon came to the rescue to give the bridal party a quick lift to Cripps Barn and got them there on time.
"Congratulations to Chloe and David – we hope the rest of your day goes smoothly!".