These shocking photos show a loggerhead sea turtle with a spear piercing its neck.
Scuba divers carefully removed the spear after finding the injured reptile at Tofo Beach in Mozambique, Southeast Africa.
Luckily it hadn't pierced any vital organs and the turtle, which has a yellow underside and a brown loggerhead, dived back into the water and swam away once removed.
Genaye Domenico, 30, a volunteer for charity Marina Megafauna Foundation, was part of the team who rescued the turtle.
They had earlier encountered a critically-endangered juvenile hawksbill turtle caught in plastic – which was freed and released back into the ocean.
Genaye said: "Today, while on the way back in from my dive with Peri-Peri Divers, we spotted a juvenile hawksbill turtle tangled in a plastic woven bag which we cut loose.
"Quickly after, we found a young loggerhead sea turtle with a spear through its neck.
"We were able to grab the loggerhead, lift it into the boat and secure the turtle while we awaited a second boat to deliver us wire cutters, as the spear was fully attached to the spear gun.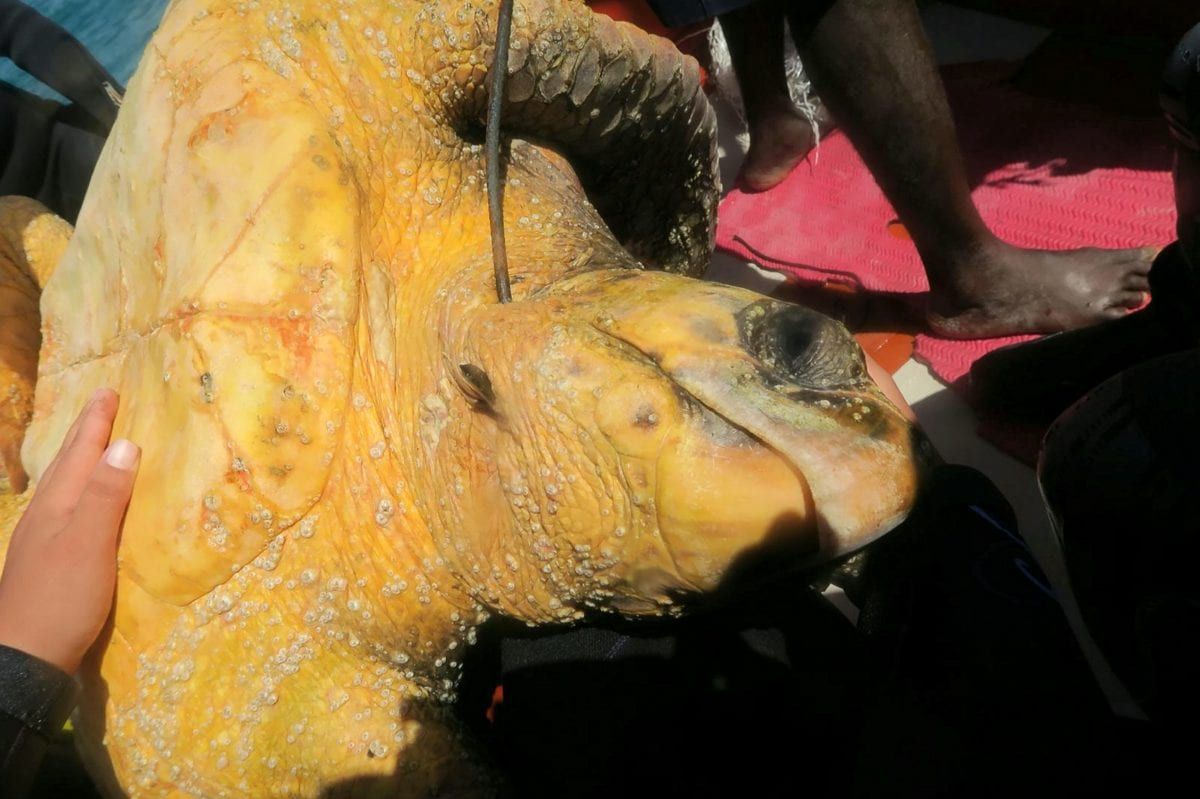 "Wire cutters were delivered, the spear was cut, pulled through the neck, and the loggerhead was released to the sea. Both turtles, after being helped, immediately dove deep into the sea.
"The spear has been given to the police."
Coastal police were quick to respond, taking the spear into evidence and launching an investigation.
Loggerhead turtles are currently listed as vulnerable and hawksbill turtles are critically endangered, according to the IUCN Red List of Threatened Species.
Campaigners say these horrific images highlight the threat of plastic and hunting on endangered creatures.
Jess Williams, marine conservation biologist and director of Tartarugas Para o Amanhã/ Mozturtles, said: "Despite legal protection for sea turtles within Mozambique, illegal take is still widespread.
"Small scale fisheries (SSF) are extensive throughout coastal waters along Mozambique's entire 2,700 km coastline, which happens to be the habitat for five of the seven species of sea turtles.
"Sadly, targeted hunting by spear-fishers and opportunistic by-catch is an ongoing problem and we believe hunting pressures on sea turtles may be increasing."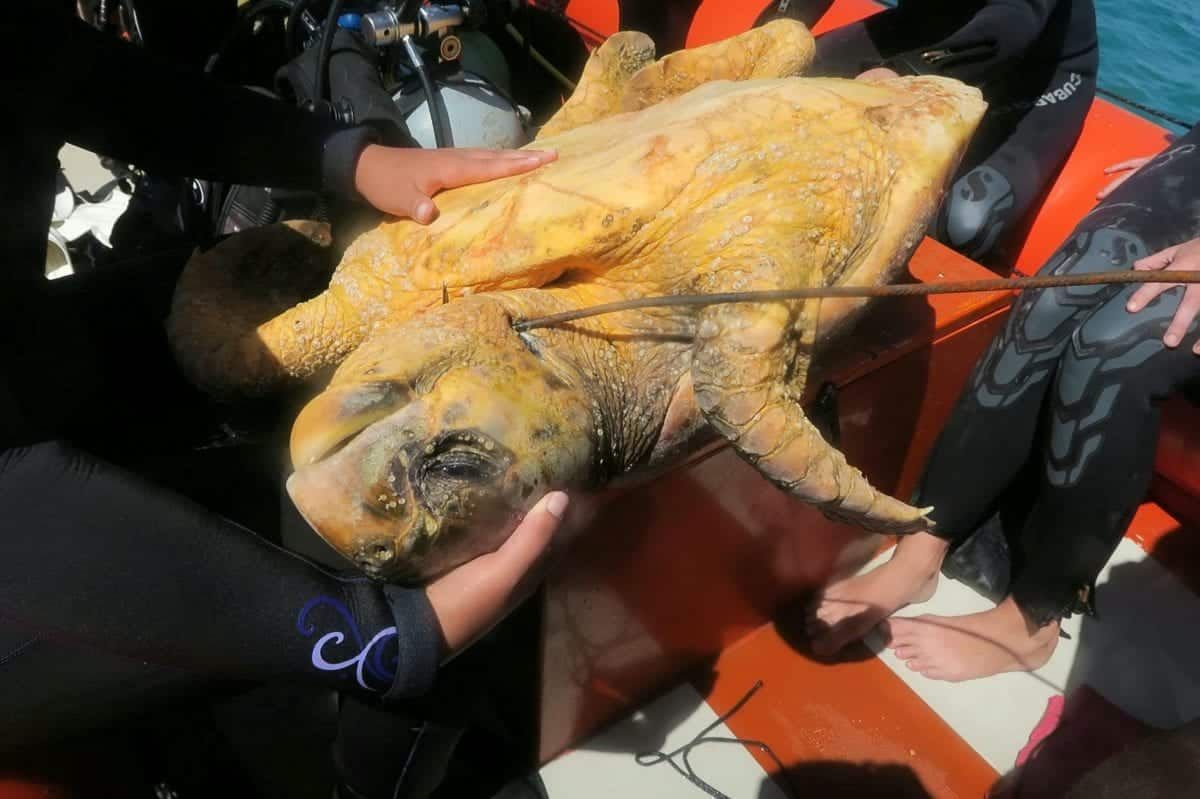 October to February is nesting season for loggerhead turtles from Bazaruto Archipelago south to Ponta do Ouro Marine Partial Reserve.
There is likely to be an increase of loggerhead turtles moving into coastal waters in this time – to lay eggs as they migrate back into the area.
Jess added: "It's particularly concerning to see animals in this life-stage facing threats such as targeted hunting, bycatch or entanglement.
"Turtles reach maturity around 20-30 years of age and each female lays approximately four nests in the season so mature individuals being removed from the breeding stock causes significant problems to turtle populations.
"It's crucial that efforts are made to accurately quantify the impacts of SSF here in Mozambique, and in other countries in the region, to enable us to accurately understand the scale of the threat to sea turtles at a regional level."
 Image credits: "Helen Armstrong, Peri-Peri Divers"