A sickening attack on an ambulance has sparked a police appeal after a rock thrown through its window narrowly missed a patient inside and showered the crew in glass.
The vehicle was transporting a passenger back to their home when the rock smashed one of the rear windows.
Officers are now appealing for witnesses to the "appalling" attack, which happened in Luton, Beds., at around 10.50pm on Thursday.
Staff at the East of England Ambulance Service Trust (EEAST) posted an image of the damage on Twitter, sparking anger.
The tweet read: "One of our PTS vehicles had a rock thrown through its window last night, with a patient and our crew inside. Thankfully they're all uninjured, but shaken."
Tracy Nicholls, director of clinical quality and improvement at the EEAST, tweeted: "Dedicated staff caring for patients should never have to deal with this mindless destruction.
"I know the crew comforted the patient but imagine how frightening this was for all concerned."
Samuel Carvalho wrote: "What would drive someone to do such a stupid thing to people who do nothing but good?"
An EEAST spokesman said: "At around 10.50pm last night (2nd August) a non-emergency patient was being transported back to their home, when a rock was thrown through the rear window.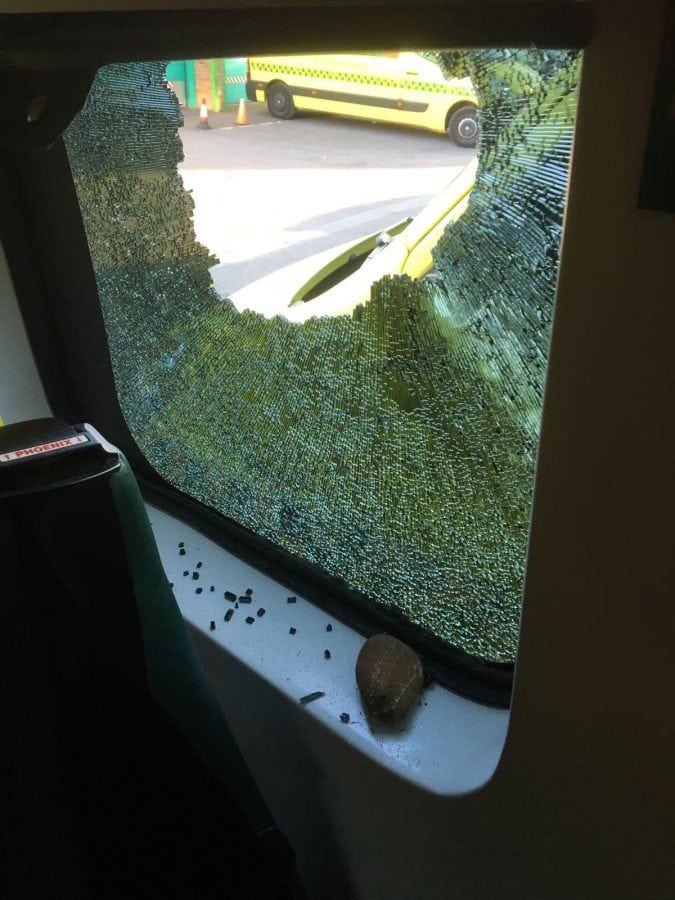 "The rock just missed the patient but showered the crew in glass, however all involved were uninjured."
Graeme Toliday, Interim General Manager, said: "It's horrible to think that someone felt it okay to behave in such a violent way.
"Our staff and the patient are physically unharmed however it was a terrible experience for them.
"The vehicle is now off the road for a period of time waiting to be repaired."
Russell Glenister, Inspector for Bedfordshire Police, said: "Attacking an ambulance service vehicle under any circumstances is appalling and we are glad to hear that both the members of staff and the patient were unharmed."
He urged anyone with information about the attack to come forward.