Shocking images have emerged appearing to show Lulu Hutley, 56, joint master of the Surrey Union Hunt, lashing out at the male activist with a riding crop.
Saboteurs took the images during a meet in Bramley, Surrey last weekend, in what has been violent hunting season, with many flare ups between anti-hunting protestors and those involved in hunting.
Tempers, again, flared when members of Guildford Hunt Saboteurs followed the riding party onto private land because they "suspected they were illegally hunting".
Protester Conor Macleod, who is in his 20s and was wearing a backpack, became trapped between a horse and a gate.
Hutley, wearing a distinctive Surrey Union master's collar and riding gear, appears to raise her arm and strike.
Collin Skilton, of Guildford Hunt Saboteurs, witnessed the altercation.
The 55-year-old, of Dorking, Surrey, said: "The saboteurs followed them on private ground because they suspected they were illegally hunting.
"They were asked to leave and they tried to make their way back.
"Conor, the lad who was hit, got jammed between the fence and Hutley hit him over the shoulder with the whip."
He added: "She lost her rag on the day. She lost her temper because they tried to hunt without us.
"Most people would find it shocking but it is part and parcel of hunts around the country. It has been a violent season."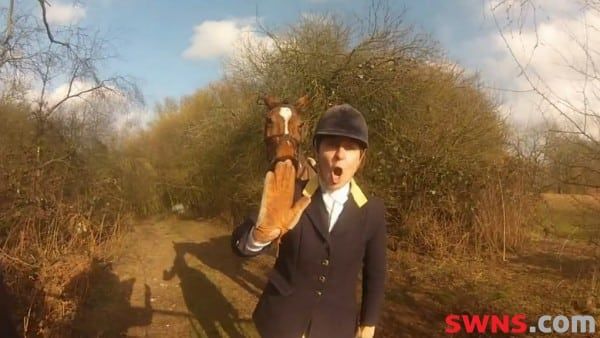 Hutley, a close friend of Sarah, Duchess of York, 57, and is godmother to her daughter, Princess Eugenie of York, 26.
Surrey Police said it is investigating reports of a common assault at a hunt in Bramley on Saturday.
They said: "Officers were called following reports of an incident near Thorncombe Street around 1:30pm.
An investigation is underway and enquiries remain ongoing."
Surrey Union Hunt said: "You can clearly see she is holding the whip upside down in order to hit the gate, not the person."
Lulu Hutley declined to comment.