A cash-strapped police force has been blasted for splashing out £12,000 of taxpayers' money on a GOLD artwork – that will only be seen by cops and criminals.
Northamptonshire Police forked out on the flashy installation that features dozens of gold leaves covering the wall of the lobby of its new HQ.
But the force performed a U-turn on the move and decided to remain in their current home in Wootton Hall, Northampton.
The gold leaves are now emblazoned on the force's new Northern Accommodation Building and Weekly Woods Custody Suite in Kettering, Northants.
The state-of-the-art building is not open to the general public meaning the only
people to see the artwork will be police staff and suspected criminals.
A whistleblower on the force blasted the project, branding it "ridiculous."
He said: "It's just pointless to be honest, it serves no purpose whatsoever.
"We are so stretched and we are losing services left, right and centre.
"You've got places like The Sunflower Centre which needs funding and we're installing gold leaves.
"It [the money] could be used on frontline officers. There's so many people who are unhappy about it.
"To see money wasted like this, as a taxpayer myself, is ridiculous."
Residents have also slammed the project, which comes days after the force announced plans to increase funds by raising council tax by five per cent.
Mum-of-two Sharon Baxter, 57, an accountant from Daventry, Northants., said: "It's absolutely outrageous.
"You expect the police to look after you and to invest in caring for the community, and instead they're using our own hard-earned cash for some fancy artwork.
"The fact that they're looking to raise council tax while this is going on is frankly laughable.
"It is beyond ridiculous that the only way to actually see the artwork will be to get arrested.
"That money should be going towards making sure officers can do their jobs as effectively as possible, and I don't see how a bunch of leaves on a wall will help.
"You want to see more bobbies out on patrol, making people feel safe, and it's embarrassing that they've overlooked that."
Mechanic Fred Benson, 67, a granddad-of-one who lives in Kettering, said: "When I first heard about it, I thought that they were taking mickey.
"Some families are really struggling at the moment, so the fact that their money is being used in this way is an insult.
"The art isn't even that great – it looks cheap and tacky."
Chloe Westley, campaign manager at the TaxPayers' Alliance said: "This is a ridiculous waste of taxpayers' money.
"At a time when local government budgets are under strain, how could anyone justify spending thousands of pounds on golden leaves?
"People want their taxes spent on essential services, not unnecessary artworks."
The Northern Accommodation Building was originally set to be the force's new headquarters, until a decision was taken last year to remain in the centre of Northampton.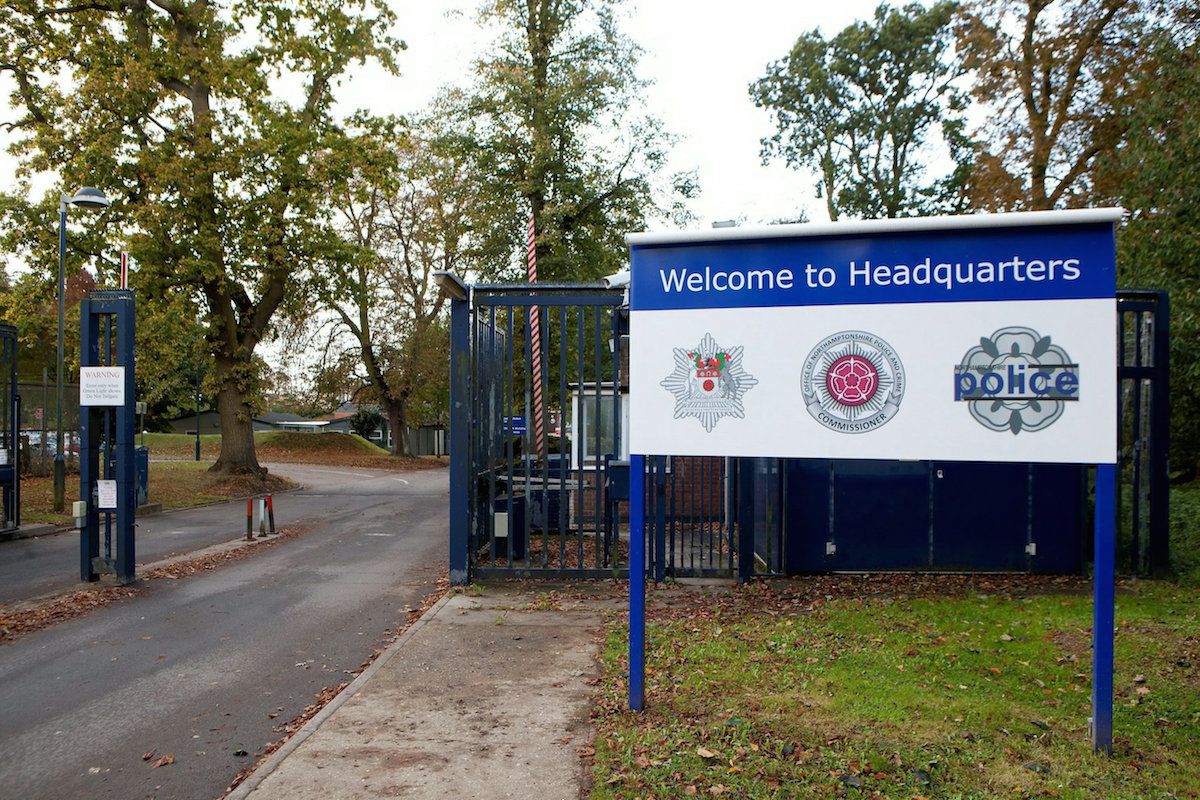 The decision to install the artwork was taken in 2015 by the then police and crime commissioner Adam Simmonds.
A spokesperson for current police and crime commissioner Stephen Mold said the force would be hit with a financial penalty if the artwork was scrapped.
He said: "The artwork was purchased as part of the overall contract for the building of the Northern Accommodation Building, a decision taken in 2015.
"More recently, opportunities to cancel the artwork have been considered but this would have incurred financial penalties and therefore were not pursued further."
Last month, Mr Mold announced he was looking to increase the force's 2018/19 budget from £115.3 million to £118.7 million by increasing council tax by five per cent.
He said: "I know that people in Northamptonshire are happy to contribute to help create a first-class policing service and a safer county.
"Policing resources have been cut, cut and cut again in recent times but it is vital that this isn't allowed to continue, for the safety of our people and our communities."
https://www.thelondoneconomic.com/must-reads/disabled-man-tasered-police-charged-assaulting-officer-case-collapsed-mother-obtained-cctv-incident/31/01/
https://www.thelondoneconomic.com/must-reads/serving-police-officer-sentenced-sexually-grooming-15-year-old-boy/31/01/