A one-in-a-million schoolgirl must wear a full protective suit each time she steps outside – because she is allergic to the SUN.
Caitlin McCabe, nine, has Xeroderma Pigmentosum, an incurable, genetic disorder which means her body is unable to repair DNA damage caused by UV light.
People with XP are up to 10,000 times more likely to develop skin cancer and without protection, half of children with it are diagnosed with cancer before age 10.
Each day before leaving the house, Caitlin's mum Ann-Marie ensures she applies sun screen and layers up in a UV-blocking plastic shield, gloves and protective clothing.
If Caitlin – whose teddy bear also wears a tiny teddy shield – leaves even an inch of her body uncovered her skin would suffer irreversible damage.
Nurse practitioner Ann-Marie of East Taunton, Massachusetts, USA, said: "If Caitlin went out without her shield, in less than 90 seconds she would be severely burned.
"She needs protection from bounce off the pavement otherwise she could burn her chin, and in the winter she could be burned by the reflection from the snow.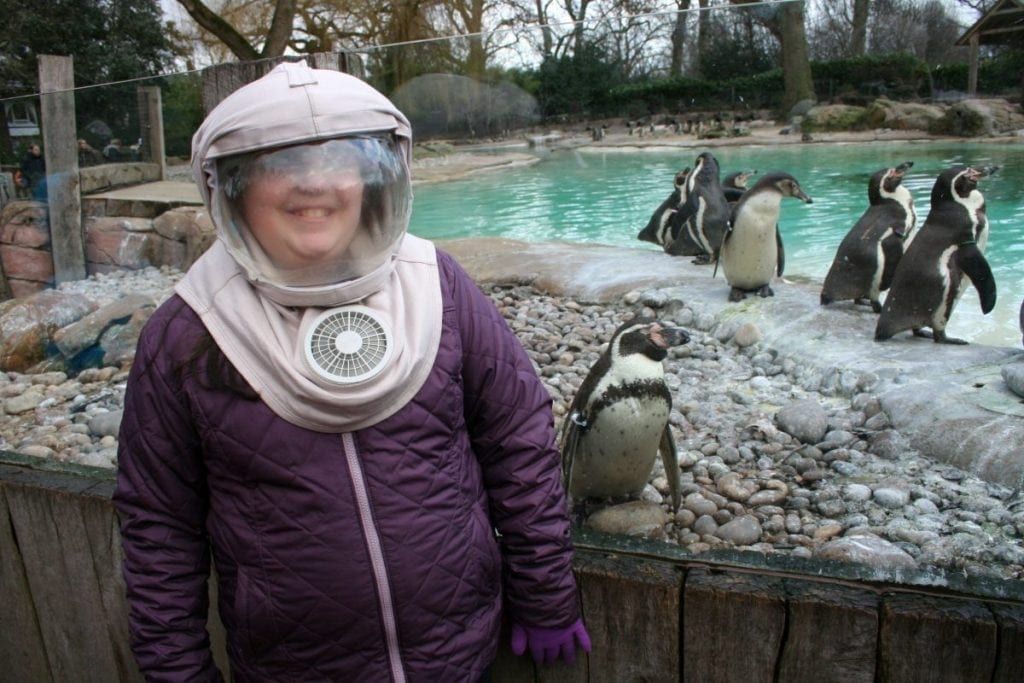 "We replaced all the lights in the house with LED and we are hyper vigilant when we go to theme parks because there is a lot of black lighting.
"She goes to a mainstream school, but in all the common areas she has to walk to the windows are coated with UV blocking film, just like the house.
"In the morning it's a normal routine – getting the kid ready for school – except she has to put on factor 50 sun block, which she re-applies every two to three hours.
"She puts on her gloves up under her jacket and there are no areas of the skin exposed. Then we plop her shield on her head.
"We often get people say, 'Oh, look at that little beekeeper,' or, 'Oh look at the little astronaut,' which really annoys us.
"It makes her feel terrible because it reminds her she is not like every other kid, but at the same time she is not shy about piping up and saying, 'This is why I've got it.'
"The condition has definitely prevented her from doing things," she added.
"She has not been able to go to children's pool parties and it has been hard for us to have play dates in other places.
"At the beginning of a summer she will say, 'I hate that big yellow ball in the sky,' but she has never known anything but a life with XP.'
"At nighttime she goes out without her shield and she loves it."
Soon-to-be fourth grader Caitlin added: "I get really really bad sunburn and I have a shield, a coat and gloves to protect me. My whole body is covered.
"I'm kind of hot in it but it is my shield. It has a fan on it so I can keep cool.
"At nighttime I can play outside without my gear on.
"I like going outside without it on because I get to enjoy things that other people do, like play on my swing set and drive my truck."
Caitlin's mum Ann-Marie said she and husband, special ed teacher Robert McCabe, 55, first noticed something was wrong when their only child was one month old.
Ann-Marie took Caitlin to a soccer game that Richard was coaching and she took Caitlin out of her stroller in the sun for five minutes to give her a bottle.
"I didn't think anything of it, but at 2.30am I woke up to her screaming and thought she needed to be fed, but she was one massive scab," Ann-Marie said.
"She couldn't open her eyes so we took her to the ER and they were looking at her like, 'Oh my God.'"
Medics could not diagnose the condition at first so Ann-Marie began keeping a journal of everything she was exposed to until they could connect the dots.
A string of similar incidents led to them suspecting XP in summer 2009 and biopsies confirmed the diagnosis in September 2009, when Caitlin was one.
The inherited condition is estimated to affect around one in every one million people in the US and Europe.
In some cases, the symptoms of XP are not obvious and children may be exposed to the sun at a young age, leaving them at higher risk of skin cancer.
In other cases, skin that burns quickly and severely and dark freckles before the age of two can be indicators of the condition.
Sufferers can also experience neurological problems and Caitlin has recently begun displaying some symptoms, with her balance and reflexes being affected.
Ann-Marie said: "It has been difficult for us because we do not know how quickly her neurological issues will progress. In ten years she could be no different.
"It really sets us into a frenzy not knowing, but we take every day as it comes.
"We have told Caitlin the future holds whatever she wants it to, so long as she knows how to protect herself."