Police are picking over the bones of a case of real skull-duggery after intruders nicked 21 ancient human SKULLS from a church in Kent.
Detectives are appealing for information to help recover the skulls – believed to be around 700-years-old – stolen from St Leonard's Church in Hythe.
They believe the macabre haul was taken between 4pm on Sunday July 15th and 10.40am on Monday.
A door had its lock damaged and a total of 21 skulls were stolen from a shelving display within the crypt at the church in Oak Walk.
Inspector Maxine Harris, of Kent Police, said: "We recognise this is perhaps an unusual theft, but these skulls were not free for the taking.
"They are part of an important collection, and we are keen to see them back in their rightful place in the crypt."
She added: "We would like to hear from anyone who saw anything suspicious in the area at the time of the burglary.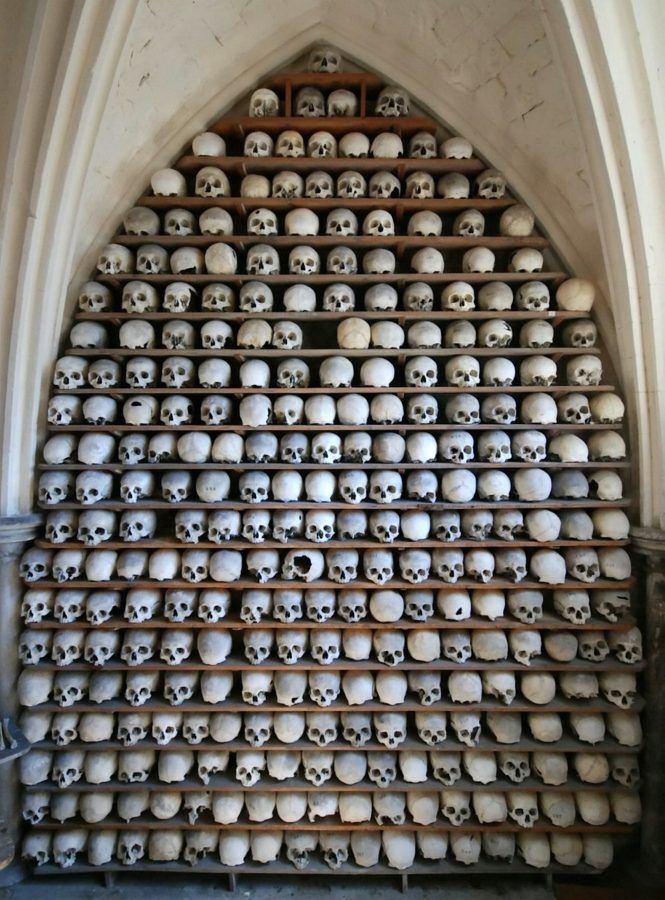 'Also we ask people to get in touch if they have seen these skulls offered for sale."
Reverend Andrew Sweeney, Priest-in-Charge at St Leonard's, said: "Each skull represents the mortal remains of a human being who deserves to rest in peace.
"This crime is shocking and unsettling for those in our community and we are grateful to the police for their help in this matter."
The church has a collection of over 1,000 skulls arranged on shelves in four arched bays.
The ossuary also contains a single large stack of mainly thigh-bones and some additional skulls.
Many theories have been put forward over the years as to who these people were.
The general consensus now is that the remains are those of many generations of Hythe residents who had been buried in the churchyard because of soil found within the skulls and were dug up originally in the 13th century.