A Mercedes driver had a lucky escape when he ploughed his luxury motor through a wall into a RIVER – before abandoning the car.
The expensive German motor's front end plunged into the River Thames, leaving the windscreen smashed.
Pictures taken at the scene show the flash motor with the driver's door swung open, as neighbours described how the owner walked away and abandoned it near the railway station in Oxford at around 6pm on Friday (22/9).
Residents said the man, described as an Asian man in his 20s or 30s, calmly got out of the silver car and walked off after he smashed through the brick wall into the water at "80mph".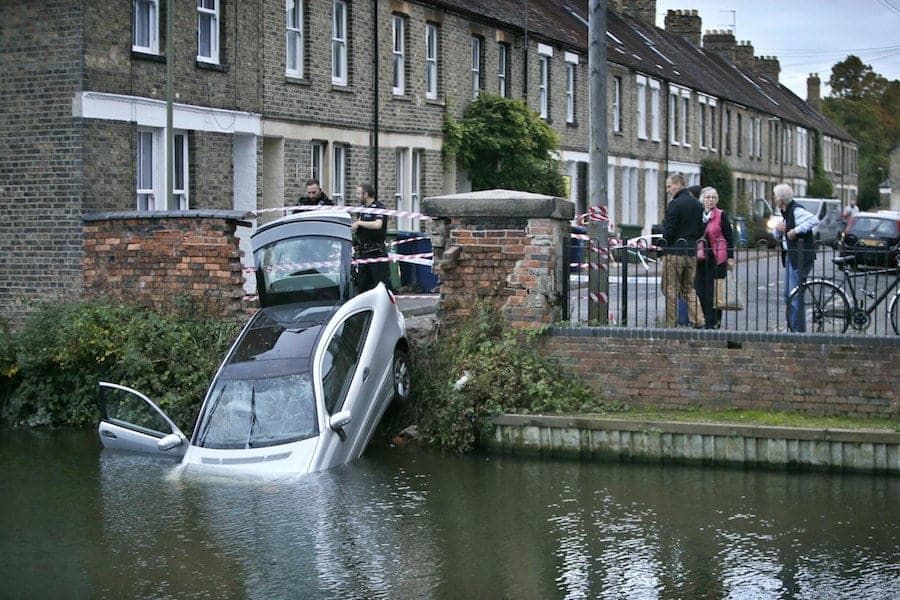 Witnesses said they saw the man throw a bag or several bags into the river before fleeing.
Police, ambulance and fire service rushed to the scene and cordoned off the road within 15 minutes of the smash and the car was hauled out of the river at around 7.30pm.
Norwegian student Eline was sat at home with her brother Sebastian when they heard the car come roaring down the street.
Eline, 24, said: "He was driving at like 80mph.
"We were just sitting in the living room and we heard him speeding to an amazing degree – he sounded like a race car driver, it was insane."
Seconds later an almighty crash shook the street as the car went through the wall.
Eline and Sebastian, who asked for their surname not to be used, rushed outside.
Sebastian said: "The guy just walked out of his car, took his things and walked off.
"There were two ladies there asking him 'why didn't you stop?' but he just walked straight past them, completely nonchalant.
"It was just insane."
He said the man walked out of the road and across a footbridge heading north over the Thames.
Sebastian added that the man, who was slightly over 6ft, was wearing a vest and had a pair of headphones.
Another resident of the street who asked not to be named said: "I was just at home cleaning and I heard a car going very fast down the road.
"As soon as I heard that there was a huge bang.
"I rushed out and there was a man emerging: he had jeans on and a black jacket, dark hair and about 6ft tall. I think he was Asian or of Middle-Eastern origin.
"I asked him where he was from and he said, 'around here', then walked off."
One man who lives nearby said he had heard from others that the car driver had thrown bags in the river after getting out of the car.
Police were still hunting for the driver when the vehicle was recovered.
https://www.thelondoneconomic.com/must-reads/rolls-royce-owner-plasters-250k-car-star-wars-stickers/19/09/
https://www.thelondoneconomic.com/must-reads/driver-lucky-alive-wrapping-car-around-lamppost/18/09/