A troupe of naked 'human canvases' has been spotted in London today.
The human canvases, created by award-winning body paint artist Sarah Attwell, were commissioned to highlight Britain's disconnect with the art world.
According to new research one in six Brits say they have never set foot in an art gallery, with half of those polled saying they haven't visited one in the last two years.
Nearly a quarter of Brits were unable to name Van Gogh as the artist who painted Sunflowers, and only a third identified Roy Lichtenstein as the artist who created Whaam!
The survey of 2,000 British adults also showed three in five Brits rate their understanding of art as poor or worse, with 44 per cent believing the art world is elitist and one in ten admitting they feel galleries are intimidating.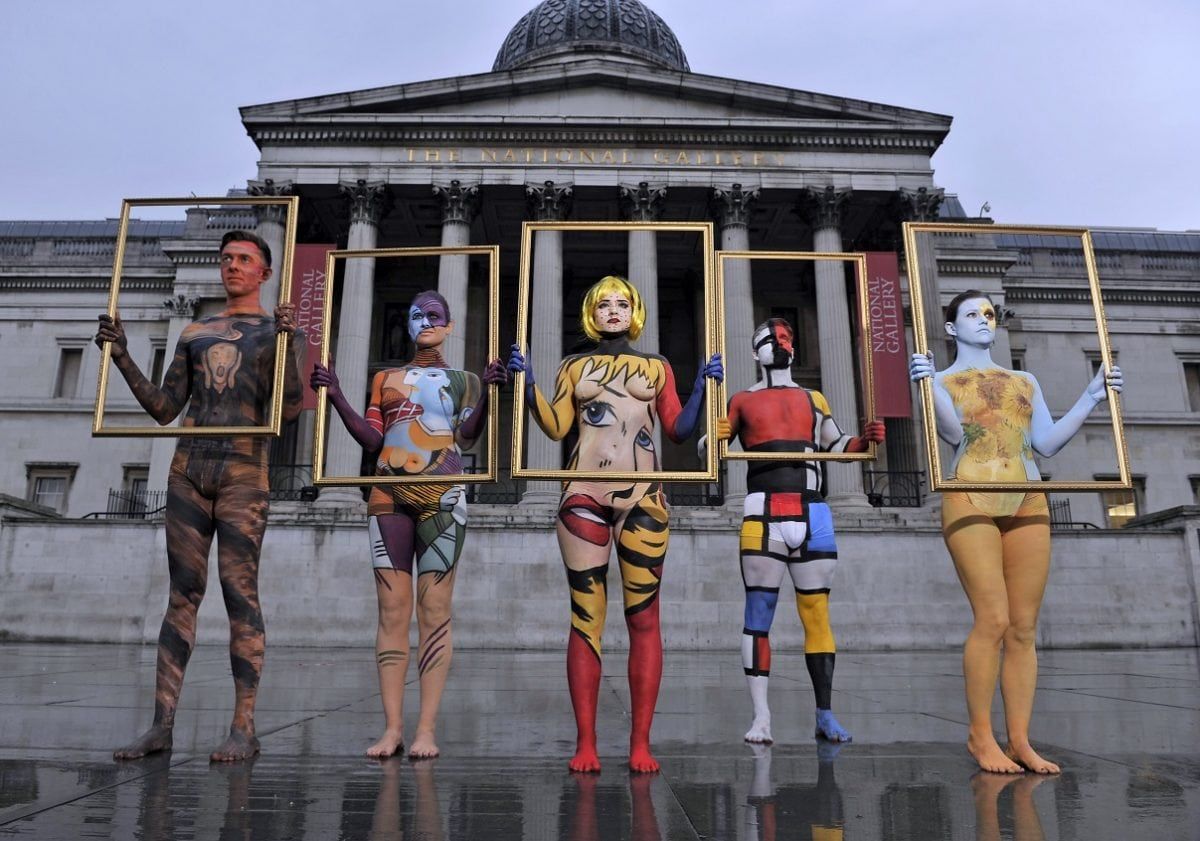 Scott Phillips, founder of Rise Art commented: "The research shows that many Brits seem to feel a disengagement with art due to the long standing perception of the art world and the more elitist 'establishment'.
"This is such a shame as it has never been easier to access, experience and enjoy fantastic art online.
"Our aim at Rise Art is to bring great art to everybody, and make the extraordinary world of art more accessible."
In a big bid to help mend Britain's disconnect with art a troupe of naked 'human canvases' descended on the capital today.
Five living versions of some of the world's most famous artworks including Van Gogh's Sunflowers and Edvard Munch's Scream were spotted outside the capital's art hot spots, before taking a ride on the tube and making their way across Millennium Bridge.
Rise Art's human canvases took a team of five body paint artists over 12 hours to create, with the original artworks cleverly interpreted to remain recognisable while complementing the natural curves of the human body.
The application followed weeks of design development to ensure an exact representation of some of the world's most loved and famed artworks.
Sarah Attwell, Body Paint Artist commented: "I've worked on a number of large scale projects but this has definitely been one of my biggest challenges.
"We've worked hard to ensure we do these incredible artworks justice and are so pleased with the results.
"I've always grown up around art, so have been thrilled to partner with Rise Art to create something bold yet accessible and show that great art really can be for everybody."
RELATED 
https://www.thelondoneconomic.com/lifestyle/official-commuting-leaves-us-stressed-tired-even-get-work/28/07/
https://www.thelondoneconomic.com/lifestyle/the-importance-of-sleep/17/08/