A former paratrooper faces life behind bars after being found guilty of brutally murdering an 83-year-old grandfather because he hated dog walkers.
Alexander Palmer, 24, repeatedly stabbed Peter Wrighton so viciously in the throat and eye that cops thought he had been savaged by an animal.
The retired BT engineer from Banham, Norfolk, suffered nine wounds to his neck and another 22 to his body before his corpse was dragged under brambles.
His injuries were so severe that his head was almost severed from his body when he was found by passers-by.
Palmer denied killing Mr Wrighton and claimed DNA found on his body may have been due to the pair crossing paths in the wood that day.
But a jury at Nottingham Crown Court dismissed his claims and today (wed) took just 49 minutes to find him guilty of murder.
Palmer shook his head as the verdict was read out and mouthed the words "I love you" to his family as he was led away from the cells.
He will be sentenced tomorrow (thu) to give Mr Wrighton's widow the opportunity to attend.
During the two-week trial, the court heard how Mr Wrighton was attacked while out walking his two dogs in woodland near East Harling, Norfolk, on August 5 last year.
Paramedics raced to the wood, but he was declared dead at the scene, just 50 yards from where he had parked his red Skoda Fabia.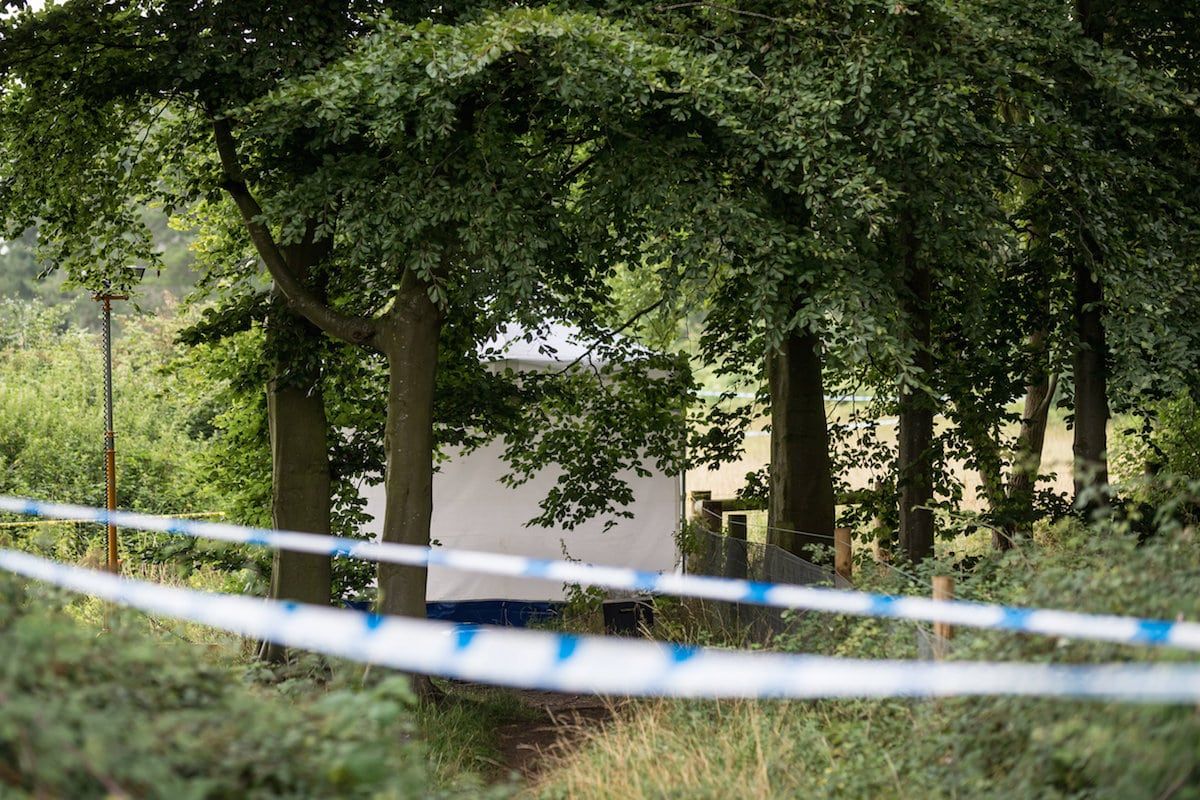 His nine-year-old Scarteen Harrier Dylan and 13-year-old Trailhound cross Gemma were found unharmed near the pensioner's body.
The death was initially treated as unexplained as police believed he'd been attacked by an animal.
But a murder inquiry was launched two days later after a post-mortem examination found the victim appeared to have been "subjected to a serious assault" with multiple stab wounds to his head and neck.
Palmer, of Cringleford, Norfolk, was arrested a week after the discovery of Mr Wrighton's body.
The jury was told how police were initially unaware of Palmer until a psychologist who had previously treated him read press reports and said she thought he could be someone worth speaking to.
The arrest prompted searches at a number of addresses across Norfolk, including his home address and another where he was arrested.
The court heard how while serving in the army, he had been injured in an assault – in which he was the victim – and that seemed to trigger problems which required mental health professionals.
Palmer claimed a voice in his head called "Little Alex" told him to harm people or kill them and that dog walkers were a particular "bugbear" of his.
Prosecutor Stephen Spence said it was no coincidence that Palmer, who served in the British Army until November 2015, was in the vicinity at the time of the killing.
He said: "Whether he wants to call it "Alex" or "Little Alex" it's Alex Palmer that sits and stayed sitting in the dock.
"Alex Palmer went there that day to carry out his ambition, to carry out what he had written about, to carry out what he had spoken about."
Palmer decided not to give evidence during the two-week trial but his barrister David Spens QC told jurors there was no direct evidence to link him to the killing.
While there was DNA from Palmer found on the victim, and vice versa, Mr Spens QC said it was at the level that could be explained "innocently".
Mr Wrighton was previously described by his family as "a lovely, gentle husband, dad and grandfather" who loved walking his dogs, Gemma and Dylan.
A statement released by police on behalf of Mr Wrighton's family following his death, paid tribute to his "kind nature" and his "love of walking his dogs and chatting with people to pass the time of day".
Adjourning the case until tomorrow (thu), Mr Justice Goose said: "The widow of the deceased followed proceedings yesterday and may wish to witness the sentence tomorrow.
"She should be given this opportunity.
"It is inevitable the defendant will receive a sentence of life imprisonment – it will be up to me as to the minimum term he will have to serve."
https://www.thelondoneconomic.com/must-reads/selfish-driver-completely-blocks-ambulance-parking-double-yellow-lines-just-inches-away-rear-door-ramp/28/02/
https://www.thelondoneconomic.com/must-reads/pool-player-accused-stabbing-opponent-death-following-row-rules-game/27/02/