A middle-aged tiger has been put down by vets after the endangered predator suffered for years – with ARTHRITIS.
Indah, the 12-year-old Sumatran tiger, was a favourite among visitors to Howletts Wild Animal Park – with her tiger boyfriend Amir.
But sadly, she was being treated by vets and a leading orthopaedic surgeon but in recent weeks was suffering increasing pain which could not be controlled and had to be put down.
The average Sumatran tiger lives to the age of 24, meaning poor Indah died in the middle of her life, leaving her mate Amir all alone.
A park spokesman said: "Following numerous evaluations and discussions, our animal director, vet team and keepers made the difficult decision to euthanise Indah.
"This was the most necessary and humane course of action.
"Indah was a very special animal, born in 2005 at Dudley Zoo.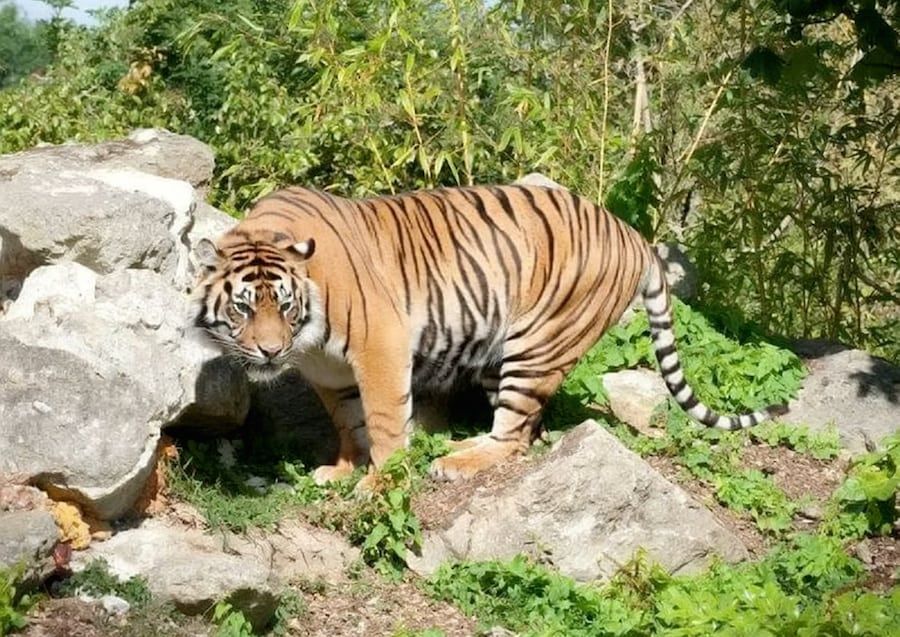 "She arrived at Howletts Wild Animal Park as part of a breeding programme in 2006.
"She had a lovely character and was a favourite with visitors and staff alike.
"She had a very special bond with Amir our male Sumatran tiger.
"The pair would always enjoy a good head rub in the morning and they enjoyed nothing more than sitting out on the high platform in their enclosure, soaking up the sunshine.
"We are sure that our visitors and supporters will be as saddened by this news as we are."
Visitors to the park were quick to pay tribute to Indah.
Ellie Hadlington said: "My heart goes out to her keepers, who are no doubt distraught.
"I commend the keepers and the vet team for the amazing work they have done with her and the other animals."
Tracy Butler added: "I met this beautiful tiger when i had time feeding the tigers and gave her meds in piece of meat, such a beautiful creature and a great loss, well done to Howletts for everything they done for her."
Jackie Smith said: "Such sad news. So glad I got to see her a few weeks ago. Such a beautiful tiger. Thoughts are with her keepers."
The Sumatran tiger has been listed as critically endangered since 2008, as the population was estimated at 441 to 679.