A grieving mum who put up road safety placards on the roundabouts near where her teenage daughter was killed by joyriders was dismayed to be charged nearly £2,000 for doing so.
Amy Hofmeister was only 13 years old when she was knocked off her bike on a pavement and killed by a young couple who were racing each other in separate cars.
Her mum Jane set up a road safety charity, Think Amy, in her memory after the tragedy six years ago.
To encourage other drivers to think about the consequences of their actions, Jane designed message boards to remind motorists to slow down.
But she was charged £1,680 a year for installing the signs after Somerset County Council, which previously covered the costs, pulled out financial backing.
Leonard Jones and Leanne Burnell were both jailed for dangerous driving after Amy's death on June 15, 2011 but both have since been released.
Jane said: "I'm not advertising a product. I'm a charity trying to remind people of my daughter's death.
"It's very sensitive where the boards are because the roundabouts mark the start and the end of the race that resulted in Amy's death.
"The car that hit Amy ended up upside down on one of the roundabouts, metres away from where she was killed."
The schoolgirl had been cycling on the pavement with a pal who was seriously injured, in Taunton, Somerset, when Jones' car mowed her down.
The couple were both driving at twice the speed limit and each had drunk a pint of cider.
At the time of sentencing Jones was sentenced to seven years, and Burnell for 18 months, which Jane criticised saying she "had not received justice."
She believes it is a false economy for the councils, Somerset County Council and Taunton Deane District Council, to charge her for the signs.
Jane said: "If we didn't have any boards there, we could have another tragedy and that costs more to society.
"The actual knock-on costs of a road death are £1.83 million according to Somerset Road Safety.
"In 2011, the year Amy died, there were 27 road deaths in Somerset, so you can see the cost mounts up.
"If I can prevent just one road death through my charity telling Amy's story, then I've helped prevent costs of £1.83 million to society, yet the council still wants to charge me £1,680 a year for these boards."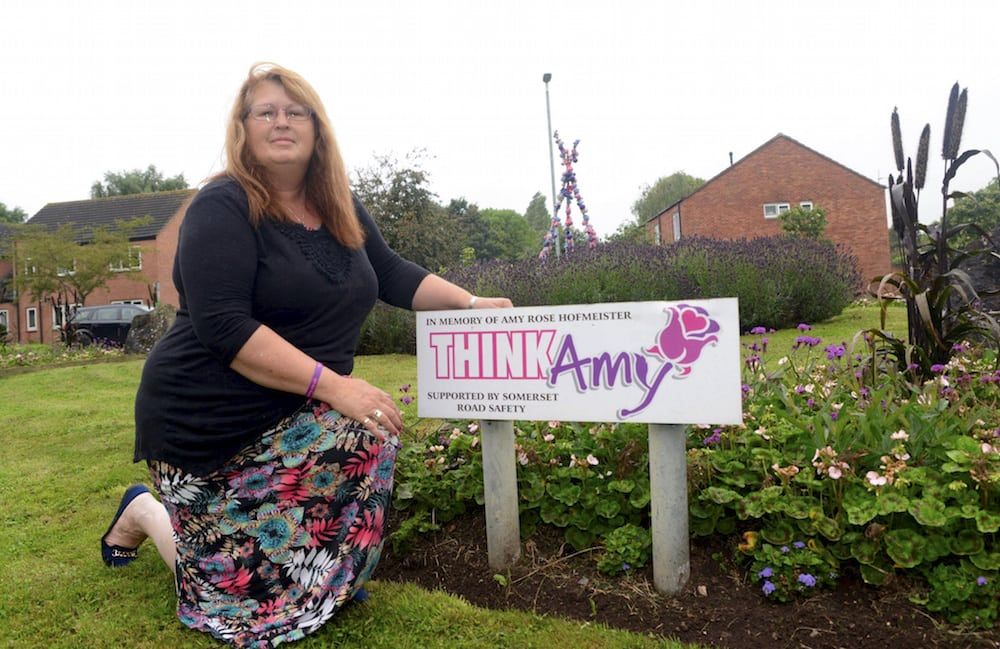 She added: "I strongly believe retaining these Think Amy boards helps keep her memory alive and reminds drivers of what happened there that night and to drive safely around the roads of Taunton."
Both local authorities insisted they were working closely with Jane to promote her message, but SCC said it was "currently focusing on other methods" for road safety awareness.
A spokesman said: "We continue to support the Think Amy campaign and work closely with them to promote road safety in Somerset.
"We supported the installation of the signs, but our road safety team is currently focusing on other methods to deliver road safety messages across the county.
"These include face-to-face training and other education programmes that are generally considered to be most effective.
"Road safety remains a key priority and we will continue to work hard alongside partners, including charities like Think Amy, to reduce road collisions and casualties in Somerset."
And TDBC said the cash raised helped with roundabout maintenance, and a discounted price was being offered.
A spokesman said: "for Taunton Deane Borough Council said: "We recognise the contribution the Think Amy campaign makes to road safety and continues to support this though a significantly reduced rate for roundabout sponsorship for this charity.
"Think Amy has sponsored the roundabouts for a number of years and the charge for this year has not been increased.
"There are a number of roundabouts that the council receives sponsorship for and this goes towards the additional costs of maintaining them."
To donate towards siting the Think Amy boards on the Blackbrook Way roundabouts e-mail [email protected]