A teen entrepreneur is making a whopping $8,000 A MONTH after cooking up her own hot sauce business from scratch.
Tyla-Simone Crayton, 15, is CEO of Sienna Wings and invented the top-secret recipe when she was just eight years old.
The mini magnate, of Houston, Texas, USA, is determined to make her sauces as successful and ubiquitous as tomato ketchup.
They are already available from the Sienna Wings website and app and the company has 22 distributors.
The clever teen has also signed a deal with her first supermarket, B&W Meat Market, to stock her products.
Tyla-Simone said: "My sauce has the potential to be even greater than ketchup.
"Not only does it taste great, but it's healthy because it is gluten free and high-fructose corn syrup free.
"I want little packets of my sauce in takeout places like McDonald's and KFC.
"I want people in restaurants to ask: 'Can you bring me some Sienna Sauce?'
"I want it to overshadow ketchup."
Tyla-Simone, who grew up in Brooklyn, New York, was inspired to create her hot sauce when her favorite restaurant in Manhattan closed down.
She said: "I got the idea originally because my favorite wing place closed down in New York city.
"I loved the hot sauce they offered there so I went home and tried to recreate the flavor.
"I ended up inventing the Tangy flavor which is the base of all three of our sauces.
"I was only eight years old.
"I just put things together that I thought would taste great."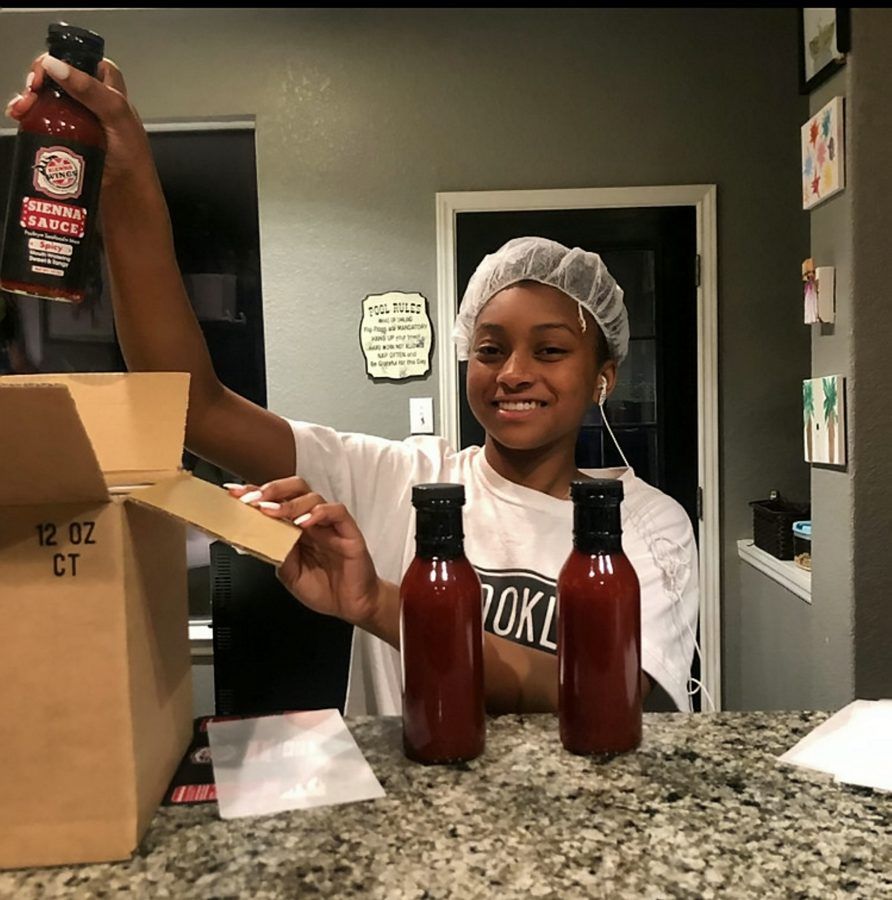 Tyla-Simone refused to disclose the exact ingredients of her sauce, which comes in Lemon Pepper, Spicy, and Tangy flavors.
Her mother, Monique Crayton, 43, a former retail manager, initially thought her daughter was crazy when she heard her clattering in the kitchen.
The mother-of-four said: "I thought she was crazy when she first told me what she was doing.
"I heard her banging about in the kitchen and went in to see her throwing things in a pan.
"She didn't measure everything. She just kept playing.
"It took her a while to perfect the recipe.
"She told me: 'Mommy I want to sell this sauce'."
Monique wasn't convinced until she tasted the sauce at one of her Wine and Wings Wednesday parties.
Tyla-Simone said: "I served it for my friends and they fell in love with it right away."
The family moved to Houston and in 2017 they set up a wings restaurant, called Sienna Wings, in their home to build enthusiasm about the sauce.
In May 2018, Monique, mom of Tyla-Simone, Markell, 15, Michael, five, and Emerson, one, invested $1,500 into the business.
In the same month Tyla-Simone finally achieved her dream of seeing her hot sauce in labelled bottles.
She said: "I would wake up on Sunday mornings, I'd make the sauce, bottle it and seal the bottles.
"In October of last year, we got a co-packer.
"Now we focus more on the marketing and the selling side of things."
In June 2018 Monique left her job to work for her daughter as CFO of Sienna Wings and the company is already bringing in up to $8,000 a month.
Monique said: "We make between $5,000 and $8,000 a month but right now all the money is going straight back into the business because we are growing."
She is so dedicated to her company that she has chosen to be home-schooled so that she can spend more time plotting out business domination.
She said: "I am starting home school for junior year.
"I'm really busy and I want to go on tour and meet my distributors.
"Me and my mom are constantly working on spreadsheets, looking at our social media and checking our price margins.
"I don't know if I'll go to college because it honestly depends on where I am and where the business is in the next two years."
She added that it can be stressful to balance her business with life as a normal 15-year-old girl.
She said: "It's kind of a thrill.
"It's exciting and scary at times and it is stressful to balance my business and going to school.
"Overall, I love doing it and I wouldn't trade it for the world.
"People should know that it is never too early to start."
By Isolde Walters
Police joke about "overdone apple pies" after Mr Kipling lorry goes up in flames