This is the heartwarming moment an unsuspecting mum shared her first wedding dance with her disabled son – in a special harness secretly made by his new stepdad.
Alex Dieterle, 13, has severe cerebral palsy and is unable to stand unaided and relies on a wheelchair and carers to get around.
But when his stepdad Martin Atrill married his mum Jo he was determined to make her big day even more special – by enabling her to have her first dance with Alex.
Martin – who fell in love with Jo when he became Alex's carer – spent weeks secretly inventing and hand-sewing a special harness for the teenager before the wedding.
A stunning video shows him walking out to join astonished Jo on the dance floor, with Alex strapped on his front.
The film – which has been watched more than 830,000 times – shows her bursting into tears of happiness as a beaming Alex reaches out to his mum.
Friends and family wept as the trio then shared their first dance to Jo's favourite song, Yellow by Coldplay – which she has sung to Alex since he was in the womb.
Jo, 38, a former primary school teacher, said: "When I saw him there was no sadness at all. I was crying like a baby but it was tears of pure joy.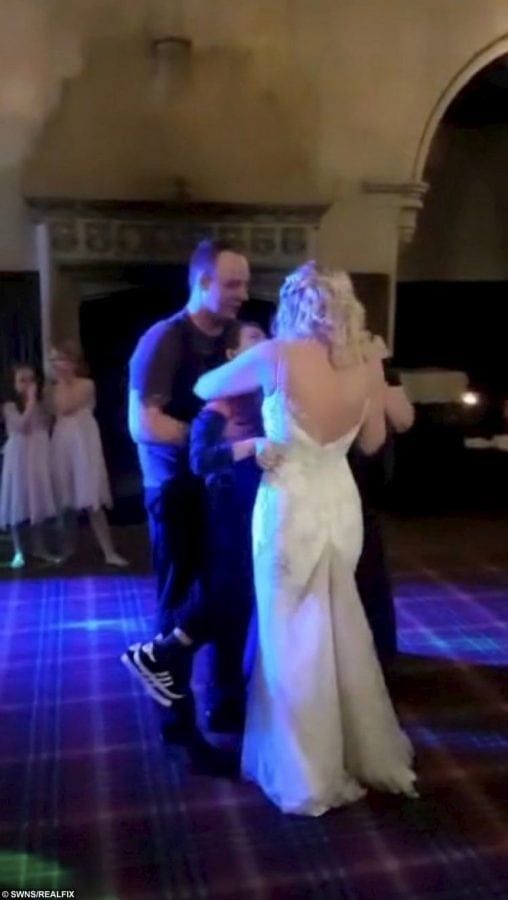 Not only was he there to see me get married but I was able to dance with him – something I never thought would happen.
"When I had Al I was just grateful that he was alive and then that I was able to take my baby home.
"I thought my life would be a little bit sad but this was my happy ever after.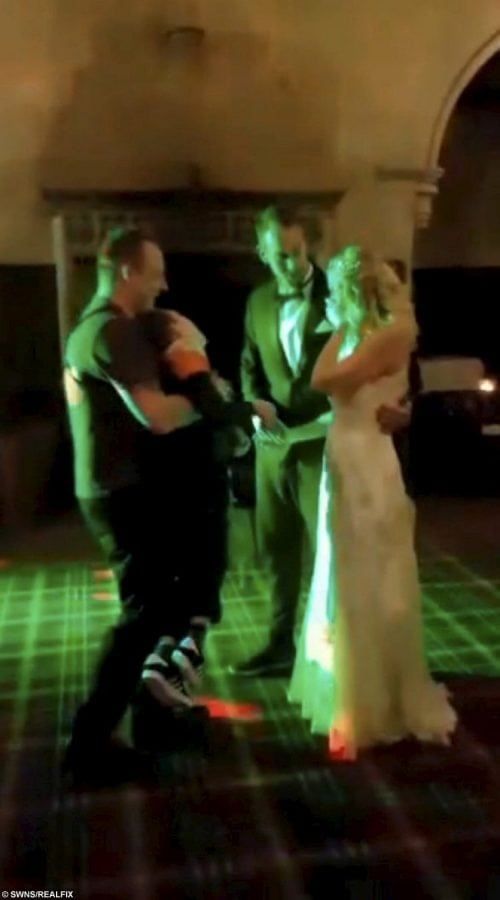 "We have always smiled and laughed through everything, and while this was a private moment, I think it is important to see.
"Disability can be scary, but it's amazing to be able to share such a happy moment."
Alex has cerebral palsy after Jo contracted septicemia during pregnancy and he had a stroke in the womb and a second one as he was born.
Jo and his father split up when he was a toddler – although he still has contact with his dad – and she became his main carer, nicknaming themselves 'The A Team'.
They both battled health problems, with Jo forced to learn to walk again when Alex was aged five, after losing the use of her legs when she suffered a slipped disc.
She suffered the injury after lifting and moving him, and battled for six months to be able to walk again with sticks, and then be fully mobile.
In 2014 he life changed when she met Martin, 27, who was one of the team of carers who looked after Alex.
They quickly fell in love – after he fell for her son too.
Jo said: "It was totally life changing for me.
"I thought I would be a single mum and then a single person in the not too distant future.
"I thought Martin was a cocky, arrogant chap at first, but he was good at his job and I watched from a distance as he fell in love with my son.
"We became best friends and then we fell in love pretty quickly."
Martin proposed three months later and they married on February 11 in front of Martin's children from his first marriage, Harry, eight and Skye, six.
Unbeknown to Jo, Martin had spent weeks designing and creating a custom-made harness for him to carry Alex upright, so he could share their first dance.
"I thought he was staying up to watch Holby City," said Jo, from Shepton Beauchamp, Somerset. I didn't even know he could sew."
Martin customised a climbing harness, taking special care to create a holder which accommodated all Alex's complex needs, including his delicate hips.
Martin, a specialist in dementia care, said: "It was hours and hours and hours of hiding upstairs in the spare bedroom with a needle and thread.
"To see Jo's reaction, I struggled to stay upright when she started to cry.
"At one point I looked around the room and everyone was crying.
"Jo and Alex have such an incredible bond and it was just nice to do something that Jo never thought she would be able to do with him.
"What you don't see in the video is that once I've taken Alex out of the harness, I grabbed two of my best men and we collapsed on a heap on the floor in tears."
The newly-wed couple had a week-long honeymoon in Thailand – funded by friends and family – as Alex stayed at Little Harbour children's hospice in St Austell, Cornwall.
Georgia Longman, who is Alex's main carer apart from his mum, was also a bridesmaid at the wedding.
She has now set up a fundraising page in a bid to get the family to Disney World.
He needs around £15,000 for the holiday because of his need to take carers and equipment.
Jo explained: "We care for Al but he sometimes stops breathing in the middle of the night so needs a carer to give him a prod."
To donate, visit: https://www.gofundme.com/5cp4ed5t
Read our recent article "Irish Setter gives birth to 15 puppies on Mother's Day." Click Here