This is the heartwarming moment a stranded dolphin was rescued by kind-hearted passersby after getting stranded.
The poor creature was found trapped in a small rocky pool at picturesque Polpeor Cove at Lizard Point in Cornwall by a walker.
Medics rushed to the scene to treat the young female before vets checked her over.
The dolphin was given medication before being carried gently from the cove to a car parked on the headland, and was then driven around to nearby Porthoustock beach.
After being given the all-clear, she was eventually released back into the sea.
British Divers Marine Life Rescue medics, who attended the scene, said they arrived to find members of the public already looking after the trapped dolphin.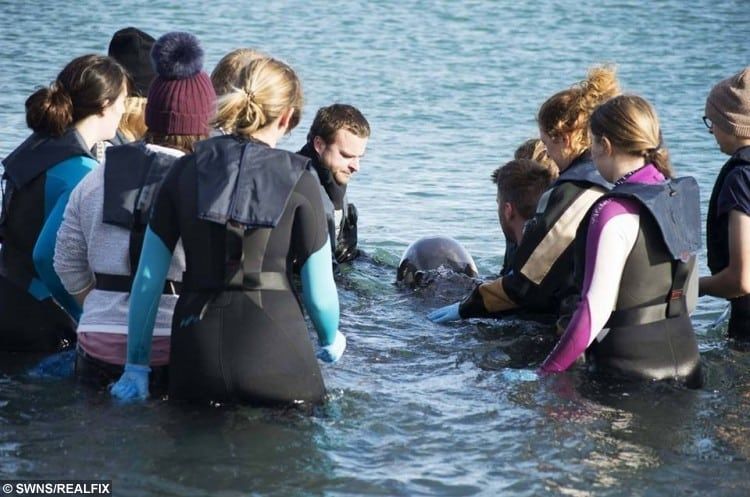 A spokesman said: "Medics arrived to find a juvenile female dolphin in a small rocky pool being supported by members of the public who had found and reported her to our emergency hotline.
"The dolphin was found by the vet to be in a suitable condition for release and gave her some medication to help.
"Owing to the rocky and enclosed nature of Polpeor Cove, it was decided that the dolphin would need to be relocated to nearby Porthoustock to give her the best possible chance of a successful re-float.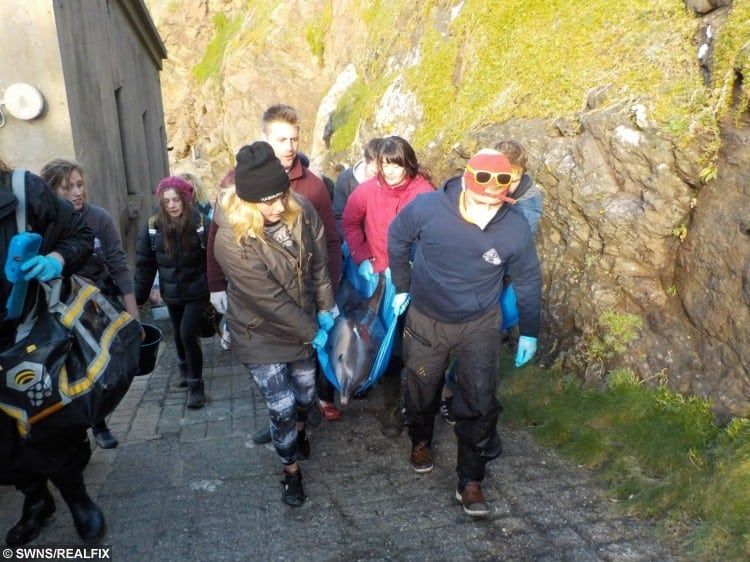 "She was carried by teams of medics up to the top of the headland immediately above the cove and transported by car to the release beach, with a medic alongside to keep her wet and calm.
"Once the team had arrived with the dolphin, she was immediately taken into the shallows and biodegradable tape with BDMLR's details on it was attached to her tail."
The release comes after a rise in the number of dead dolphins and porpoises washing up off Cornwall.
Earlier in the week, three were found on Gyllyngvase Beach at Falmouth, within 100m of each other following a sharp increase in the numbers getting stranded this year.