A husband and wife who lived a lavish lifestyle after defrauding the NHS out of £3.4m have been stripped of assets totalling almost £600,000.
Neil Wood, 42, and Lisa Wood, 41, used the money to fund expensive football tickets, Christmas presents and family holidays.
Wood also organised lavish away days for his management team including a weekend away in London where they stayed in the Mandarin Hotel in Hyde Park, had lunch at Jamie Oliver's restaurant Fifteen and enjoyed a private dining experience at Gordon Ramsey's Maze restaurant.
The pair appeared at Leeds Crown Court on Tuesday, where a confiscation order was made for £598,720.
The confiscated funds will all be returned to the NHS as compensation.
To meet the order, the couple will have to sell their property worth between £1m and £2m and pay in excess of £332,000 from frozen bank accounts.
Unless the money is paid within three months, the court will impose custodial sentences totalling six years.
The couple, who have four children under 12, were sentenced in January 2016 following a two-year investigation by the North East Regional Asset Recovery Team.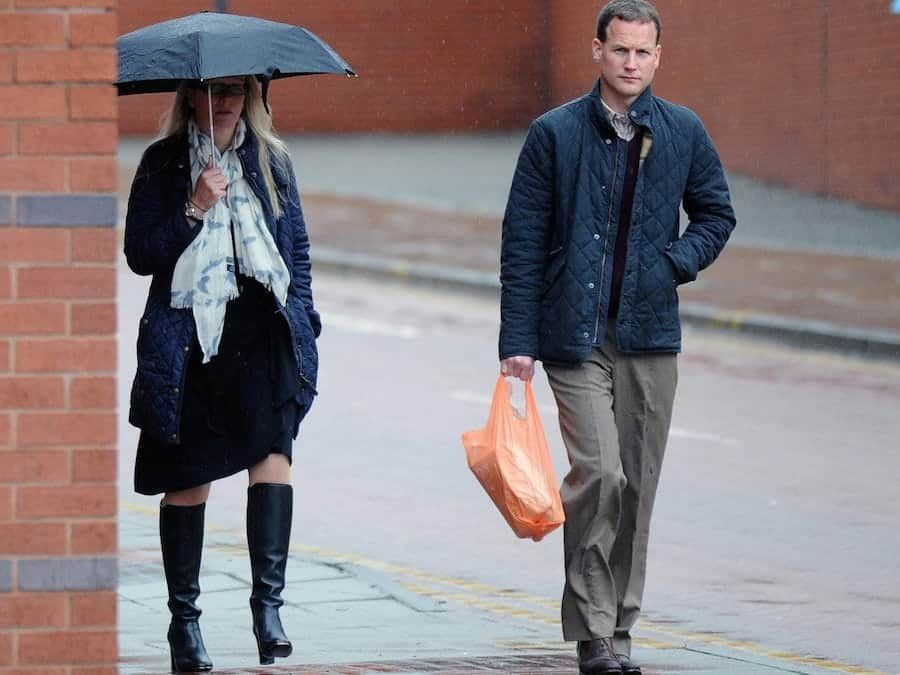 The team looked in to the tendering process for training contracts and fraudulent expense claims by NHS employee Neil Wood over a seven-year period while working at Leeds and York Partnership Trust and NHS England.
Money in the form of "kick-backs" was circuitously paid to Neil Wood via a company controlled by his wife Lisa Wood.
NHS contract manager Neil Wood, the initiator in the scam, pleaded guilty to two counts of conspiracy to commit fraud by abuse of position, one count of conspiracy to commit fraud by false representation and was sentenced to four years and eight months imprisonment.
He had worked for the NHS between 2003 to 2013.
Lisa Wood pleaded guilty to one count of money laundering and was sentenced to 18 months imprisonment, suspended for two years, and 150 hours of community service.
Confiscation orders have previously been made against two other individuals in connection with the North East Regional Asset Recovery Team's investigation, with confiscated funds totalling £843,460 now due to be paid in compensation to the NHS.
Senior Financial Investigator Dermot Fairhurst, of the North East Regional Asset Recovery Team, said: "Those committing fraud within public services will be identified, put before the courts and face robust confiscation action.
"It is particularly galling that corrupt officials working within the public sector chose to enrich themselves at the public's expense at a time when NHS budgets are already stretched.
"I'm pleased that the confiscated funds will be paid back to the NHS by way of compensation."
https://www.thelondoneconomic.com/news/full-list-mps-voted-keep-emergency-public-service-pay-caps-cuts/29/06/
https://www.thelondoneconomic.com/news/another-misguided-tory-u-turn-wastes-millions-bid-privatise-crucial-nhs-resources/09/09/
https://www.thelondoneconomic.com/must-reads/nhs-crisis-wheelchair-bound-pensioner-cancer-no-longer-qualifies-free-hospital-transport/23/08/