A mother of ten said she was devastated when she came home to find her landlord had tossed all of her belongings out of her second floor flat into the rain.
Five TVs and a sofa bed were hurled 30ft out the window of the flat where Donna Newby and her family have lived for the last nine years.
The 41-year-old found her children's toys and a memory box of things from her baby daughter, who died at just five-weeks-old, piled up in the garden.
She was evicted by her landlord, David Love, on Wednesday and claims she was told she had until Sunday to collect her things.
But Donna was shocked to find all of her belongings dumped in the garden outside her flat in the Drylaw area of Edinburgh on Friday.
Landlord and boxer Love carried out the eviction with three assistants.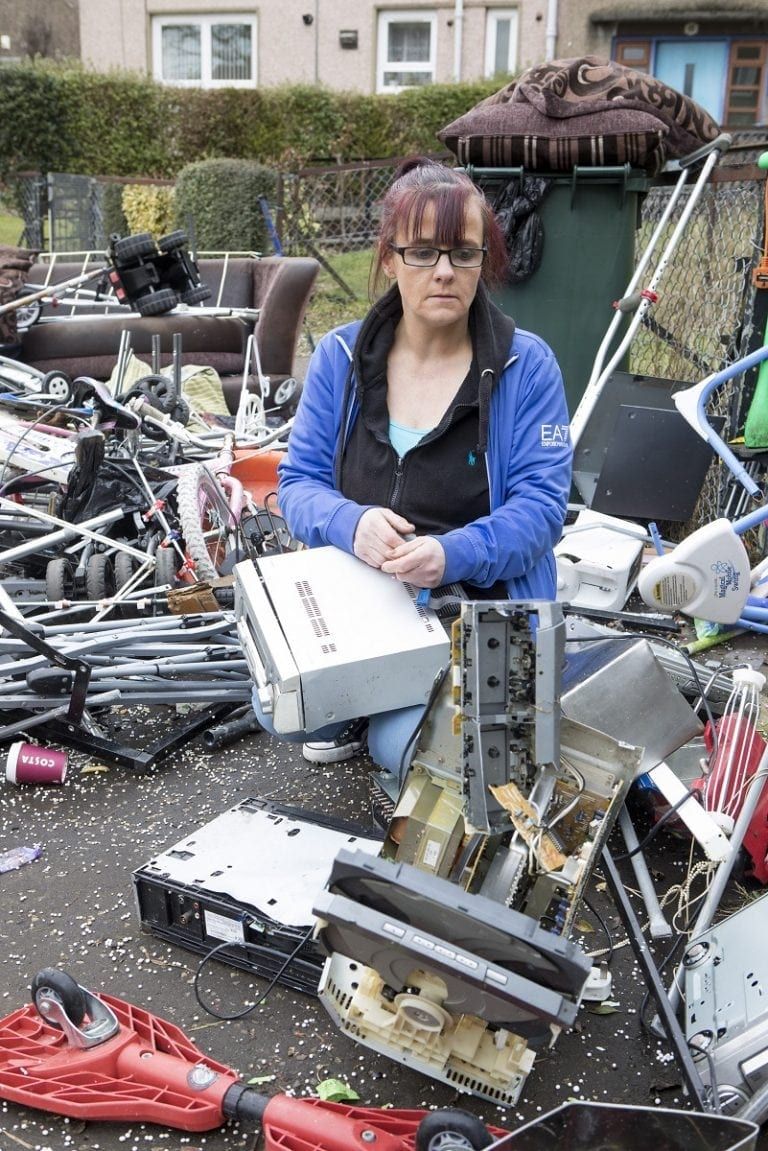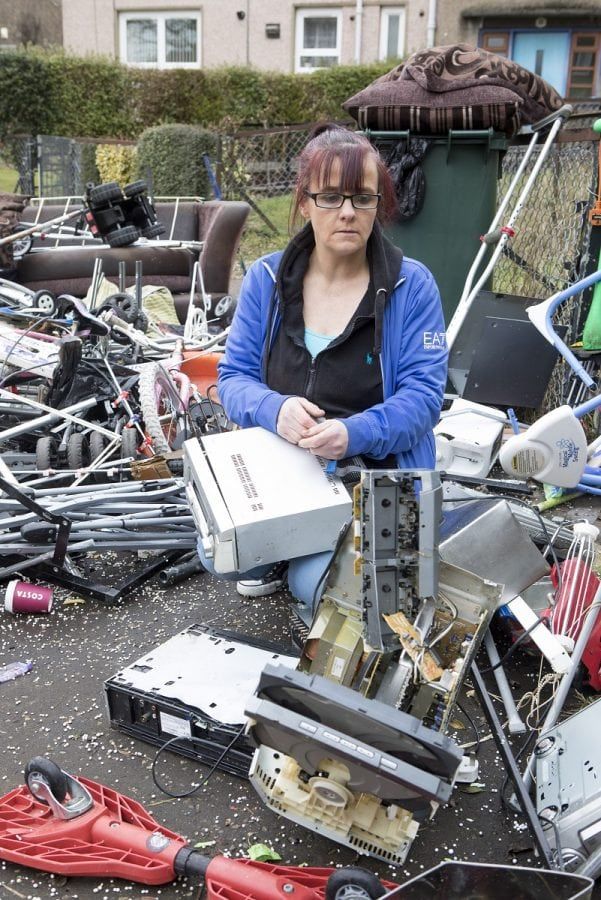 Donna tried to salvage what she could from the wreckage, but today (Mon) the three assistants were back, as Donna witnesses them dragging away her possessions.
The grandmother of ten is said to have fallen behind on rent payments after developing depression following her sister's death last May.
Donna was living in the flat with her two sons, two daughters, and one granddaughter.
The heartbroken mum said: "I can't believe it, they have no right to take my stuff.
"The landlord has ordered these guys to come back and move our stuff away.
"They have taken all of the kid's toys, baby chairs, a baby swing, a massive toy cooker for the girls, jewellery and my dead sister's fireplace.
"That can't be replaced – those are all the memories I have left."
A neighbour who witnessed the callous eviction on Friday claims he was told to 'f*** off' after trying to plead with the landlord to spare the children's toys.
Donna, who says the damage is worth "thousands" of pounds added: "I have had to lug suitcases full of stuff in the pouring rain ten minutes down the road to my sisters.
"I was at it all night because I didn't have a van. I was having to get taxi's but I didn't have enough money. It's been an absolute nightmare.
"The council offered me emergency accommodation in a hotel but it was too far away from my daughter's school.
"There were five TVs which have been completely demolished – there is glass everywhere.
"They threw all of our clothes, beds, tables, kitchenware and cabinets outside – everything has been snapped to bits.
"They have literally taken everything that was mine out of the flat."
Donna claims to have had "no problems" with the landlord in nine years she lived at the Edinburgh flat.
She said David has "been brilliant" in the past.
Love, a boxer of Edinburgh, claimed he was attacked by two men and a woman as he "cleaned out" the flat and he feared he would be "stabbed to death".
He said: "I am a professional landlord and carry out all of my business in accordance with the law.
"There were previous incidents surrounding this tenancy. The tenant fabricated untrue stories about me.
"I was charged by the police because of this. The charges were dropped as they were found to be untrue."
A police spokeswoman said: "Police in Edinburgh were called to Wester Drylaw Place around 4.15pm on Friday 9th March following a disturbance.
"An 18-year-old man and a 41-year-old woman have been arrested and charged in connection with this and are expected to appear in court at a later date
RELATED 
https://www.thelondoneconomic.com/must-reads/van-driver-avoided-jail-despite-crashing-into-a-cyclist-and-killing-him/11/03/