Police are investigating after a snared dead fox was bizarrely left strung up on garden gate in broad daylight.
Locals claim the homeowner caught the vixen in a snare trap set in his back garden to "catch rabbits to eat" – and then hung it at the roadside.
Animal activists were alerted to the bloodied body of the female fox – allegedly with a snare through its mouth – and took it down on Friday.
Now police in Minster-on-Sea on the Isle of Sheppey are investigating whether a crime has taken place.
A 62-year-old woman who claims she took the photo before she removed the fox and alerted the authorities said: "A friend reported it to me so I drove over and found it.
"People were understandably concerned that children would see it and find it distressing.
"I have seen some horrible things in my time in rescuing animals and this was horrible.
"I couldn't fathom why anyone would want to do it.
"It was pretty sickening.
"I am told he doesn't like wildlife.
"I think he wanted to shock people. If that's what he intended to do he succeeded.
"I'm surmising that he was snaring rabbits so he doesn't have to buy food and this has happened.
"I know that one cat has also gone missing from the area.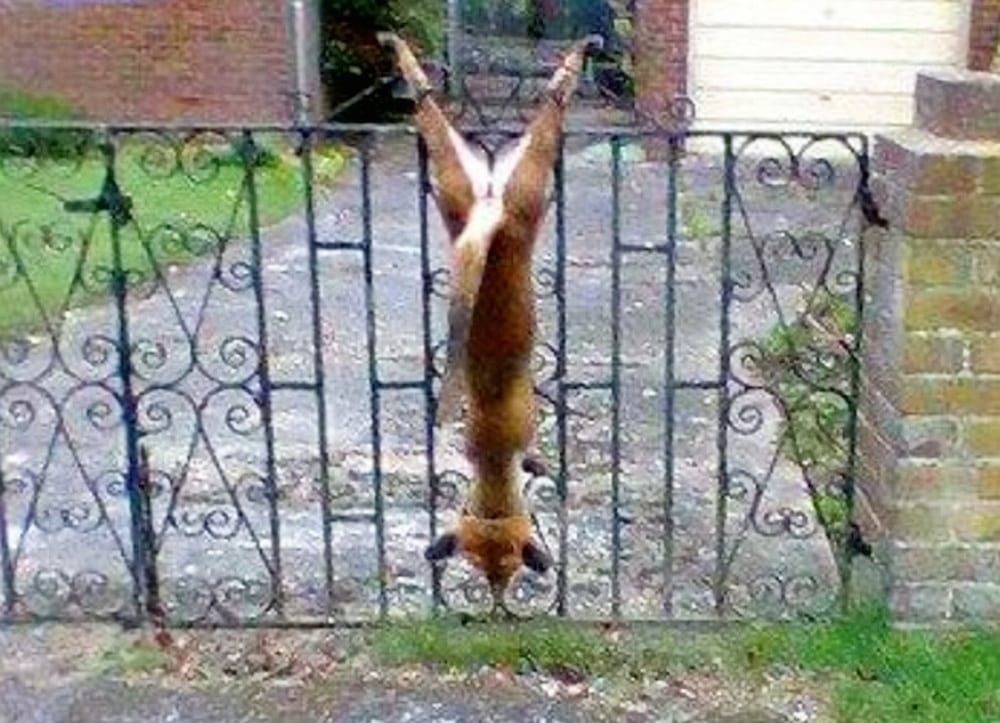 "Neighbours have said they heard the vixen screaming. Initially they thought it was mating but it wasn't.
"When I got there the vixen was dead and rigor mortis had set in but I can't say if it was alive of dead when it was put there.
"The snare had gone down the back of the back and through her open mouth."
The photo taken by the woman has been posted on Facebook and shared thousands of times.
One person wrote: "I think that man has a serious problem.
"A 'normal' person would NOT display a dead animal in that way….keep your kids safe, people…this person is not to be trusted."
Another person added: "That disgusting!
"Surely there's a law against displaying dead bodies for all to see?
"What about the distress caused to people passing, children even?! What a nasty excuse for a human being! I hope when he dies he has a horrible death!"
A Kent Police spokesman confirmed they had received a report concerning images of a dead fox circulating on social media.
They added: "Officers are making inquiries to establish whether any offences have been committed."
A spokesman for the RSPCA said: "The RSPCA is aware of the death of a fox on the Isle of Sheppey and an officer is looking into it. Anyone with any information which could help our investigation should call 0300 123 8018."
Swampy's Wildlife Rescue, based in Sheerness, has issued a warning to residents of Minster and Eastchurch on the organisation's Facebook page.
It reads: "Please be aware if you live in Minster and Eastchurch, somebody is setting snares to catch wildlife. I'm afraid this will put your pets in a very vulnerable position."