This shocking footage filmed by animals rights campaigners shows the squalid and cramped conditions of chickens living at a farm which supplies Asda, Lidl and Nando's
Thousands of birds have allegedly been forced to live alongside the carcasses of rotting corpses in sheds with no natural light.
The video, released by animal welfare charity Peta, shows the small chickens cooped up in long rows with barely any walking space at Stewkley Farm, Bucks.
Other distressing images of a dead bird which has scarcely any chest feathers can be seen, as a bird is sat just inches away and others also walk around it.
Peta has complained to the Advertising Standards Authority and the RSPCA over the farm, which supplies chickens to Faccenda – one of the largest poultry companies in the UK.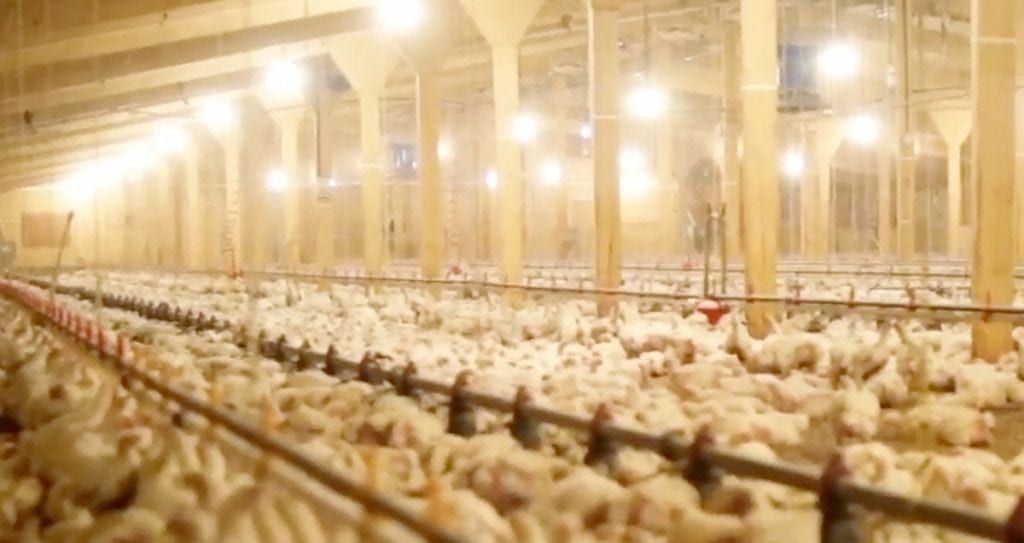 The charity believes the video contradicts Faccenda's claim on their website that 'good welfare is paramount and that means birds that are healthy and comfortable.'
Peta director Elisa Allen said: "Faccenda Foods is trying to hoodwink compassionate consumers with its glib, baseless nods to animal welfare.
"PETA is calling on authorities to hold this company accountable for duping people into thinking otherwise."
A Peta spokesperson added: "This footage was recorded at a Faccenda farm.
"Faccenda is the second-largest chicken-processing company in the UK, supplying five of the largest retailers.
"The company claims: 'All our farms are certified to Red Tractor Farm Assurance standards, or equivalent, and we have a zero tolerance attitude toward anything that jeopardises the health and wellbeing of the animals in our care.
"'Our birds might not able to talk but they are still the ones who tell us we're getting it right."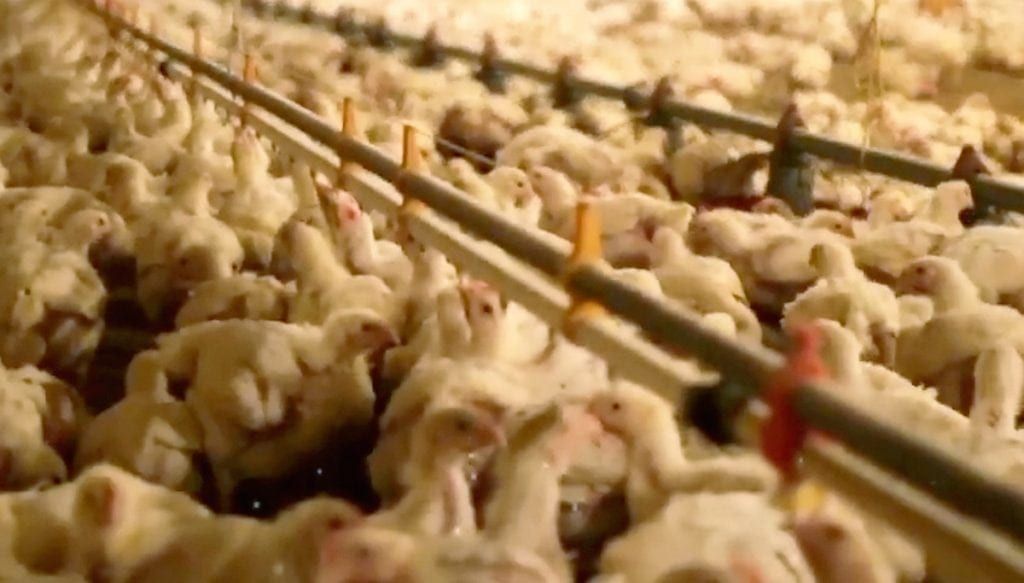 The charity say they had also spotted signs of bumblefoot – a condition which causes pus-filled abscesses – on some birds.
Many of the birds have lost feathers, which Peta says is probably due to stress, inadequate nutrition, or injuries inflicted by other birds.
They claim the chickens have been bred to grow so large so quickly that their legs can become crippled, leaving them in agonising pain and unable to walk, eat, drink, or even stand.
Peta said that chickens are killed at around 40 days old, when they reach "slaughter weight".
Other practices are said to include chickens being scalded in de-feathering tanks – sometimes while still conscious.
Faccenda is the second-largest chicken-processing company in the UK and sells meat to national firms such as Asda, Lidl, and Nando's.
A spokesman for the company said: "All of our farms operate to standards above EU and UK legislation.
"They are independently audited and visited on a regular basis by an external vet to monitor bird health and welfare.
"This footage is 12 months old and a number of changes have already taken place on that farm.
"We place high expectations on our people when it comes to looking after the birds in their care.
"If they fail to meet our standards then they will not manage one of our farms."
A Nando's spokesman said animal welfare was "as important to us as it is to our customers".
He added that it would "only ever source from farms that meet our animal welfare expectations".
Watch Video Here
https://www.thelondoneconomic.com/food-drink/how-to-shop-vegan/01/11/