By Diana D'Aloisio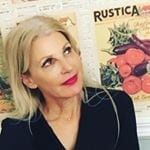 What's missing from London Fashion Week?
Clue: we're the customers with the most money to buy the fancy clothes on show.
Still no idea?
London Fashion Week is a cheery reminder of our capital's place in the fashion world.
It's a great chance to see the looks that will be hitting shops all over the world over the next few months.
But one look that is conspicuously absent is anyone that looks over 30.
From the models on the catwalk to the models in the fashion features gracing the magazines and newspapers poring over the looks that we can look forward to wearing, you would be forgiven for thinking that clothes are only designed for teenagers and people in their Twenties.
It's as if women my age aren't meant to wear fashion clothes. 
I don't understand why the fashion brands on show this week don't realise the opportunities that they are missing. 
There are now around 20 million over-55's in the UK –  one in three of the population. What's more, over-50's account for about 47% of all UK consumer spending. And we are the most loyal customers that fashion brands and stores have.
We have been buying their clothes for decades and at this stage in our lives we have more disposable income to spend on clothes than ever.
I never really thought much about my age until recently when I slowly started to notice how gradually there seemed to be a subtle "ism" creeping into my life – "age-ism".  
According to Age UK, "Ageism, also called age discrimination, is when someone treats you unfairly because of your age. It can also include the way that older people are represented in the media, which can have a wider impact on the public's attitudes. If you experience ageism, it can impact on your confidence, job prospects, financial situation and quality of life".
Ageism is not just noticeable in the invisibility of women my age in fashion pages and Fashion Week. It is around us every day in the way that the media and advertising industries represent over 50's as ready to take out funeral insurance, dress in a certain way and want to use products to make us look younger.
It is also the way you are made to feel uncomfortable when going into a fashion high street store or up to a make-up counter, where they assume you are too old to wear such clothes or wear such makeup. The whole experience of shopping is set up to exclude women my age.
Clothes shops are laid out for younger people with mannequins in skimpy short and tops that only the very young would wear at the front. Music is pumped out at volumes that as you get older you have little tolerance to. Women as they get older they struggle with their age and confidence. I know a lot of older people who won't go into a Topshop or New Look.
We have a choice to either accept this or not, and I have chosen to do the latter.  I want to help eradicate ageism and this is what has led me to writing this article.
I think we have to start somewhere and trying to change ageism in the field of fashion and beauty where women become invisible after a certain age is especially important. This is directly linked to the way that it makes us feel about ourselves and our age, and affects our confidence.
My day job is a lawyer, and when I chose to do law it was dominated by men. I was spurred on by the thought that women can do this too and I did it! And now I see how fashion and beauty are dominated by younger people, again it spurs me on to think I can do this too! 
Fashion in my passion so what better place to start. – I am determined to become a model now at the tender age of 59 and model glamorous outfits and show that age is no barrier to fashion. So far I have had more rejections than you could ever imagine, and I admit sometimes it does get me down.
So I have also set up my own Instagram site : @diana_styles_london –  to get a following in fighting prejudice and showing that anyone can model and look glamorous at any age. And I intend to donate any funds I receive as a fashion model towards fighting ageism with the charity Age UK who I am working with on my quest. Age shouldn't matter when it comes to modelling.
If I can wear these clothes so can anyone! And there are tiny signs that changes may be afoot. Last year 73-year-old Lauren Hutton became a Calvin Klein model and one of the original 1990s supermodels Amber Valletta graced the cover of UK Vogue again in her 40's.
Nowadays thankfully most magazines and clothing brands use a range of models with different shapes at last – though perhaps not often enough. Boohoo, for instance, has a larger model in their adverts, but they should have older models like me too. Otherwise these brands are saying you have no value after a certain age. 
This is not only discriminatory but it is short-sighted too.  Not only are today's over-55's wealthier, they are also healthier and have more time to spend their money before and during retirement, while under 50s' spending is decreasing statistically as they feel the economic squeeze more than their older counterparts.
Over-65's spend £6.7bn a year on clothes in Britain, yet this age group is shunned for flawless youth unless the ad industry is selling life insurance or stairlifts. I'm inviting clothing brands to work with us to welcome older women back, make us feel wanted, and the first step is to stop erasing women my age from your models and advertising! 
Even the language in Britain conspires against us – if you want to go out in shorts at my age, you are labelled "mutton dressed as lamb." In other cultures ageing is celebrated. Italians adore an older woman.  In Japan it is celebrated as your second childhood.
And so it should be!
For more about Age UK & ageism : https://www.ageuk.org.uk/information-advice/work-learning/discrimination-rights/ageism/