A dad who was told he had a trapped nerve after collapsing at home was given the devastating news he is suffering with an incurable brain tumour.
Neil Grist had gone to a sports therapist and was doing exercises to help relieve the tingling in his legs when he suddenly suffered 16 seizures in a day.
Paramedics who came to Mr Grist's home when he first suffered a fit and fainted in March this year said the pain he suffered in his neck and back were likely nothing to worry about.
They suspected the father-of-two, from Thackley, West Yorks., had a trapped nerve.
Mr Grist was sent home from hospital but was referred to the faint clinic and booked in for a CT scan.
However, when the 42-year-old non-league footballer had 16 seizures in one day just a month later he was rushed to the hospital for an urgent CT scan.
His primary school teacher wife Andrea, 45, said: "The doctors told us that they had found something but they weren't sure what it was.
"They decided to put Neil on watch and wait and ordered another scan for four week's time.
"The wait was agonising."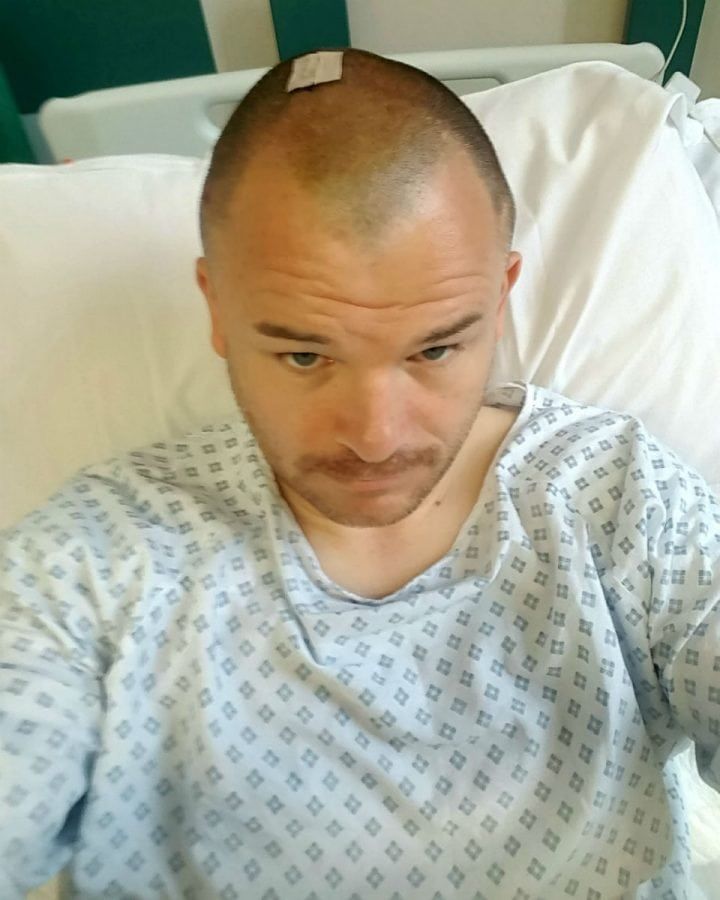 Results of the second scan showed the growth had increased dramatically in size and doctors confirmed it was a brain tumour.
A biopsy revealed that it was a glioblastoma, an aggressive form of cancer.
Andrea said: "As you can imagine it was the biggest shock of our lives.
"Neil has always been sporty and healthy and up until recently had never had any health problems.
"To be told it cannot be cured is devastating.
"However, Neil is very positive and we are facing this fight together."
Father-of-two, Neil, said: "Thinking back I do think something should have been done earlier, alarm bells should have been ringing that a fit-and-healthy 41-year-old should not be collapsing.
"I did think it was unusual and not quite right but I went along with the experts.
"I wish I had pushed for a scan and could have been diagnosed a couple of months earlier.
"If anyone suspects something is wrong then they ought to follow their gut instinct."
Now Neil, Andrea and his twin daughters, Rebecca and Isobel, 14, are hoping to join over 200 friends and family to complete a twilight walk to raise money for The Brain Tumour Charity on October 22.
Andrea said: "Neil has recently completed radiotherapy and at the time of the walk will be one month into chemotherapy.
"The Twilight Walk is about doing something practical to raise funds for a tremendous charity who are working hard to find a cure for this terrible condition."
Neil's tumour cannot be operated on because it is located on the top of his head, it is on the right side of his brain, meaning it effects the left side of his body.
When he has seizures, the left side of his body will shake – particularly his left leg.
The family are hopeful the chemotherapy will shrink the tumour.
The Brain Tumour Charity is encouraging supporters to hold their own twilight walks during October.
See thebraintumourcharity.org/get-involved/thetwilightwalk/.
To donate, visit justgiving.com/fundraising/andrea-grist.