For many leading companies, attracting the best and brightest young graduates as well as retaining staff, is a major business priority. Sarah Canniford, Senior Corporate Volunteering Development Manager at Macmillan Cancer Support, explains how a charity partnership can help meet this objective.
Charity partnerships have become a vital part of the business model for many companies, demonstrating that they are socially aware and keen to give something back. At Macmillan Cancer Support, we believe this will help with recruitment and retention, because potential employees are also motivated by a conscientious employer, especially young graduates.
Recent Macmillan and YouGov research shows that 18 – 24 years olds are keen to donate to charity when they can, and it is this altruistic streak that corporate social responsibility will appeal to.
In November, we offered several of our corporate partners the opportunity to engager their graduate workforce in the work we do together, when we invited them to nominate some of their 18-24 year old professionals to attend an event at our London offices.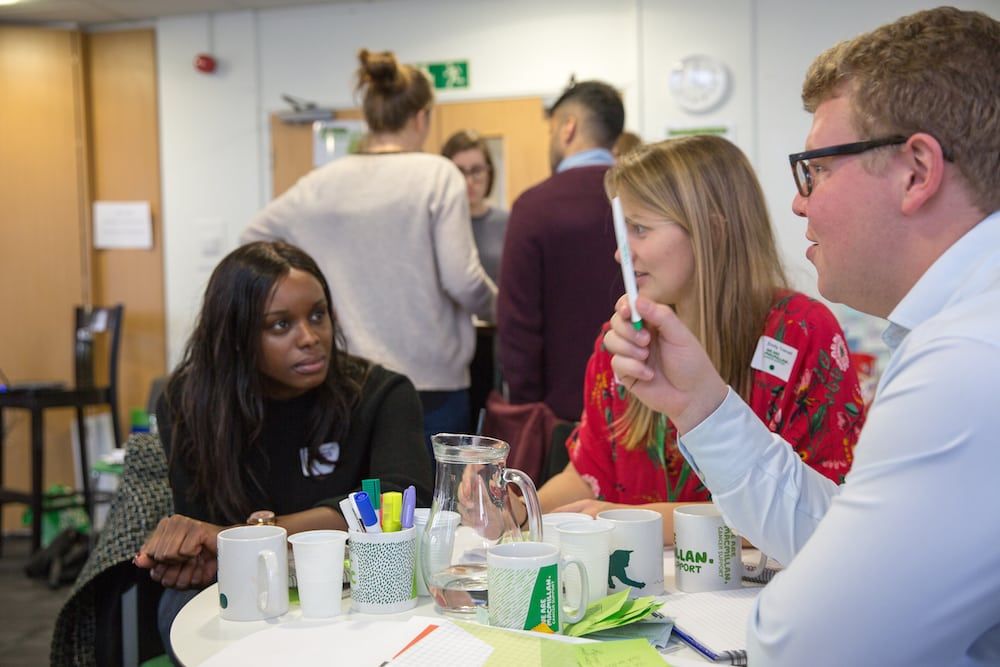 Employees from Boots, Fujitsu, M&S, Nationwide, npower and Wolseley attended the two-day event, gaining insight into the increasingly challenging world of charity fundraising. For Macmillan, we get the additional benefit that future industry leaders such as these are engaged with the work that we do, and hopefully furthering our reach into their growing professional networks.
All the attendees put their passion and enthusiasm to work through 'Apprentice' style challenges. Working collaboratively, they took on some of the problems that charities face including designing new fundraising products and developing volunteering initiatives. They were also provided with great networking opportunities; meeting peers from sectors that they had perhaps not had the opportunity to speak with before. All united by a common cause and passion for social responsibility.
One attendee, Joanne Black aged 23 is a Juice Buyer at M&S. She tells us, "It was really interesting to learn more about the work that Macmillan are doing and to understand the growing challenges they face. I've been aware of Macmillan's partnership with M&S for a while so it was really rewarding that as a group we could add value to future fundraising opportunities."
While it was great to hear this response from those who came along, it was also heartening to hear that, on a managerial level, this integration and investment in young professionals is supported and can support business priorities.
"We always relish the opportunity to find new and innovative ways to get involved with Macmillan," adds Helen Alkin, Early Careers Manager at M&S. "Having our graduates attend was a fantastic opportunity for them to learn new skills, develop their professional network and learn about how important our partnership with Macmillan is to us as a brand. Hopefully, they left with boosted confidence in collaboration and networking, and increased commitment to our company too."
Overall we felt that the event was a fantastic success, building on last year's inaugural event, and demonstrating that charity partnerships can go beyond the simple act of fundraising. They can also help you engage the next generation of employees.
We are hugely proud of our corporate partners and the work they do to support us and likewise, feel boosted by their investment to showcase us to their employees, who are hopefully – in turn – inspired to keep giving back.
https://www.thelondoneconomic.com/lifestyle/health/providing-business-business-cancer-support/01/12/
https://www.thelondoneconomic.com/lifestyle/tips-coping-emotional-impact-cancer/03/07/