According to a recent survey from Columbia University, adults make at least 70 decisions each day. Some are important, but others are completely futile, eventually leading to a "phenomenon" known as brain fatigue. While life is filled with big decisions, demanding to be carefully mulled over, others are completely futile. Overbearing restaurant menus are a key offender in relation to brain fatigue. How many precious minutes of your life have been spent cross examining a restaurant menu with 10, 15, 20 different main courses; constantly asking the waiter to come back in a few minutes, when you'll still be torn between at least four dishes?
The Set, however, makes life very easy, operating from the Artist Residence hotel in Brighton, directly opposite the i360 – an unwanted erection intended to become an "iconic Brighton landmark" while bothering the horizon. Here, the restaurant serves a trio of set menus (no a la carte) and completely eliminates the need to make relatively trivial decisions. Each is split into four courses, segued with various titbits: like miniature tasting menus, but less tiresome and egocentric than the concept typically suggests.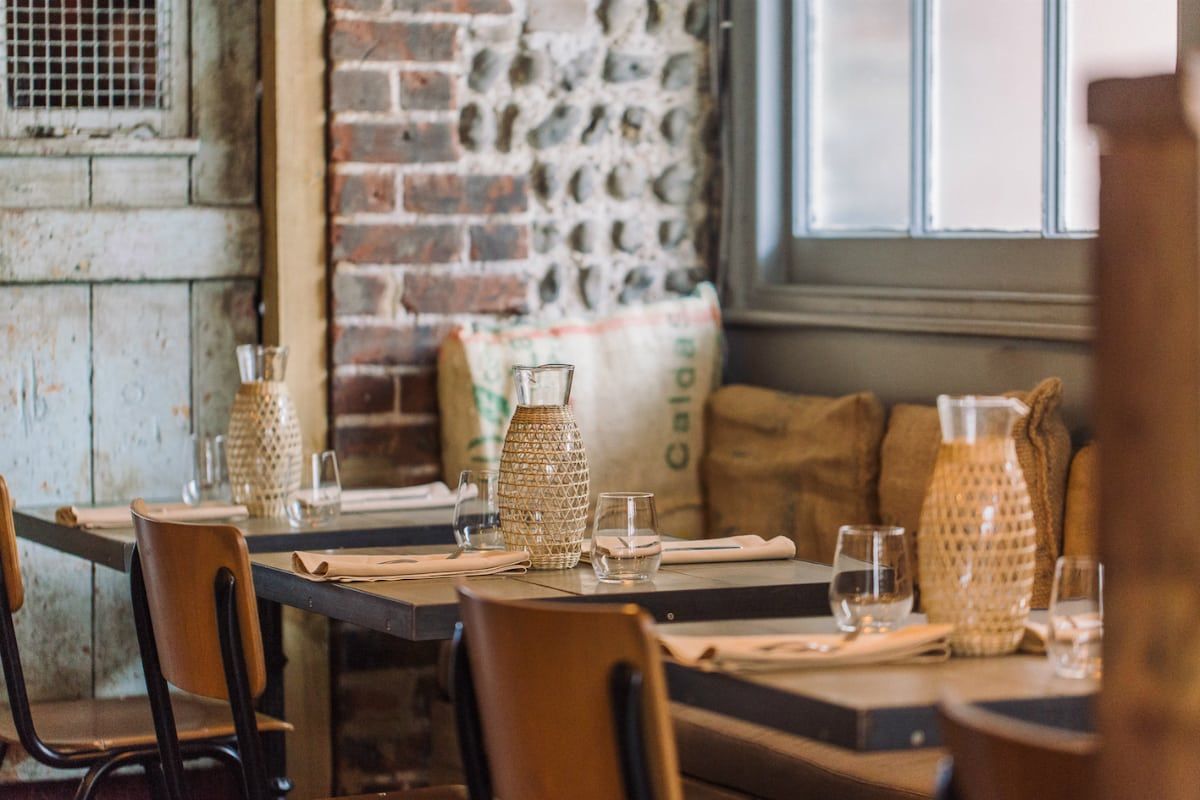 Inside, The Set is a reminder of the fact that Brighton was recently voted world's "most hipster" city. Menus are brought to the table inside classic novels (Trainspotting, The Picture of Dorian Gray, et al); the walls are stripped back to bare brickwork; and the cosy space is festooned with school chairs, hanging pendant lighting and modern art. Conversely, the atmosphere is far less hostile than similar rooms in Hoxton or New Cross. As for the food, Dan Kenny's cooking is ubiquitously modern, pushing boundaries without exorcising the sterility often associated with adventurous fine dining.
From the two "omnivorous" menus, dinner begins with a selection of snacks, each evocative of the seaside. Linseed crackers are crowned with a globule of taramasalata spiked with squid ink and served on a pile of "Brighton rocks"; bite-sized doughnuts are light, greaseless, filled with apple puree and a whisper of salty ham. Elsewhere, a combination of nacho cheese, guacamole and sour cream screams Tex-Mex comfort food, while the ensnaring cone of brick pastry slurs, "fancy an ice cream on the pier?"
These snacks are followed with a hunk of cauliflower, grilled like a steak – heavily charred and firm, embellished with cauliflower kimchi that's powerful but a respite from the overbearing kimchi overdrive suddenly obligatory in London restaurants. Jerusalem artichokes, on the other hand, are cut into wedges then poached and glazed in apple juice, proficiently contrasted by a puddle of tahini and a quenelle of "ice cream": tarragon and walnut pesto that's frozen and whipped.
Two fish middle courses are superb. A tranche of trout is a masterclass in technically perfect fish cookery – the flesh pink and giving, while the skin is brittle and well-seasoned. A dumpling of crab meat lounges across the skin and adds another depth of flavour, showcasing even more technical skill, while mussel velouté is brackish and works to further unite the plate's bold flavours. Jerk monkfish, on the other hand, is made with less Scotch Bonnet than typical – employing enough presence for the seasoning to develop on the palate, but without overwhelming the delicate monkfish. Mango salsa is a welcome, refreshing accompaniment, bolstered further by charred corn kernels and a coin of corn cake. This is, undoubtedly, the best monkfish dish I've ever eaten.
Equally glorious is a main of hogget saddle, cooked rare and rolled in vivid green herb crumb. The bulky lamb croquette isn't particularly necessary as an accompaniment, nor is the delectable radish brushed with lamb fat, but both are executed superlatively. Also on the plate, The Set's take on Pommes Anna, featuring layers of paper-thin celeriac and soft boudin noir, belongs on the menu of the country's most advanced French restaurants. Another dish focusing on a ballotine of chicken breast is technically fine, transforming a habitually unexciting dish with ribbons of preserved lemon, conveying an opportune North African slant.
We finish with a disk of barely set chocolate with buttermilk ice cream, that's every bit as decadent as it sounds, and prettily presented, technically advanced carrot cake. Finished with shards of 'raisin paper', cinnamon gel and a rocher of cream cheese ice cream, the round of carrot cake is dusted with carrot powder – texturally alarming, not unlike sawdust – and carrot sauce with intense umami character as one final surprise.
The cooking style showcased at The Set broaches dangerous territory. When poorly executed, it can (rightly) be considered pretentious. But when done well, as it is here, it's an absolute pleasure to experience.
The Set can be found at 33 Regency Square, Brighton, BN1 2GG.
RELATED
https://www.thelondoneconomic.com/food-drink/restaurant-review-pascere-brighton/12/09/
https://www.thelondoneconomic.com/food-drink/restaurant-review-rigo/21/03/
https://www.thelondoneconomic.com/food-drink/restaurant-review-flank/22/11/