The only three Michelin starred restaurant in Madrid, David Muñoz opened DiverXO in 2007. The restaurant was quickly succeeded by the nearby opening of a less formal sister restaurant, StreetXO – an establishment with an off the wall, highly conceptualised menu. Nine years later, Muñoz brought his fine dining circus to London, launching StreetXO on Old Burlington Street, Mayfair.
With a less formal atmosphere than DiverXO, StreetXO in London showcases the chef's unconventional cooking style in an equally eccentric setting. The dark basement dining room has is quirkily decorated with the same level of unfaltering style and expense as local restaurants such as Sketch, Sexy Fish or MNKY HSE. We pass a long bar, where guests sip on cocktails served in ceramic hearts or comical fish bowl wine glasses, and past the branded StreetXO caps and chef's forceps, each for sale. Through the dining room evocative of Tokyo-cum-Arkham Asylum-cum-Berghain, we take our seats at the well-lit counter. Here, chefs meticulously prepare dishes with clockwork precision. As is always the case with this level of adventurous cooking, there's plenty of chance for disaster. But when done well, the entire (slightly outdated) concept of fine dining can be completely revolutionised.
From the a la carte menu, some dishes boast flourishes of culinary magnificence: others are an expensive exercise in experiential egotism. Dinner began with "Usuzukuri-carpaccio of Hamachi "fish and chips". A clever, contemporary riff on traditional fish and chips, the dish featured 12 canapés served on a sheet of printer paper. Slivers of Japanese amberjack were topped with diced confit potato, a purple potato crisp, batter scraps and a sauce of Peruvian Ají Amarillo and Japanese yuzu which packed a ferocious punch of vinegar. With striking blend of familiar flavours and amiable textural interplay, the dish was impressive: as it should be for £20. 'Irish Oysters on Holiday to Acapulco!' (£22.50 for four) were another rousing offering, featuring plump oysters gently grilled on the Robata then swamped with an ambrosial gazpacho of Jalapeño and green tomatillos.
StreetXO's green curry (£17) has a menu description accompanied by three consecutive exclamation marks – these I could, perhaps, understand (or at least struggle to understand) had the pretty green sauce not been so bereft of flavour. Wedges of grilled avocado, green peas and broccoli bathed in the sauce of kaffir lime, but the overall result was forgettable. Better was the ramen of barbecued guinea fowl and foie gras (£22 for two bowls) with its silky, smoky broth, thin noodles and Trompette mushrooms.
Pekinese dumplings (£14.50 for three) are a particularly popular dish at StreetXO: arguably the best thing eaten in terms of execution and culinary expertise. A riff on Chinese duck and pancakes, thin wonton wrappers encased slow-cooked duck meat, texturally contrasted by shards of crispy pig's ear and a singular slice of pickled gherkin. The accompanying strawberry Hoi Sin sauce that lends the dish its striking appearance (not unlike Andres Serrano's 'Semen and Blood III' artwork used as the cover for Metallica's 'Load'), however, is a step too far. Jarring and overbearingly sweet, the sauce would be better suited to ice cream served at children's Birthday parties.
'The Octopus "a la Gallega" who spoke Mayan' (£21.50) featured two heavily charred octopus' tentacles joined by foam-covered fried potatoes: delicious. The accompanying Chilmole emulsion of tamarillo, papas arrugadas and yuzu Aioli panipuri, on the other hand, was an assault of bold, not entirely congruous, flavours. 'The Lamb who travelled: Paris-Lima-Canton' (£23.50) also has a Salvador Dalí-esque title. A milk-fed baby lamb shank was cooked properly, convoyed by outstandingly decadent pomme purée à la Robuchon, spiked with even more Ají Amarillo, bafflingly. To finish, a coffin of guava cheesecake ice cream (£9) was fortunately light, harbouring nuggets of sablé butter cookies, caramelised popcorn and blobs of tart lemon gel.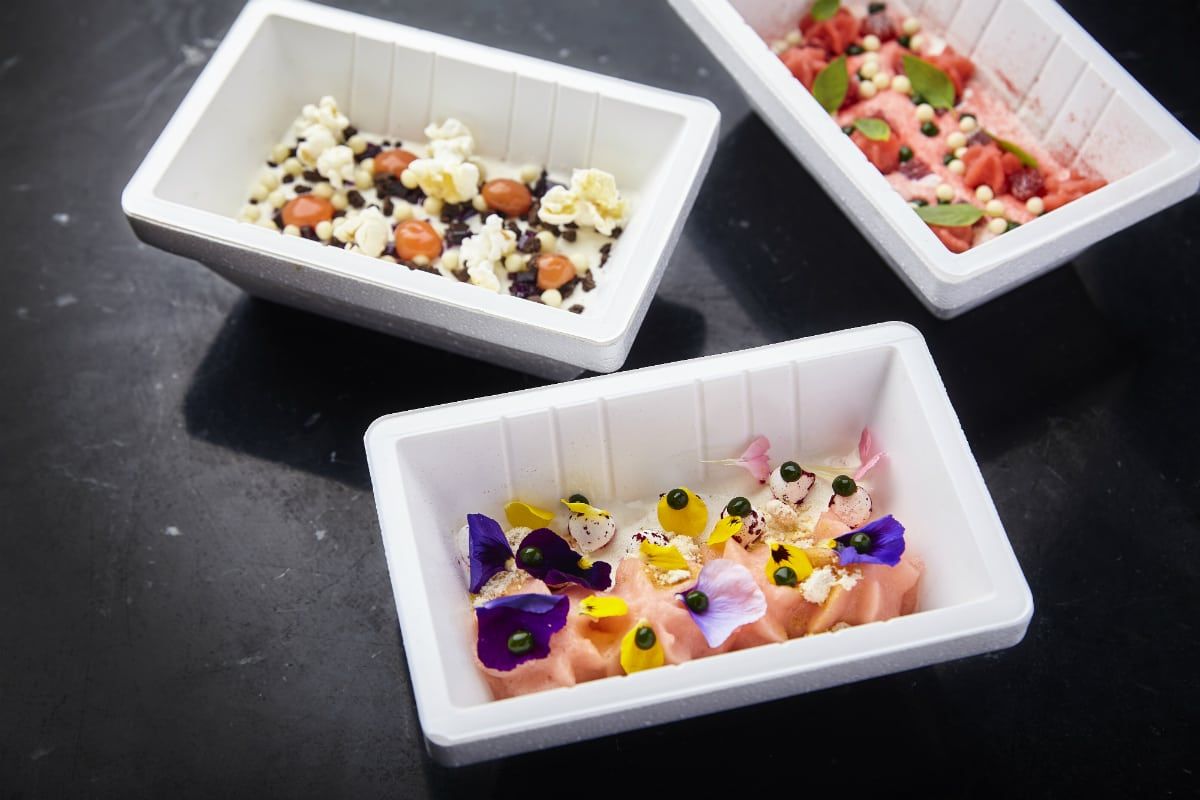 Dinner at StreetXO is experiential, for sure; but also confusing. Service is efficient, but not rushed (dishes are served as and when they're ready), and all floor staff are charming, attentive, professional. Moreover, David Muñoz's cooking skills are undeniably advanced. The chef's menu, however, is convoluted and many dishes are expensive – even for Mayfair standards. Moreover, while the cooking is technically exact, some chaotic flavour pairings generate an unnecessary notion of concentrated flummery. 
StreetXO has been announced as the restaurant partner for Mayfair Art Weekend and will present The Mayfair Modern Art and Lunch Experience on Saturday 30th June, comprising a tour of some of London's most prestigious contemporary art galleries followed by lunch at StreetXO. Further information can be found here.
StreetXO can be found at 15 Old Burlington Street, London, W1S 2JR. 
RELATED
https://www.thelondoneconomic.com/food-drink/restaurant-review-rigo/21/03/
https://www.thelondoneconomic.com/food-drink/restaurant-review-mnky-hse/20/09/
https://www.thelondoneconomic.com/food-drink/restaurant-review-st-john/08/05/