Initially launched as a supper club, Santo Remedio's first bricks and mortar site opened in Shoreditch at the beginning of 2016. Although a hit with critics and locals, the restaurant quickly closed its doors just seven months later due to issues with the building. Thanks, in part, to a successful crowdfunding campaign, however, Santo Remedio was resuscitated one year later, relocating to a new site on Tooley Street, near London Bridge.
Literally meaning 'Holy Remedy', the operation was founded by Edson and Natalie Diaz-Fuentes, built on a desire to bring authentic Mexican flavours to London, inspired by the country's taquerias, markets, homes and celebrations. In the kitchen, specialty ingredients such as Pasilla, Serranos and grasshoppers are imported direct from Mexico, while Gringa Dairy in Peckham produces the restaurant's Mexican-style cheeses.
Santo Remedio 2.0 occupies a vast space, with a cantina-style dining room on the ground floor. Past the bar area, the kitsch dining room is furnished with hard wood seats and tables, succulent plants and an explosion of colour throughout the wallpaper, paintwork and crockery. To tie in with the comfortable space, service is similarly casual, friendly, accommodating. As for the menu, the a la carte offering is divided into snacks, seafood, antojitos (street food-style dishes) and larger main courses. It's with the mains that Santo Remedio challenges the Anglicised notion of stereotypical Mexican food, delivering a plethora of dishes somewhat less familiar in the UK. A weekend brunch menu is also served, plus a set menu available at lunch, boasting outstanding value (£15.50 two courses, £19.50 three courses).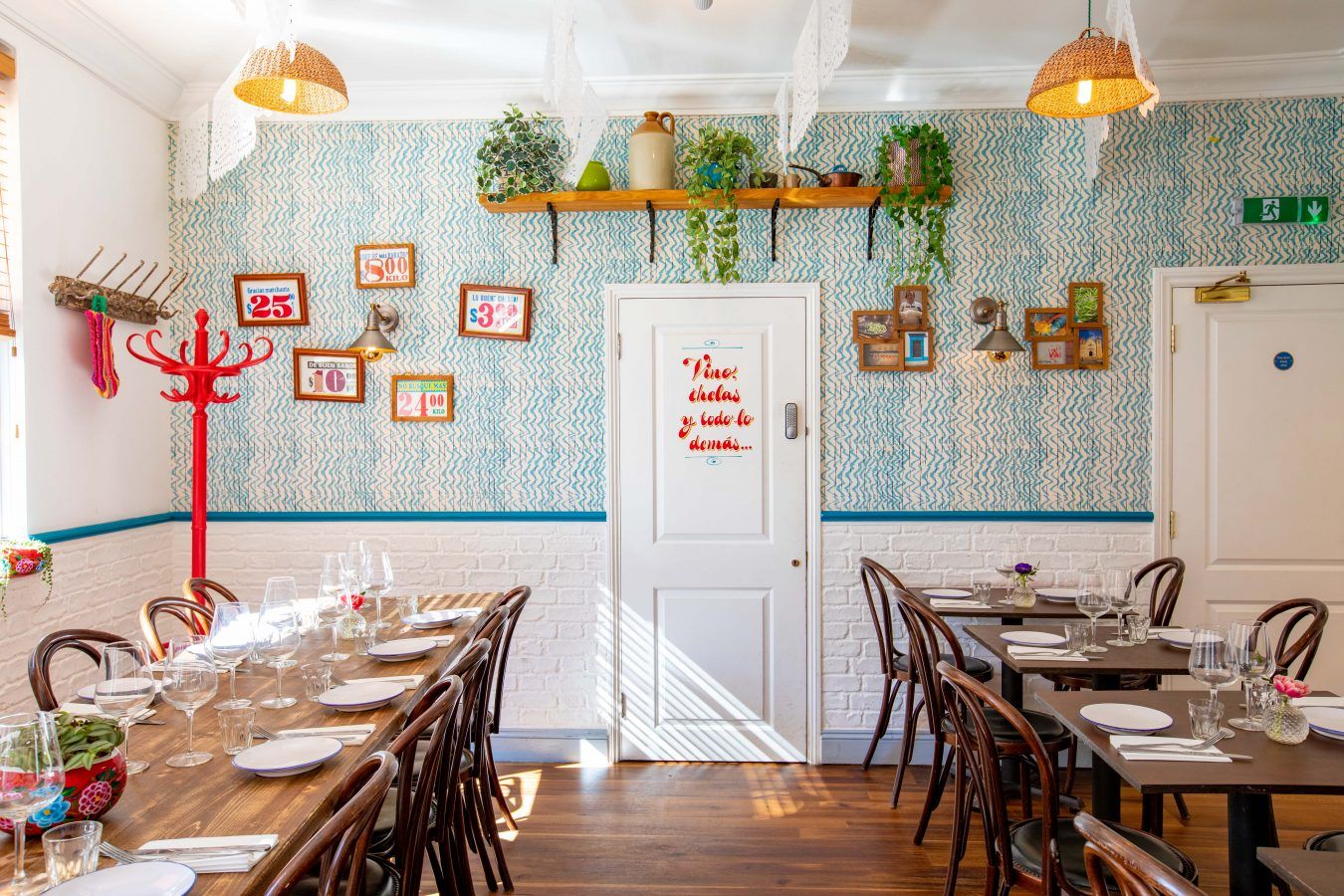 A recent lunch began with generously seasoned corn tortilla chips, served alongside a fresh, gloriously simple, guacamole (£6) with or without the addition of a crowning grasshopper: enough to rouse the senses while scanning the tequila and mezcal-heavy cocktail list. Next, octopus tostadas (£10) harboured crisp taco shells capped with a mattress of smashed avocado over which hunks of well-cooked octopus tentacle were served cold, embellished with a whisper of habanero, coriander and red onion ribbons cloaked in batter and deep-fried. Soft-shell crab was similarly battered and plunged into seething hot oil, with the carapaces sprawled onto near-perfect tacos, embellished with a dry slaw of red cabbage and carrot; and serrano mayonnaise (£12.50). Beef barbacoa tacos (£7.50), on the other hand, featured tangles of brisket slow cooked for eight hours, joined by radish slivers for textural contrast and rich, mesmerising pasilla chile synonymous with mole, further enlivened by a squeeze of lime juice.
Conversely, a quesadilla was armoured with an overly thick tortilla (£9). The grilled fatty chorizo rife with smoked paprika and Chihuahua cheese, however, was compensatory – as was the dark, accompanying salsa roja with prevalent smokiness. A main of hake (£16) was a far daintier dish, comprising a fillet of well-cooked fish with a pale dashi and slices of charred cactus. On the side, hunks of plantain (£4.50) had deep caramelisation, unleashing a natural sweetness here contrasted by a dribble of salty Oaxacan cheese.
To finish, a bowl of churros featured spears of dough with their craggy exteriors contrasted by pillowy centres, showered with cinnamon and accompanied by cajeta, a Mexican interpretation of dulce de leche: a strong conclusion to lunch at one of London's best Mexican restaurants.
Header photograph: Nick Hopper
Santo Remedio can be found at 152 Tooley Street, London, SE1 2TU.
RELATED
https://www.thelondoneconomic.com/food-drink/restaurant-review-ella-canta/14/11/
https://www.thelondoneconomic.com/food-drink/restaurant-review-mestizo/05/10/
https://www.thelondoneconomic.com/food-drink/restaurant-review-lupita-shoreditch/14/07/