It's a brave soul that opens a new restaurant in Chinatown. Rental prices are notoriously expensive – around half a mill a year for a decent-sized place. How many meals do you have to serve just to cover those costs alone? So I arrived a Hot Pot for a pre-cinema meal hoping, for their own sake, it would be a success.
The signs were good; 'display eating' has always been a popular choice of dining experience, from crêpes suzettes at the table to barbecues where your meal is whipped up in front of you – and it's never more attractive than in these times, when we share what we eat on social media and IRL.
So while Hot Pot follows in the Mongolian tradition from thousands of years ago, when one-dish family meals were the most practical way to eat, it's now featured on Celebs Go Dating, and provides a buzzy atmosphere for group dinners in the epicentre of London's nightlife.
Hot Pot is decorated as a trendy-casual urban eatery, with exposed brickwork, rows of low-hanging Edison bulbs and minimalist golden fans arranged intermittently along the walls. Like their meals, many of the restaurant's tables are arranged for sharing. That means my sister and I were seated on a table for four, but no matter, as we were soon to over-order.
Cocktail in hand, we began with the spring rolls. A Chinese staple, they were as crispy on the outside and moreish on the inside as you'd expect from Britain's spiritual home of Chinese cooking; they wouldn't be able to get away with anything else.
But it's the hot pots that are the main draw, as its title suggests. We went veggie, which was no problem as the options were plentiful. A DIY meal, we first picked our broth (mushroom), which came to the table ready to boil on the central hob. Then we picked the ingredients we fancied – in our case, fried tofu for the protein; babycorn, pumpkin, pak choi and rice noodles for the bulk. But the options are plentiful; there's fresh lobster, seabass, sliced kidney, Wagyu beef and tiger prawns on the menu for those in the mood for something a little more substantial.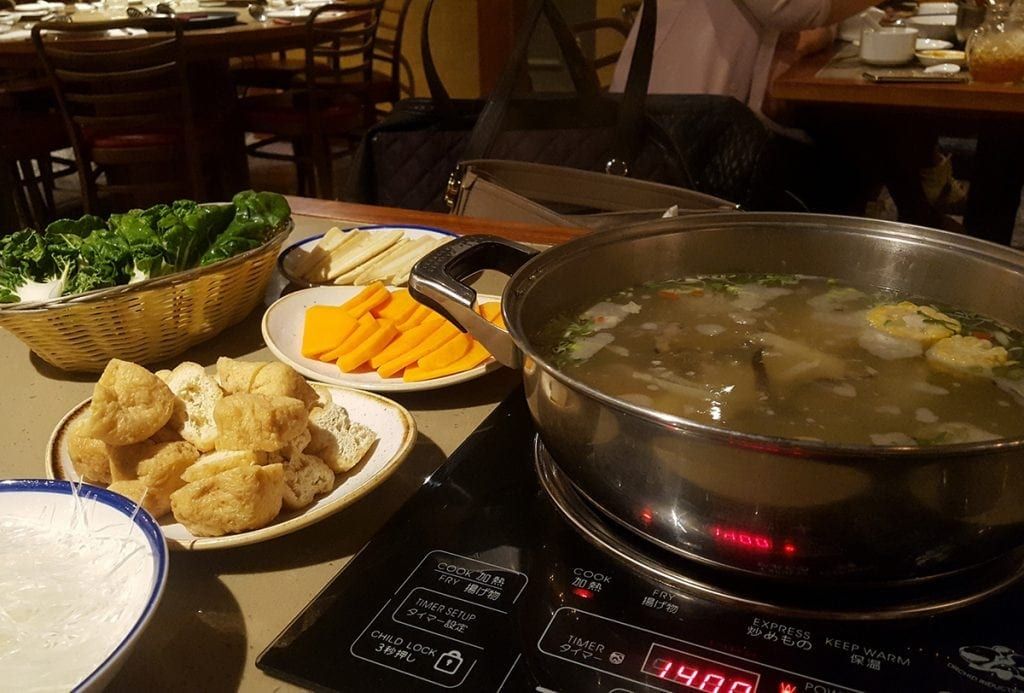 It was cooked together in front of our eyes. In theory it was the time where we caught up on gossip, but instead, we poked the pumpkin repeatedly to see if we were right about it needing the most time, and we chose our dips and extras from the counter (warning: all the sauces are differing levels of spicy).
When we were certain it was cooked through and we dipped in, it became apparent why they provide bibs: it was super hot, disastrously messy. I had to look at the group of Chinese twentysomethings next to me to see how they were so nonchalant about the complicated process of eating.
Perhaps it's the veggie options that made it so; there's no easy way to dip pak choi into a small bowl without ruining the remaining dip (and the rest of the table). But I persevered, because it was delicious. The broth soaked into the tofu, giving it a delicate flavour that I couldn't get enough of. There was a real pleasure in drinking the broth at the end too – while light and gentle, it became so flavoursome that it would probably be the soup I'd pick if I had to only ever eat one soup for the rest of my life.
There was barely room for dessert. Barely. Our on-the-ball waiter was quick to recommend the ice cream, but we opted to share the Pandan pancake (also because two of the other four options weren't available). It didn't look too appetising thanks to its strong green colour, but drizzled with light honey, it proved to be a rich, perfectly-made dessert that went down better than expected. Half was plenty, mind.
We left happy and healthy, which was the idea. The splatters of broth everywhere probably wasn't on the agenda, but I'd still be tempted to return and perfect the technique.
Hot Pot Restaurant can be found at 17 Wardour Street, London, W1D 6PJ.
RELATED
https://www.thelondoneconomic.com/food-drink/restaurant-review-duck-duck-goose/17/07/
https://www.thelondoneconomic.com/lifestyle/is-the-date-dead/03/08/