Hām is not another single-menu restaurant, although you could be forgiven for thinking otherwise. Instead, 'Hām' is the Old English word for 'home', a prominent focus at this new West Hampstead neighbourhood restaurant, far more so than cured pork leg.
Nestled amongst a parade of restaurants and charity shops, the restaurant's space is modern but welcoming, and the service strikes a rare balance between casual and proficient. I arrive ten minutes early and find deep comfort in an insouciant attentiveness that's inviting but never pushy. Here, the main dining space is cosy but makes economical use of the space (even though tables are somewhat close together), commanding a solid mid-week dinner crowd. A marble-topped bar stretches along one side of the lofty room, but the semi-open kitchen that looms on high and peers over the room is the main focus point, headed up by Australian chef Matt Osborne – having previously worked in the kitchens of The Ledbury, Terroirs and Salon in Brixton.
Osborne's menu at Hām treads a fine dining line, yet remains accessible, weightily championing local produce. Bread is sourced from Margot Bakery in East Finchley, butter from Ivy House dairy, and spirits from Sacred micro-distillery – distilled from a residential home in Highgate. We begin with two tartares in different guises. Aged raw beef is chunkily diced, topped with paper-thin slices of radish, crispy shallots and blobs of wasabi mayonnaise which taste like horseradish. Although the execution is indubitably modern, the flavours harboured are unremittingly classic: what's not to love? Mackerel tartare, on the other hand, boasts dice of unquestionably fresh fish; oily, well seasoned and simply sating – albeit slightly overwhelmed by an otherwise well-executed aji blanco (cold almond soup).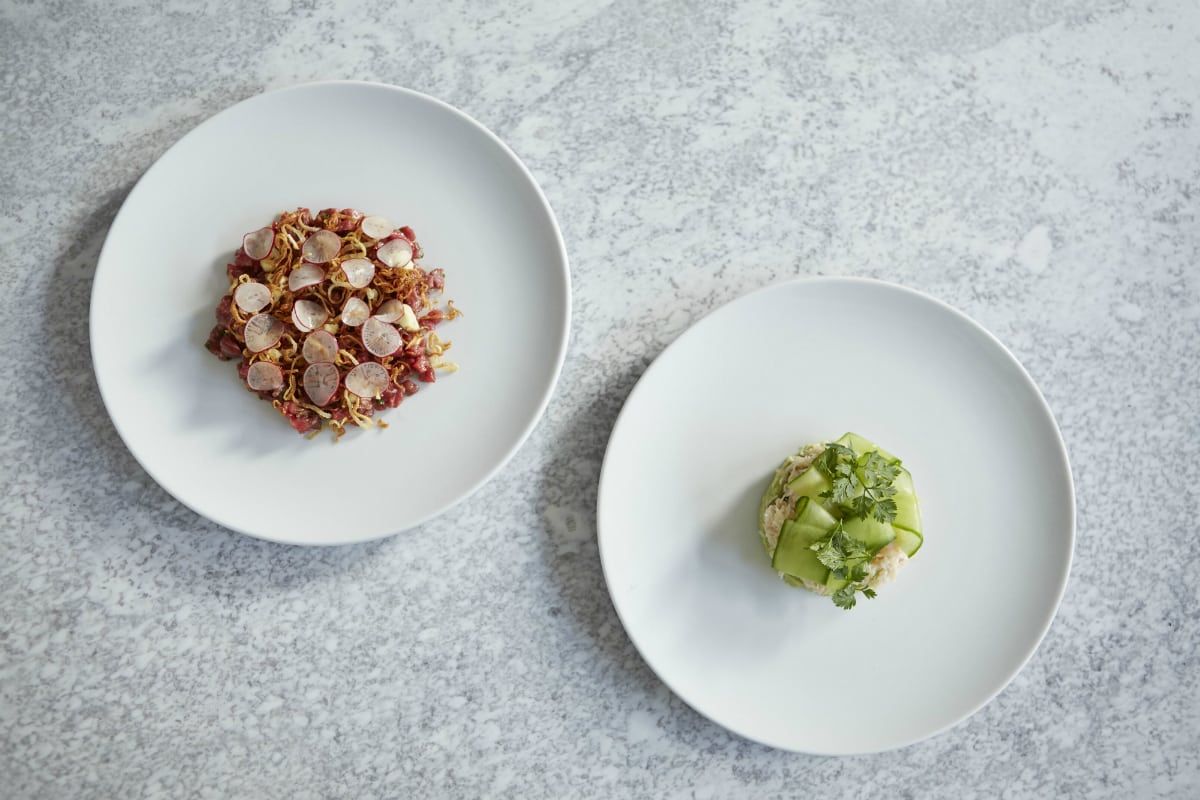 More fish comes with a main showcasing monkfish sourced from Newlyn, Cornwall, though the key ingredient is upstaged by a duo of 'crab dumplings': thin pasta envelopes stuffed with shredded crab meat that loll in a pool of shiitake dashi with a benign whiff of chicken stock. Alas, the monkfish is slightly overcooked and over seasoned, though I'd happily eat a plateful of the crab ravioli.
Conversely, a dish of Devonshire beef champions short rib – having become the bovine equivalent pulled pork, perfunctorily lashed with cloying barbecue sauce and cooked to the point of pathetic submission. At Hām, however, the beef is cooked slowly, but relinquished from the oven before evolving into a pile of so much pulp – and it's all the better for it, accompanied by flavours of sesame, soy and pickled Tokyo turnips. On the side, potato dauphinois is well structured, but with not nearly enough cream; excessively salty. Two sweet desserts are available, but the promise of cheese is impossible to resist. Hām serves a selection of cheeses from Mons Cheesemongers in East Dulwich and Neals Yard Dairy: Saint-Nectaire from Puy-de-Dome, France, is delightful.
Although Hām is only a few weeks old, the restaurant's brunch offering has also become popular, serving refined utilitarian dishes such as Eggs Benedict or French toast with roasted banana, honey and hibiscus yoghurt. A fine West Hampstead neighbourhood restaurant to watch.
Hām can be found at 238 West End Lane, London, NW6 1LG.
RELATED
https://www.thelondoneconomic.com/food-drink/restaurant-review-humble-grape-islington/17/08/
https://www.thelondoneconomic.com/food-drink/the-top-10-best-bottomless-brunches-in-london/19/03/
https://www.thelondoneconomic.com/food-drink/restaurant-review-aside-peckham/21/11/