Covent Garden – an area which, while being home to one of my favourite pubs in London (if you haven't been to The Porterhouse and you're a beer-lover like me, you're missing out), doesn't have pride of place when thinking of interesting places to eat. Sure, the area is littered with one restaurant after the other, but it doesn't necessarily conjure particularly special ideals.
It's, therefore, with a heavy heart I arrive at Frenchie. Situated on Henrietta Street, just opposite the recently opened (and instant Instagram favourite) Avobar, is the fifth addition to the Frenchie family. Owned by husband and wife Gregory and Marie Marchand, this is their first venue outside of Paris. Gregory Marchand had spent time cooking in acclaimed restaurants such as the Savoy Grill, Mandarin Oriental and the Electric House, plus Jamie Oliver's Fifteen, where his nickname 'Frenchie' originates. Insert endearing laugh – or don't (I didn't).
The décor (by family friend Emilie Bonaventure) mirrors the approach to the menu: a marriage of Paris and London. The two-storey, 60 cover restaurant has a contemporary feel – whitewashed walls and exposed brickwork warmed with brass, copper and zinc accents. The general ambience is friendly but upmarket. Though, in the interest of honesty, it has one of those layouts where you seem to be inadvertently part of neighbouring tables' conversations purely due to their proximity.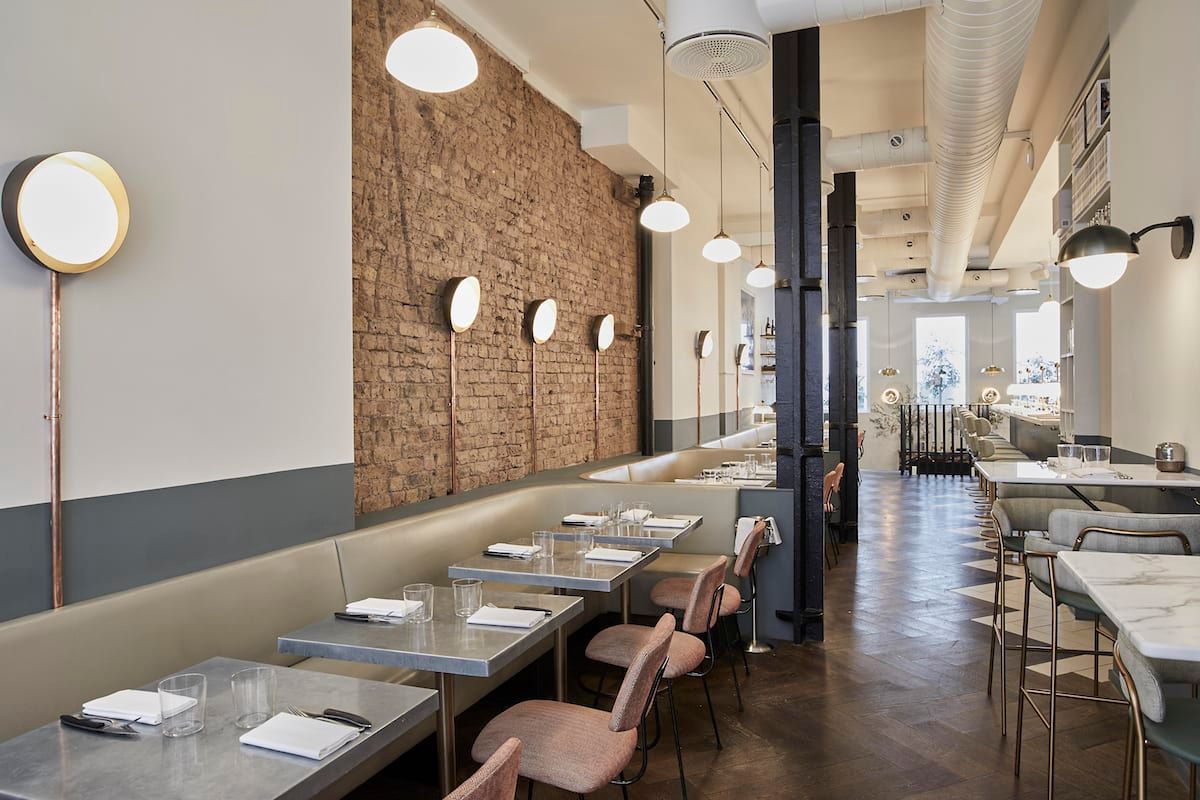 The menu is an interesting one: while clearly underpinned by classical French training, it nods to Marchand's culinary experiences worldwide. That's not to say you should expect any sort of wacky fusion. The dishes here are sourced of British and French ingredients that work together and always have – they're just put together in a way that allows them to shine.
While we consider our waitress' suggestions, we're served a pair of bacon scones (£3 each) served with Cornish clotted cream and sourdough bread with Keen's Whey butter (£3). The maple syrup scones harbour a classic flavour profile of sweet and savoury. What's interesting though is that, while they are delicious on their own, the clotted cream brings out the maple flavour, while using some butter from the sourdough bread brings out the bacon instead. Simply delicious.
After that, it's duck foie gras (£19) and lamb ragù pappardelle (£15). The foie gras (paired with a glass of white wine) was served with mango puree, macadamia nuts and candied coriander seeds. To be frank, the mango nearly cost me the pleasure of this dish when I read it on the menu, I just couldn't see how this could work together with the richness of the foie gras. Oh, how wrong I was. The sharpness and sweetness of the mango cuts through the melt in the mouth foie gras perfectly. The addition of macadamia nuts lends not only crunch but also a wonderful earthiness to this well-rounded dish.
View this post on Instagram
What was particularly surprising though, was the wine pairing. The white – a crisp, full-bodied one – really stood up against the richness of the dish and held its own. The ragù, unsurprisingly paired with a red wine, paled in comparison, I'm afraid. That is not to say that it wasn't excellent. Far from it. Its rich sauce and al dente pasta, made for a wholesome, classic dish. If you're after something that will deliver familiar flavours and just won't let you down – this is your dish.
For mains, we pick sea bass (£29) and 'the veggie option' manicotti and ricotta (£24). The ricotta-filled pasta sleeves are truly special, served with potimarron (also known as red kuri squash), baby leeks and pumpkin seed crumble. It's a plate that is simultaneously fresh, creamy, earthy and rich without being heavy. The sweet meatiness of the squash compliments the saltiness of the crumble and the richness of the ricotta perfectly.
On the wine front, another surprise: a glass of full-bodied red wine. If you're anything like me, you'd be sceptical when everything first arrives. Surely this light dish can't possibly hold up to a rich red? Like me, you couldn't be more wrong.
The sea bass, on the other hand, was another classic, served with a glass of white wine, pickled mushrooms, borlotti beans a beurre blanc. The buttery fish is elevated by the zing of both the pickled mushrooms and the slices of grape. It's these little twists on established well-cooked classics that warm my heart when they're done right.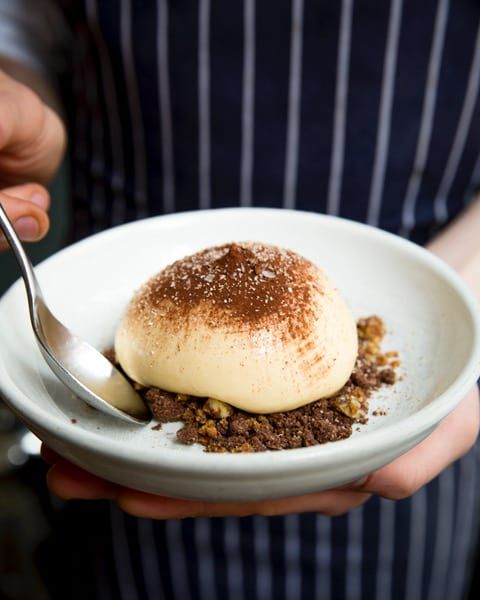 To end our meal, we're unable to resist the banoffee dessert (£8) or black figs and balsamic (£11). Both desserts are excellently made, sweet but not overbearing – again a classic with a twist. A wonderful way to end an exceptional meal. At Frenchie's price point, I'm afraid it's not a venue I'll be able to regularly frequent, but I'll be keeping an eye out for any special occasion capable of warranting an excuse to visit again.
Header photo: V Garnier
Frenchie Covent Garden can be found at 16 Henrietta Street, London, WC2E 8QH.
RELATED
https://www.thelondoneconomic.com/food-drink/londons-new-restaurant-openings-november-2018/01/11/
https://www.thelondoneconomic.com/food-drink/restaurant-review-omars-place/17/09/
https://www.thelondoneconomic.com/food-drink/best-french-restaurants-in-london/11/07/