While the best restaurant names were being handed out, I'd imagine Flavour Bastard (along with Sexy Fish and now renamed Pussey Liquor in East Dulwich) must have been taking a cigarette break.
Since opening in Soho just under two months ago, Flavour Bastard has received a mixed reception, to say the least. Before visiting, I'd already (wrongly) gathered an idea of what the place would be like. But no matter how easy it may seem, it's never okay to judge a book by its cover – or its absolutely horrendous name.
Arriving at lunch time on a quiet Sunday, the first thing noticeable is the fact that there isn't a roast dinner in sight. Hallelujah! Inside, the space is well lit and sizeable, with understated décor. At one of the few empty tables, a singer equipped with an acoustic guitar gently serenades diners with an angelic falsetto. Shortly after taking our seats, a friendly waitress arrives with annotated menus and runs through a brief description of the restaurant's 'concept'; the 'C' word that makes me recoil with terror each time it's muttered.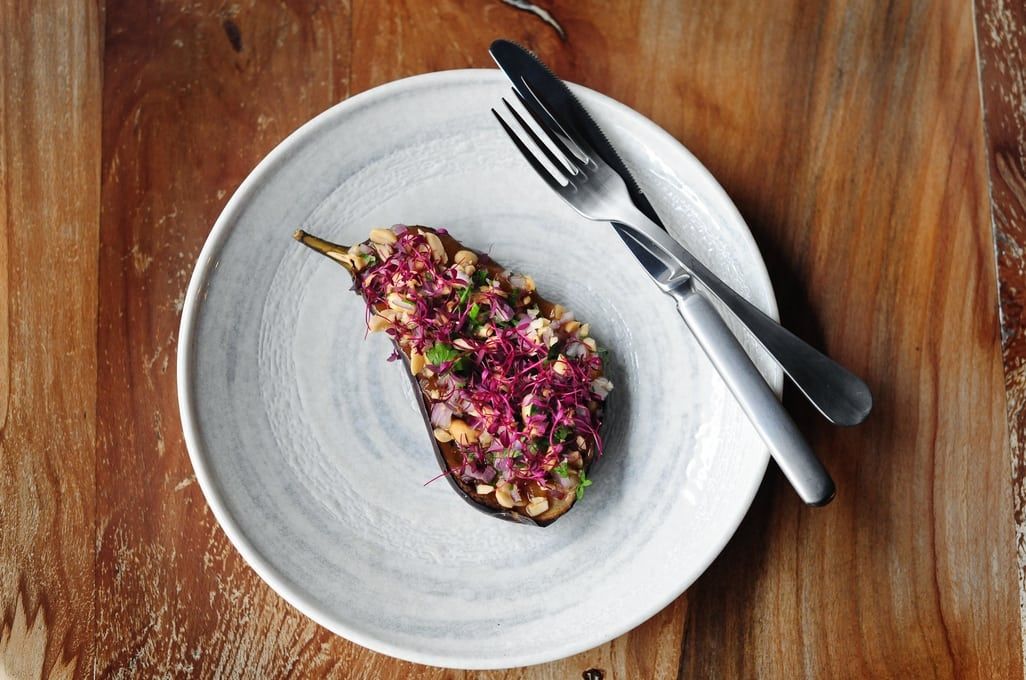 Flavour Bastard's website reads: "Take vibrant flavours from around the world; remove rules and traditions, add a bit of mischief & creativity and you have Flavour Bastard – a story of flavours running away from home." Glancing over chef Pratap Chahal's menu, it's again easy to become cynical. All of the dishes are intentionally inauthentic, some combining ingredients that don't even belong in the same kitchen, let alone on the same plate. Others, though, are actually quite ingenious. Bon-bons of deep fried chorizo, lentil and pecorino, masquerade as doughnuts, served in as a portion of three, with insalubriously decadent flavour that's makes the third worth brawling over.
'A cloud of curds, gram confetti, mint relish, guindilla chilli' reads like something that should be hung at Le Louvre or Tate Modern. Prettily presented, a puck of cooked yoghurt has a texture not dissimilar to chicken breast, though an acerbic lactic acid is an assault on the palate. Aubergine glazed with miso and mango, on the other hand, is delightful. Here, the less than pleasant texture of submissive aubergine is contrasted with a 'crumble' of peanuts and buckwheat, finely diced red onion, mint leaves and some yoghurt contributing to a resolutely Middle Eastern flavour profile.
Breast of goat is rolled and served with fiery gochujang slaw, mint and pomegranate seeds. The sourness of gochujang and pomegranate work in unexpected harmony, though the goat is tough to the point of inedibility. Considerably better, Tandoori Fried Chicken features chunks of chicken rubbed with Tandoori spice mix, coated in a light, well-seasoned batter and fried. The ideal middle ground between a chicken shashlik and fried chicken, it's baffling that nobody has though to push these particular boundaries with such success before now.
'Duck egg, triple cauliflower, pickled watermelon' is one of those particularly clever dishes, in so far as it's quite brilliant when each element makes its way onto the fork. Otherwise, slow-cooked, breaded duck egg and pickled watermelon are gruesomely incompatible. Perhaps the best dish tasted, the most flavour bastardly, in fact; a dish of mussels are embellished with Jerk spice, rum and Scotch bonnet chillies. A welcome retreat from white wine or tomato, the spice is surprisingly quite subtle, though the prevalent flavours are completely reminiscent of long, hot summers. The leftover puddle of sauce demands to be scooped up with an order of bread.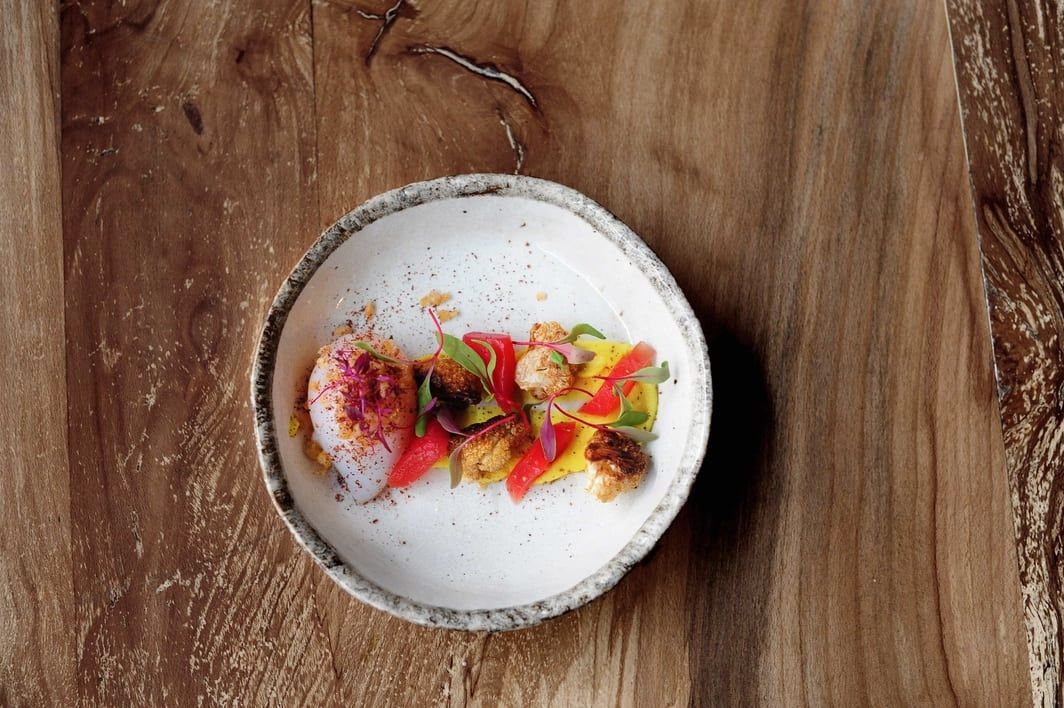 Finally, quinoa and cucumber pudding is spiked with vetiver and tastes like Harrods' main entrance. Topped with fistfuls of fresh berries, however, the tartness of raspberry and blueberry complement the pudding's unexpectedly enjoyable texture. Mayan-spiced milk chocolate and brownie mousse is a comparatively safe option. Rich, luscious and markedly decadent, the mousse is delightful enough to overlook the opinion-dividing lavender ice cream.
An outlandish addition to Soho's parade of restaurants, Flavour Bastard doesn't necessarily score with every given opportunity. Charmed by the better dishes, though, I've (controversially) come to admire the concept. Like nearby The Test Kitchen, the experimental ethos here deserves some respect for its boundary pushing, at the very least – manifesting itself as a fun restaurant genuinely unlike any other in London.
Flavour Bastard can be found at 63-64 Frith Street, London, W1D 3JW.
–

RELATED