With a long, colourful history, the hamburger has become one of the world's favourite fast foods. While the exact roots are much-contested, the US has become synonymous with the dish, with more than 40 billion burgers consumed annually. On this side of the Atlantic, however, London also has its fair share of exciting burger restaurants, with Burger & Beyond having recently joined the proverbial pile, opening a permanent site on Shoreditch High Street.
While minced beef has been enjoyed for centuries, most historical sources link the hamburger's earliest ancestor to 13th Century Mongol horsemen, who would stash raw beef under their saddles. After the ride, the pounded meat had become tender enough for the cavalry to eat raw; later taken to Russia and enjoyed as steak tartare. Once global trade had picked up, seafarers transported the dish to the port city of Hamburg, Germany, where heat was added to the equation, with the dish commonly referred to as a "Hamburg steak". Immigrants fleeing Europe for America eventually introduced the Hamburg steak to the United States, with New York restaurant Delmonico's considered the first establishment to feature the steak on its dinner menu during the 1830s.
Over the course of the late 19th and early 20th Century, an all-American innovation transformed the hamburger into the sandwich we know and love today, yet the exact origins still remain murky. Although loose variations of the dish had been served previously, Louis' Lunch in New Haven, is officially accredited by the Library of Congress as officially selling the first hamburger in the United States during 1900. White Castle, the world's first burger chain, followed in 1921, succeeded by the first branch of McDonald's Bar-B-Que in 1948.
Over the past 80 years, McDonald's have revolutionised Americanised fast food, initially focussing on a 15-cent hamburger. The brand's wide roll out and increasing popularity even inspired restaurant chefs, with the first recorded gourmet burger served at New York's 21 Club during the 1950s, made with duck fat and fennel seeds. McDonald's subsequently upped its game with the launch of the iconic Big Mac at the end of the '60s, further introducing the world to the burger while paving the way for the launch of countless high-end burger chains.
Since hosting a string of successful pop-ups, the eponymous specialties at Burger & Beyond have quickly become an Instagram darling of 2019. A denomination of social currency in the vein of Black Axe Mangal's squid ink flatbread or Din Tai Fung's xiao long bao, these glorious sandwiches are rivalling the local competition. Burgers are – of course – the main draw here, yet the 'beyond' part of the operation pays attention to side dishes and starters so often overlooked in 21st Century burger joints. Inside, the space is sympathetically lit, trendily decorated and affronted by a well-equipped bar. As is to be expected, service is casual with friendly staff members keen to make recommendations.
A recent dinner began with a round of Old Fashioned cocktails featuring rye and bourbon, plus almond syrup, which slipped down alongside dominos of pork belly – deftly fried like Spanish Chicharrónes yet showered with an overwhelming torrent of salt. You'll want to order a jug of water to accompany. Far better were a trio of black pudding croquettes (£6.50) with coarse breadcrumbs ensnaring marbles of soft, peppery black pudding alongside a punchy habanero relish. Lamb nuggets (£6) the size of a child's fist showcased lamb cooked to submission, flecked with diced carrot, which just managed to hold its structure under fried breadcrumb overcoat. A must-order.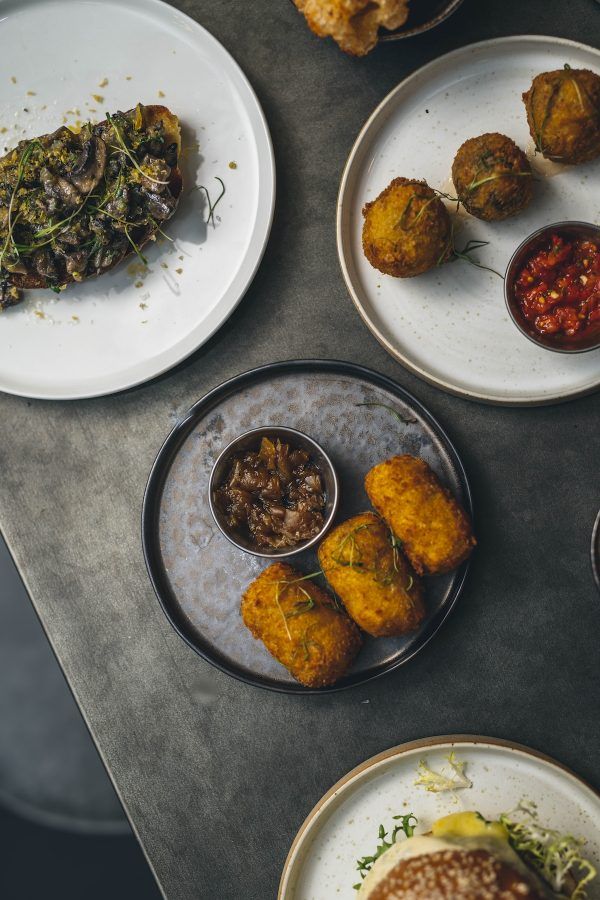 The restaurant's repertoire of burgers features a vegetarian, fish and fried chicken option in addition to three featuring aged patties using meat from the team's own farm (Herons Farm in Colchester). The Bacon Butter Burger and The Bougie Burg are both sinful barbicans of indulgence, towered with classic – albeit elevated – toppings. The BBB (£11.50) combines a beef patty aged for 60 days, double American cheese slices, salty pancetta, onions and an inspired burnt butter mayonnaise. The Bougie Burg, on the other hand, is the jewel in the menu's crown (albeit expensive at £16.50) with two aged patties, cold smoked American cheese, onions cooked in beef fat, bone marrow-infused mayonnaise and steak sauce which runs like gravy. Both are a sight to behold; they're messy but commendably hold their structure between robust buns.
On the side, Burger & Beyond's riff on Canadian poutine sees fries crowned with melted cheese and insalubrious bone marrow gravy (£6.50). Another triumph. Just two desserts are available, including a deep-fried blueberry pie with clotted cream ice cream (£6.50). A play on McDonald's deep-fried apple pie, this version's pastry was gratifyingly malty yet soft, packed with a sweet blueberry filling that's deeply comforting, much like everything else served at Burger & Beyond. At last, a feted burger establishment that goes above and beyond.
Header photograph: Lateef Okunnu
Burger & Beyond can be found at 147 Shoreditch High Street, London, E1 6JE.
RELATED
Review: StudMuffin brings exemplary comfort food to Pop Brixon