"At least this rain is very good for the grapes," announces Olympia Rizzardi of Guerrieri Rizzardi, a historic wine house in Italy's Veneto region. It's a wet Saturday morning and I'm perched under an umbrella, sheltering from the torrential downpour while traipsing the vineyards overlooking Lake Garda. Adverse weather aside, the Veronese countryside remains perfectly picturesque. Sun bleached marogne dry-stone buildings dominate the landscape, joined by rolling hills, Cypresses and Persimmons. Here, the grape yield is used to produce the winery's Bardolino Classico – a new addition to Ramada Plaza Milano's red wine list.
A short walk from the Linea Rossa Turro subway (on the same line as the iconic Duomo di Milano – a gothic masterpiece), Ramada Plaza Milano boasts a comfortable and convenient location for guests intent on exploring Italy's most fashionable city, rife with history and culture. All of the hotel's spacious rooms feature television sets, free WiFi and balconies alongside well-equipped bathrooms and in-room services available. A sauna, steam room and gym is also on hand, as well as an outdoor swimming pool and two on-site restaurants.
Curated by wine writer Jamie Goode, the hotel group has recently launched a new campaign: Say Hello to Red – "a colour that has come to symbolise the brand's warm and welcoming approach to hospitality". For this project, Jamie has worked with 15 hotels in countries such as the UK, Italy, Turkey, India and Romania; choosing red wines in six different styles (Pinot Noir, 'Lighter Reds', 'Big Reds', 'Fruity Reds', 'Warm, Spicy Reds' and 'Complex oak-aged reds') to appeal to a wide range of taste buds.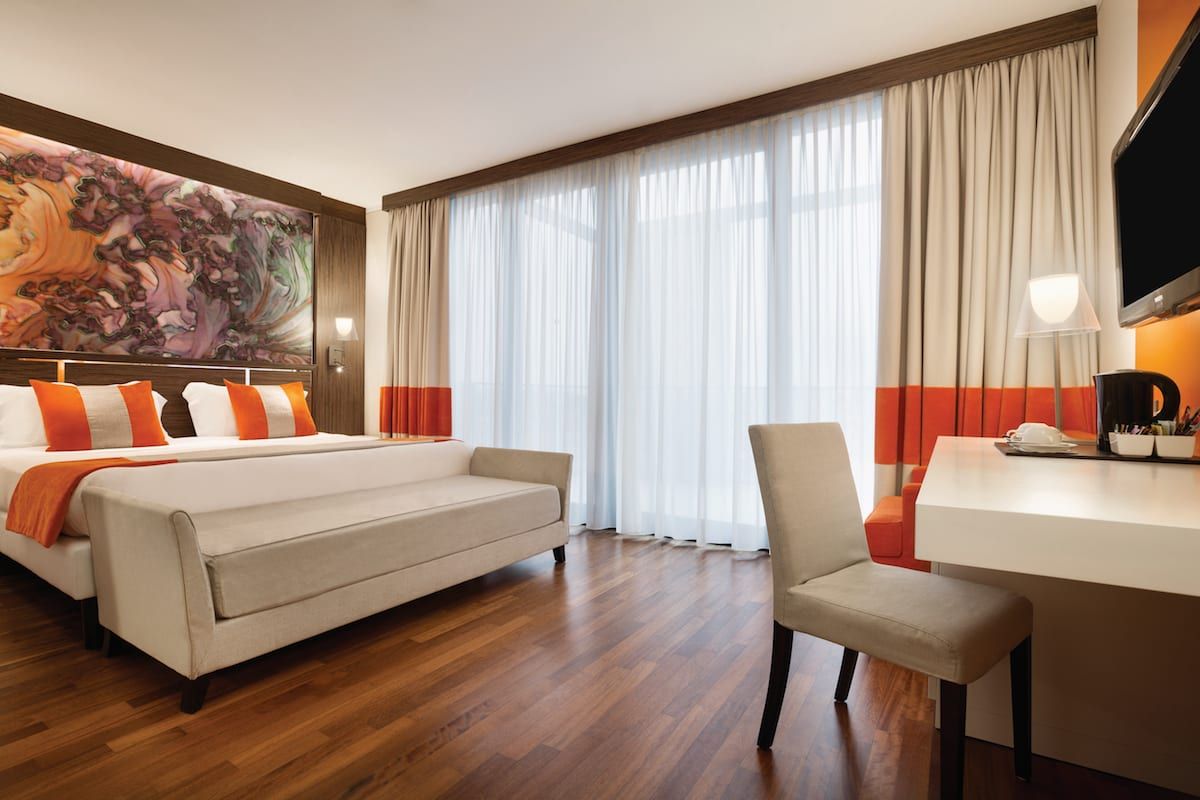 "Ramada and I decided to collaborate because we thought there was a good fit between a wine journalist like me – who spends 250 days a year on the road, travelling – and the Ramada brand, which is present in more than 60 countries and really encourages its guests to sample the world, travel and explore," Jamie explains. "It really has combined my passion for travel and wine and Ramada's passion for hospitality."
One of the world's most recognized hotel brands, Ramada by Wyndham boasts almost 850 locations in over 60 countries. Throughout the specially curated wine lists available at the 15 participating hotels, wines from countries as far flung as Italy, Argentina, Greece, Lebanon, America, New Zealand, Bulgaria, Israel and Macedonia are all celebrated, representing just some of the 60 international markets where Ramada can be found. From the selection served at Plaza Ramada Milan, Guerrieri Rizzardi's Bardolino Classico is the sole Italian label.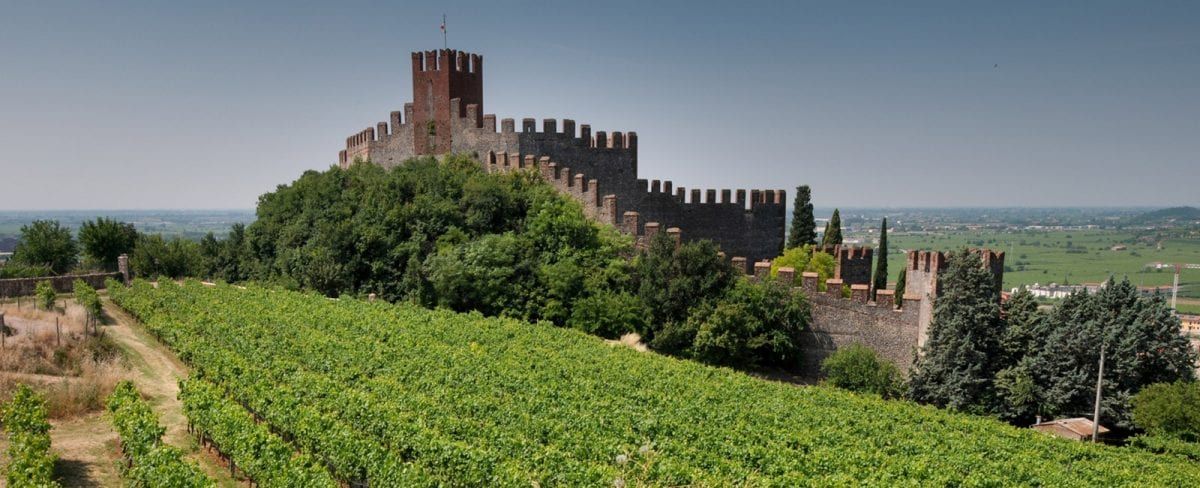 The result of the union between two ancient Veronese wine producers through marriage: The Counts Guerrieri, owners of a centuries-old estate with vineyards and cellars in Bardolino; and the Counts Rizzardi, who acquired their vineyards in Negrar back in 1649, Guerrieri Rizzardi was established in 1913, with their first wines produced in 1914. Producing estate grown fine wines from their historical estates, the wine house's website reads: "The relationship between our land, heritage and tradition has, for many years, moulded our philosophy, yet we never lose sight of innovation in our quest to produce a better bottle of wine."
With a small yield having become the cornerstone of their vineyard philosophy, reducing the quantity level to much lower than required by DOC law, Guerrieri Rizzardi believes in producing wines as an expression of the soil and grape variety, thus enhancing the unique personality and character of each wine. Throughout the estates, the region's best native grapes (Corvina, Garganega, Corvinone) are utilised, while other Italian and International grape varieties are used, as suitable to the soils. These include, but are not limited to, Barbera, Sangiovese, Merlot and Chardonnay.
In 2011, the company moved their main base to a new winery in Campazzi to coincide with a plan to re-locate and modernise the entire production. Situated within the hills of Bardolino, the centre of the DOC Classico zone, the winery comprises 99 acres of vineyards, cellars and a wine shop that's open daily. Within easy reach of the town of Bardolino, visitors are able to book guided tours of the winery, experiencing the entire winemaking process from the vineyard to bottling.
Divided into 35 different sites, the vines are planted with a density of between 2000 to 5000 per hectare, with the average age of vines approximately 18 years-old. Here, red grapes such as Corvina, Rondinella, Sangiovese, Merlot and Molinara are planted, with natural compost used to fertilise the vines. Once harvested, grapes from any of the estate's 39 Bardolino vineyards can be crushed within ten minutes, then gravity fed to tanks, ultimately preserving the freshness of the fruit vital to the success of Bardolino Classico wines. In the cellar, traditional practices are combined with modern techniques, using the minimum level of intervention. The work done in the vineyard thus vastly reduces the need for additional interference in the cellar.
Following a brief tour of the new winery, a tasting showcases six of the winery's reds. First, the estate's Bardolino Classico DOP has an aromatic nose of mixed berries. A particularly light red, the wine is typical of the style: easy drinking and approachable, food-friendly given its low tannins and high acidity. The Tacchetto Bardolino Classico DOP has a little more structure and spiciness, with a nose of darker fruits and a final Merlot roundness.
First bottled in 1982, the Munus (meaning "gift) Rosso Veronese 2016 has a grape blend of Corvina, Merlot and Ancellotta: well structured with aromas of dark berry, complete with grainy tannins and some oak. The Pojega Valpolicella Ripasso Classico Superiore is also slightly oaky, full bodied and rich, but not heavy, unlike both the Villa Rizzardi and Calcarole Amarone della Valpolicella; each rich and syrupy with relatively high alcohol content (16 per cent), made using grapes which are dried to produce more concentrated sugars.
Later speaking on Guerrieri Rizzardi's Bardolino Classico, Jamie Goode said: "I had tried this wine before and really liked it. It's a lighter, more floral style of red wine and it speaks of its place. It was a pleasure to visit the vineyard on our group trip to Milan. It always brings the wines to life, seeing where they are produced and who is responsible for the production and it being a family run business made this one extra special."
View this post on Instagram
Following the wine tasting, we head into Bardolino for lunch. After briefly exploring the quaint terraces with their Disneyland cleanliness, we take our seats at a large table in the upstairs tasting room at La Loggia Rambaldi. Occupying a 16th century building overlooking Lake Garda and Bardolino harbour, the space is home to a restaurant and pizzeria. Upstairs, the "cellar" hall is equipped with a repurposed country cart as a large banqueting table, adjoined to a lake-facing hall available for weddings or corporate events.
Lunch begins with a tartare of unequivocally fresh tuna embellished with caper berries. This is served alongside a glass of Guerrieri Rizzardi's Costeggiola Soave. Next, humble risotto favours local vialone nano rice, similar to Carnaroli, bolstered with raddichio and Monte Veronese – an intense cheese produced with cow's milk: another local speciality. This is accompanied by a glass of the winery's Pojega Ripasso, a rich, full-bodied red, aged in large oak barrels. Finally, a selection of Italian cheeses is paired with the Villa Rizzardi Amarone, a remarkably rich, bold, syrupy red with a sweet nose; well-aged and with high alcohol content at 16 per cent.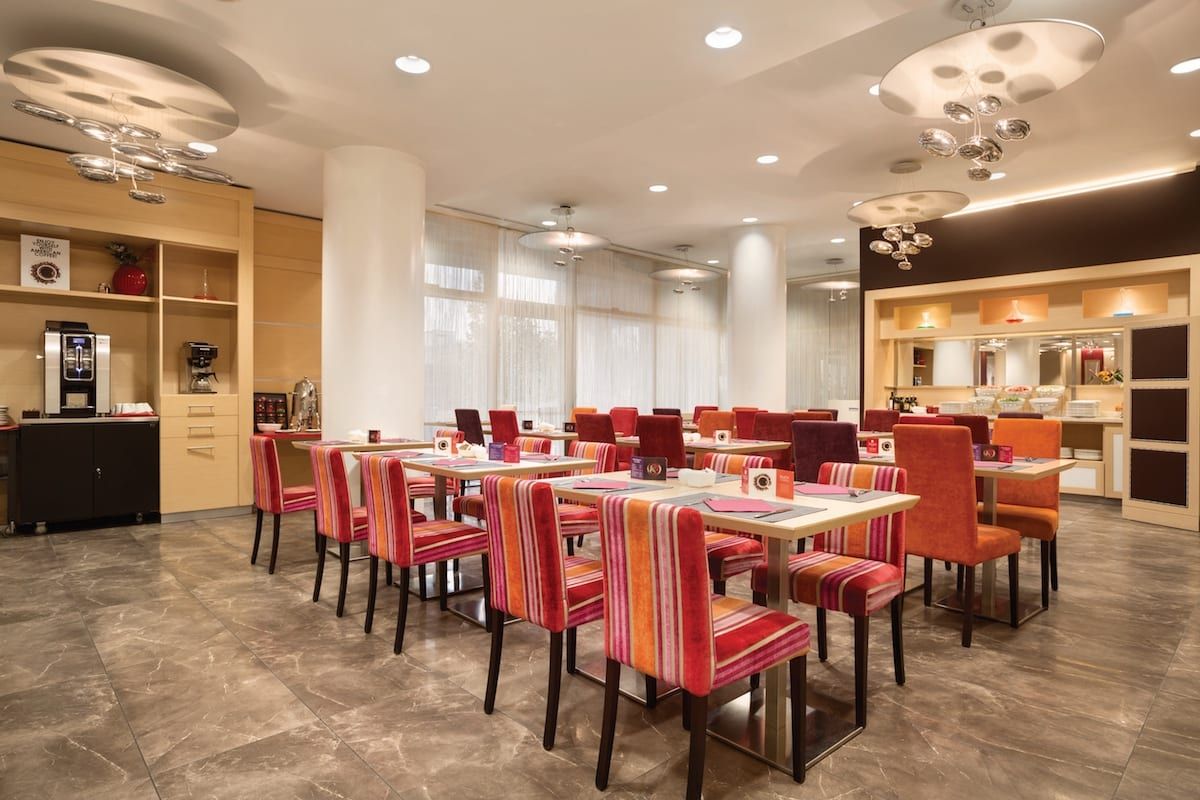 Back at the hotel, Jamie Goode hosts an insightful tasting of Ramada Plazo Milano's new wine list. All six labels are poured, served alongside a feast of Italian cheeses; simple pastries; cold cuts including bresaola and thick-cut salami Milano, plus chutneys and conserves of pear, onion or sundried tomato.
"The project development started with in-depth research into a broad range by breaking down red wine into six styles – it's not an exact science, but I think this sort of style distinction helps people have confidence exploring the world of wine more," Jamie explains, discussing the wine list collaboration.
"After these stylistic categories were decided, it was about selecting examples from some of the countries where Ramada has a presence, creating a really diverse and interesting list, also including countries not well known internationally for their wines. It's great to see the list really coming to life across various hotels from Turkey to Tanzania, Italy to India, which all have picked a mix of different styles based on my recommendations."
First, Calusari Pinot Noir, 2017 is the list's token Pinot Noir, sourced from Romania. "This is the most ethereal, pretty, and beguiling of all red grape varieties," Jamie describes. "Once you have succumbed to the charms of Pinot Noir, there's no going back. Pinot Noir is lighter in body and colour than many red wines, and good ones have beautiful floral perfume and bright cherry and raspberry fruit. It's hard to get right, but when it's good, it's amazing." This is followed by Guerrieri Rizzardi's Bardolino Classico then a 'big red' from Bulgaria: Minkov Brothers Cabernet Sauvignon Reserva, 2013 – a bold, fruity wine that's a step forward from Argentinian Malbec, Australian Shiraz or Californian Cabernet. While this isn't a particularly sophisticated or elegant red, the result is unremittingly pleasurable.
Trinity Hill Hawkes Bay Syrah from New Zealand follows, young (2017) and without too much oak influence, epitomising the direct flavours of sun kissed fruit. Kir Yianni Paranga Red Merlot Xinomavro Syrah, 2016, from Greece, is a particularly rousing wine. Complex with sweet fruit and exotic spices, this wine pairs well with bold, spicy dishes. Finally, Turkish Kayra Buzbag Rezerv, 2014, is similarly complex, this time through long ageing in oak barrels: concentrated and structured with profound depth.
Dinner in the hotel's main restaurant follows the wine tasting, featuring an archetypal local dish: ossobuco with risotto Milanese. Meaning 'bone with a hole' in English, a cross cut veal shank is slow cooked until submissively tender, placated with a bone harbouring rendered bone marrow – the jewel in the dish's proverbial crown. This is expertly cooked, lounging across a generous bed of risotto, al dente (as it should be) and coloured with an abundance of saffron. A culinary embodiment of the city, and a fitting accompaniment to Ramada Hotel's accessible new wine list.
Header photo: Guerrier Rizzardi | guerrieririzzardi.it
Rooms at Ramada Plaza Milano are priced at an average rate of €120 per room, per night, including taxes. Shuttle to city centre, parking, WiFi, gym and swimming pool access are all included. Access to the spa is included for executive rooms and suites on request. Further information can be found here.
Closer to home, Ramada Telford Ironbridge, Ramada Hotel and Suites Coventry, Ramada Hounslow Heathrow East, and Ramada London North M1 will also serve Jamie Goode's new 'Say Hello To Red' wine list.
RELATED
https://www.thelondoneconomic.com/travel/looks-more-like-blenheim-palace-than-tourist-resort-brewery-tour-of-northern-italy/29/10/
https://www.thelondoneconomic.com/travel/a-weekend-in-tuscany-the-perfect-foodie-getaway/06/04/
https://www.thelondoneconomic.com/food-drink/never-exciting-time-english-wine/22/09/