With plenty of exciting restaurant openings constantly taking place across the Capital, here's our pick of the best new restaurants arriving in London over the coming month.
Aster – Victoria
The latest restaurant from D&D London, Aster has opened at Nova Food next to Victoria station. Set across two floors, the space comprises a 161-cover café and deli, plus an upstairs 122-cover restaurant and cocktail bar. As for the food, the kitchen will be overseen by Executive Chef Helena Puolakka, having previously held the same position at D&D's Skylon. Drawing on the chef's Finnish heritage, the menu will have a Nordic focus, peppered with some classic French dishes and techniques.
In the café and deli, traditional Nordic delicacies such as fish roe, pickled herring and wild berries are available alongside typically Scandinavian cinnamon buns and Smörgåsbords such as shredded duck, cornichons, fig chutney and sourdough. Upstairs, some more refined dishes are on offer, including Arctic char and hot smoked Greenland prawns with aubergine caviar and dill; and Pyrenean lamb shoulder with January King cabbage and lingonberry. What's more, Aster will host a monthly experiential dinner – 'Series of Senses' – exploring the five senses. Held in the private dining room, these five course menus will aim to capture the Nordic-French spirit at the heart of the restaurant.
Aster is open now and can be found at 150 Victoria Street, London, SW1E 5LB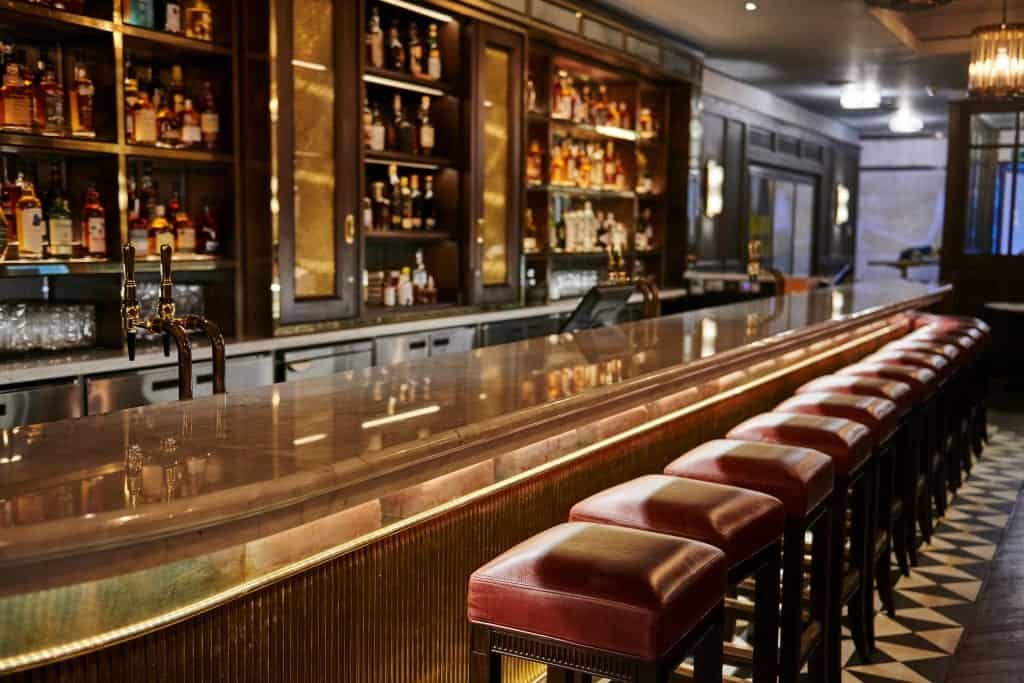 Following the opening of Jamie Oliver's Steakhouse/Butcher's in the One New Change shopping centre overlooking St Paul's Cathedral, the second incarnation of Barbecoa will open on Piccadilly this month. Taking over the building that originally housed the Royal Institute of Painters in Water Colours, Barbecoa Piccadilly will be open all-day, serving simple but elegant Anglo-French dishes with a prominent focus on primeval cooking with wood, smoke and fire. What's more, with an open kitchen that boasts a Japanese robata grill, a Spanish Mibrasa charcoal over, an Argentinian grill, a Tandoor oven and Texan smoker – Barbecoa Piccadilly's kitchen is amongst London's best equipped. Like the original Barbecoa restaurant in the city, the new space will have a strong focus on steak, with all of the meat served coming from free-range, grass-fed animals and dry-aged between 35-55 days. In addition to steak, a number of alternative dishes will be on offer, including coal-roasted lobster thermidor, smoked and grilled poussin, plus seafood served from the cold bar. Barbecoa Piccadilly will also serve breakfast as well as putting their own stamp on Afternoon Tea.
Barbecoa Piccadilly is set to open on Monday 13th February and can be found at 194 Piccadilly, London, W1J 9EX.
Following last year's opening of the latest Bone Daddies on Old Street, two new outposts are set to launch in 2017. A restaurant at the NOVA development in Victoria is planned for the spring, while a Marylebone site will open this month. Taking over a venue on James Street, the latest opening of Bone Daddies will serve a selection of robata and wok dishes exclusive to the new site, plus some of the restaurant's much loved favourites. Classic ramen, rich pork bone broth Tonkotsu and 'Sweet Spicy Pig Bones' will be on offer, while a selection of new dishes will be available from a Kushiyaki section, featuring skewers of ingredients such as chicken, ox cheek, salmon, prawns and marinated shiitake mushrooms. In addition, dishes from the wok including Yaki Soba and vegetarian Chahan (egg fried rice, shiitake mushrooms, pickled ginger and ao nori) will be new and exclusive to James Street. All of these can be washed down with a strong selection of Japanese beers, cider, sake and wine.
Bone Daddies is set to open on Friday 10th February and can be found at 46-48 James Street, London, W1U 1HA.
Tucked away on a leafy side street close to Barons Court tube and Queen's Tennis Club, The Colton Arms is set to re-open this month. Set to launch on Thursday 9th February, The Colton Arms will offer an eclectic all-day dining menu comprised of British classics alongside some modern European dishes. Expect quintessentially British black pudding sausage rolls and Scotch eggs, plus 'signature' dishes of burrata and blood orange; beef shin ragu with pappardelle; and hot smoked mackerel Nicoise. In addition, brunch will be served daily with dishes including buckwheat pancakes; avocado on toast; and eggs Royale or Benedict. Not forgetting the venue's heritage, the pub's cellar will feature a regularly rotating roster of craft beers and reasonably-priced wines and cocktails.
The Colton Arms is set to re-open on Thursday 9th February and can be found at 187 Greyhound Road, London, W14 9SD.
Another new opening in Victoria, Lorne Restaurant is the first restaurant from sommelier Katie Exton (River Café, Chez Bruce, The Square) and chef Peter Hall (Brawn, Benu, The Square). Born out of the pair's desire to share their love of restaurants, the aim at Lorne is to showcase a true collaboration between front-of-house and kitchen, and to create a fun space where food and wine sit as equals. On the menu, a number of modern British dishes will be available with a prominent focus on seasonality and produce. Expect dishes such as 'Mackerel, Pickled Cucumber, Ratte Potatoes, Nasturtium'; 'Short Rib Beef, Onion, Pears, Cavolo Nero'; and 'Chocolate Crémeux, Salted Caramel, Peanuts'. The wine list, on the other hand, will be concise and regularly changing, driven by the motivation to make fine wine more accessible in restaurants. Wines will be sourced from all over the world and will have reasonable mark-ups. The wine list will be joined by a seasonally changing cocktail list and a selection of London-brewed beers.
Lorne is set to open in February and can be found at 76 Wilton Road, London, SW1V 1DE.