Whoever said romance is dead?
Pie-eyed Nigel Canning, 37, spent two months building a homemade Christmas advent calendar with a difference for his girlfriend. Every day reveals a Fray Bentos pie behind a different door.
–  With two steak puddings for Christmas Day.
Nigel proudly presented partner Nikki Barton with the huge tinsel and fairy-light clad construction for her 38th birthday this week as a surprise gift.
The 15,000 calorie treat – which weights more than two stone – is made with 25 tinned meat treats bought from B&M for £1 each.
Romantic Nigel admits that Nikki "doesn't even like pies that much" – but he loves them and is looking forward to tucking into one every day.
Nigel, a production assistant, made the 'pie in a tin' advent calendar from 25 cardboard boxes he taped together.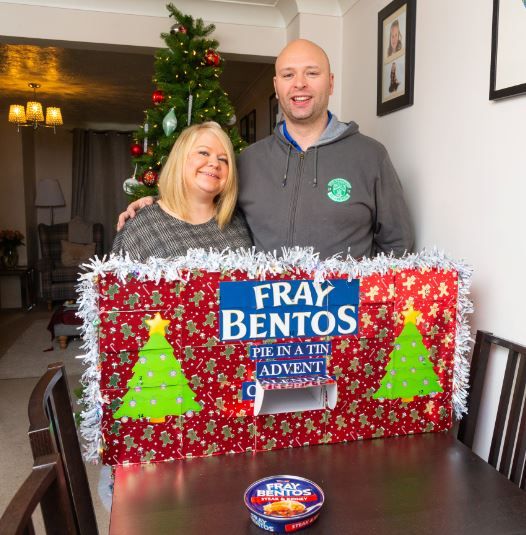 Each has a little door with a number on, and is covered in festive wrapping paper, and filled with a 500 calorie tinned pie.
Childcare worker Nikki said: "I was gobsmacked. It was just hilarious when I first saw it.
"I didn't take offence to it because I know he's only doing it as a joke. That's the sort of person he is.
"I never thought in a million years that he'd come up with something like that. He's obviously put a lot of effort into it."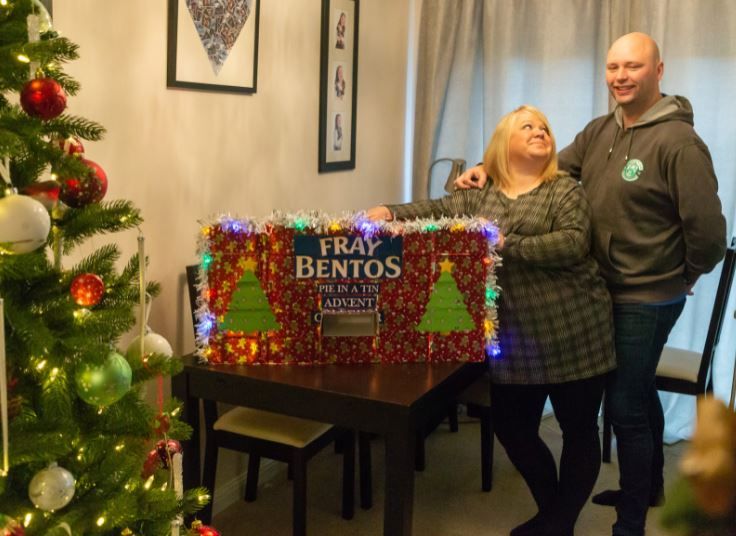 The advent calendar has now taken its pride of place on the couple's dining room table in Didcot, Oxfordshire.
Nikki added: "I haven't had any of the pies yet. I don't mind one every now and again but 25 is a bit much.
"It's definitely unique and a bit different to a classic chocolate calendar."
Nigel said he was inspired after his girlfriend of two years got him a pork scratching advent calendar last year.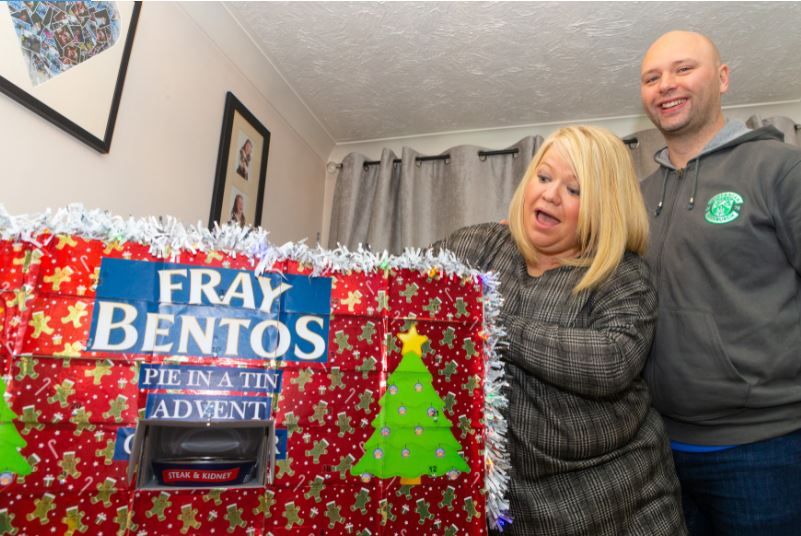 "After she got me that I didn't want to just get her a chocolate one," he said.
"For Christmas last year I got her a Fray Bentos pie as a stocking filler as a joke.
"It was all wrapped up and she pulled it out and said 'what the hell is this?'.
"There's no real reason for it at all. I remember eating them as a kid and they were just so convenient.
"It's just a bit of a joke. I can't imagine she's going to sit down and eat a pie every morning."
Nigel admitted he was slightly nervous before handing it over.
"I thought she'd either love it or I'll end up wearing it", said Nigel.
"She has no fondness of pies as such and I just hoped she didn't take it the wrong way.
"I find the whole thing hilarious. We have got that sort of relationship where we have fun.
"A couple of people have said to me that she might take offence to it but I've worked hard on it.
"She will laugh it off, I'm sure of it."
Nigel spent just £30 building the advent calendar for his girlfriend and joked at how there was a "gap in the market" to exploit with his creation.
By Ben Gelblum and Jack Longstaff