Christmas is a time for indulgence. Though turkey is most commonly associated with British Christmas dinner, the bird wasn't introduced until the 16th century, with Henry VIII the first British monarch to have enjoyed roast turkey on Christmas Day. Before that, goose was far more popular, while the rich generally enjoyed peacock or swan (both unavailable today).
Over the past 500 years, turkey has witnessed a rapid increase in popularity, but in 2017 many families are turning to alternative meats; beef, duck, three-bird roasts that have been frozen and held in warehouses since last Christmas and even the one before. Goose has also become largely celebrated, once again. Though infinitely more exciting than ultra-lean turkey, goose is notably fatty, expensive and frightens many home cooks. Let's not forget that goose can (and should) be served pink, so it's much harder to overcook than turkey, and there's no excuse for dryness.
Having already experimented with a Christmas classic this year (C.Lidgate have launched their own meaty mince pies, inspired by a medieval recipe), one of London's oldest butchers has also launched a unique 'Golden Goose'. The ultimate sign of opulence during 16th century banquets, gilded roast birds would make spectacular centrepieces for the dinner table, also enjoyed by Henry VIII. Hand selected from Seldom Seen Farm in Leicester, each of C.Lidgate's free range geese are delivered with 24 carat edible gold leaf, for customers to apply once the bird is cooked and rested.
In collaboration with AmazonFresh, C.Lidgate's 'Golden Goose' kit, including a 4.5-5kg goose (enough to feed 5-6) and edible 24 carat gold leaf sheets is available in 302 postcodes across London, Surrey, Hampshire, Bedfordshire and Hertfordshire. AmazonFresh offers a fast, flexible delivery service, with one-hour delivery slots. Here, produce is available from some of London's best local producers, shops and markets, including GAIL's Artisan Bakery, PRESS, C.Lidgate, Paxton & Whitfield and more.
Speaking on gold gilding, Annie Gray, TV Food Historian and research associate at the University of York said:
"Gilding food has long been a mark of tremendous prestige, showing off wealth and the skills of one's cooks. Gold not only looked good in and of itself, but it reflected the light from fires and candles, glittering across the table and competing with the rich jewels and gold-and-silver-embroidered clothing of the privileged diners around it. In the medieval and Tudor era, gilded roast centre-pieces were the ultimate showstopper on the winter feast table. A cheaper option was to use paste containing saffron or safflower, but nothing beats real edible gold."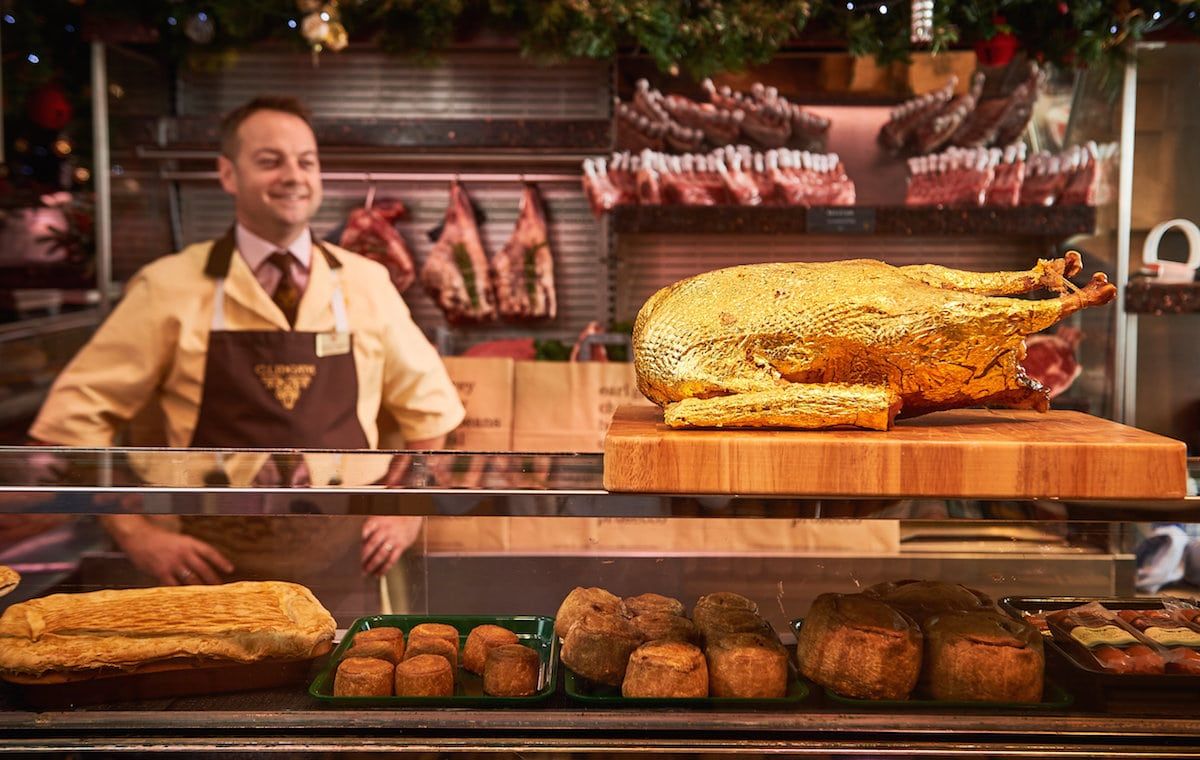 Fifth-generation family butcher Danny Lidgate, Managing Director of C.Lidgate added:
"Rich, buttery and packed with flavour, roast goose is a great Christmas day alternative to turkey. Customers are constantly seeking out food that not only tastes great but also looks great too. What better way to achieve this than by using high-quality edible gold leaf to astonish your guests this Christmas."
Moreover, Danny Lidgate has also provided a simple 'at home' recipe for preparing the golden goose this Christmas. From experience, the gold leaf application is fiddly and requires patience, but the stunning presentation worthy of Salvador Dalí's Les Dîners de Gala, makes the effort completely worthwhile. I'd also recommend removing the goose from the fridge around six hours before cooking, allowing the skin to dry a little, which will allow the skin to achieve optimum crispness in the oven. Also, don't waste the excess fat, it'll keep in the fridge for about a week and will yield perfect roast potatoes.
How to cook the goose
Cook the goose at 190 degrees Celsius for two and half hours, until the juices run clear or until the bird has an internal temperature of 80 degrees Celsius.
Allow the goose to rest for 10 minutes until the skin has cooled a little.
To apply the edible gold leaf
Once the skin has cooled, after approximately 10 minutes, and before carving, the edible gold leaf should be applied. Ensure there isn't a breeze before you begin the process. Be very careful, work slowly and with a little assistance the gold should come away from the paper to create the desired effect.
Start from where the front wing meets the breast part of the goose, by laying down the sheets of edible gold leaf.
Once both breasts are covered as much as possible, start laying the edible gold leaf on the thickest part of the drumstick (rear legs) moving to the sides of the goose afterwards.
C.Lidgate's 'Golden Goose' kit (£98.50, 4.5-5kg goose, serving 5 to 6 people, with 24 carat edible gold sheets) is available from AmazonFresh. Further information on C.Lidgate can be found here.
An instructional 'how to' video can be found here.
Header photo: Simon Jacobs
RELATED
https://www.thelondoneconomic.com/food-drink/lidgate-meat-mince-pie/15/11/
https://www.thelondoneconomic.com/food-drink/international-christmas-dinners-london/06/12/
https://www.thelondoneconomic.com/food-drink/chippy-owner-created-giant-foot-long-pig-blanket-christmas-treat-customers-1000-calories/03/12/
https://www.thelondoneconomic.com/food-drink/the-future-of-master-butchery-isnt-bleak-as-it-seems/02/04/