French socialites like Elsie de Wolf, Marie Antoinette and Geneviève Lantelme certainly knew a thing or two about throwing timeless, sophisticated Parisian soirées.
Our French neighbours embrace food as a way of life, spending hours enjoying gastronomic delights with good company and even better wine.
From delectable morning mainstays to the importance of embracing flavours, here's Côte Brasserie's tips on how to enjoy the most important meal of the day and breakfast like a French socialite. Bon appétit.
Eat Fresh
Beautifully crafted tartines with butter and jam, croissants and other flaky delights, paired with an orange juice and perhaps a coffee — this is the usual formula for a French breakfast.
But to eat in true French fashion, the ingredients must be fresh and natural. Junk food isn't part of the French way of life. Each meal is to be savoured and snacking just isn't part of the culture.
Pursuit of Pleasure
French culture sees a meal as an important moment in the day, something to be cherished as much as conversation. It's all about taking pleasure in what you're eating and setting the time aside to fully enjoy yourself.
There's a common French saying: "mangez bien, riez souvent, aimez beaucoup", which means "eat well, laugh often, love much". This perfectly sums up the nation's approach to food.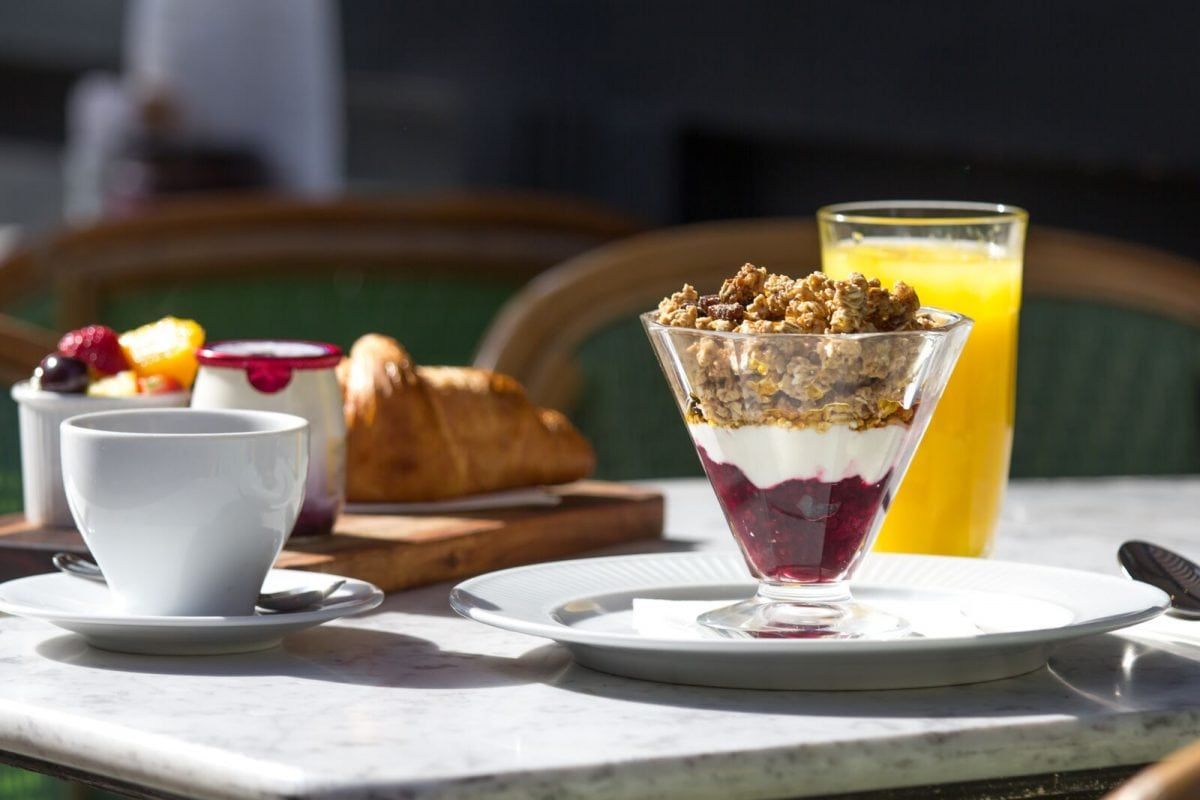 French Favourites
The country is famed for its wide selection of cheeses, like Roquefort and Camembert – and for good reason. No French breakfast is complete without a slice of these fermented favourites.
Eggs have not always been a breakfast staple in France, but times are changing and the humble egg is now making its way from lunchtime menus to the breakfast table. Delicious dishes like eggs royale and cheesy crêpe complète are fast becoming breakfast essentials.
The French also have a penchant for crunchy granola oats, and their soaked version, Bircher. Granola is perfect if you're looking for a lighter breakfast option and want to steer clear of the butter-rich pastries.
Love Affair With Chocolate
In France, chocolate is not something to be binged on. In fact, it's seen as something of an art form, something to admire and appreciate.
The decadent breakfast pastries, or viennoiseries as they are known, like pain au chocolat or chausson aux pommes, are generally reserved for weekends in France. But that doesn't mean you can't treat yourself in the week.

Less Is More
In France, meals tend to be smaller, and while they don't scrimp on flavour, the portions are carefully considered and rarely supersized.
This goes back to the attitude of enjoying your meal, savouring every bite and taking the time to fully appreciate the food and the effort that has gone into crafting it.
Eat Al Fresco
The French know that there's nothing better than sitting outside on a sunny day, taking in the views while enjoying a delicious meal. Dining al fresco is an incredibly relaxing way to start the day, surrounded by like-minded people looking for the very same atmosphere as you are.
Embrace Different Flavours
France is rich with different ingredients, flavours and delicious variations of classic dishes. The French attitude to food is all about seasonality, regionality and diversity. It's also about embracing new flavours, trying different dishes and putting a twist on the classics.
So, what are you waiting for? Next time you want to breakfast in style, why not try dining like a French socialite?  
Words: Melissa Christian
RELATED
https://www.thelondoneconomic.com/food-drink/londons-best-french-restaurants/10/07/