Competitive eating may not be unusual in the US, they even have their own governing body called Major League Eating. But before the success of TV show 'man vs food', food challenges were not readily available in London.
However, recently more and more have been popping up.  In the US, food challenges involve anything from 54" x 54" pizza to a burger made up of 8 half pound patties. What is London bringing to the table? If signing a waiver before tucking into your hot wings sounds right up your street let's take a look at London's offerings of the hardest food challenges….
The Two-Foot Sausage Roll Challenge at the Country Arms, Wandsworth
The challenge: 24 inch (two-foot) sausage roll
Time limit: 5 minutes
Reward: Free meal and challenge t-shirt
The Wonder Café Challenge at Wonder Café, Hillingdon
The challenge: The biggest fry up you can find – 4 fried slices of bread, 4 slices of toast, 4 fried eggs, 6 sausages, 6 rashers of bacon, 6 hash browns, 4 slices of black pudding and not forgetting cooked tomatoes, mushrooms and beans!
Time limit: 45 minutes
Reward: Free meal if completed
The Naga Viper Chilli Challenge at Red Dog Saloon, Hoxton
The challenge: 6 chicken wings drenched in naga viper chilli sauce. The sauce is that hot you are required to sign a participation waiver and wear gloves
Time limit: 10 minutes, with an extra 5 minute 'burn off' period where you CANNOT leave the table.
Reward: Your photo on the hall of fame
Blues Kitchen, Shoreditch
http://theblueskitchen.com/shoreditch/
The challenge: Eat as many hotdogs as you can
Time limit: 30 minutes
Reward: Free meal for two people at Blues Kitchen
Tank and Paddle, Bishopsgate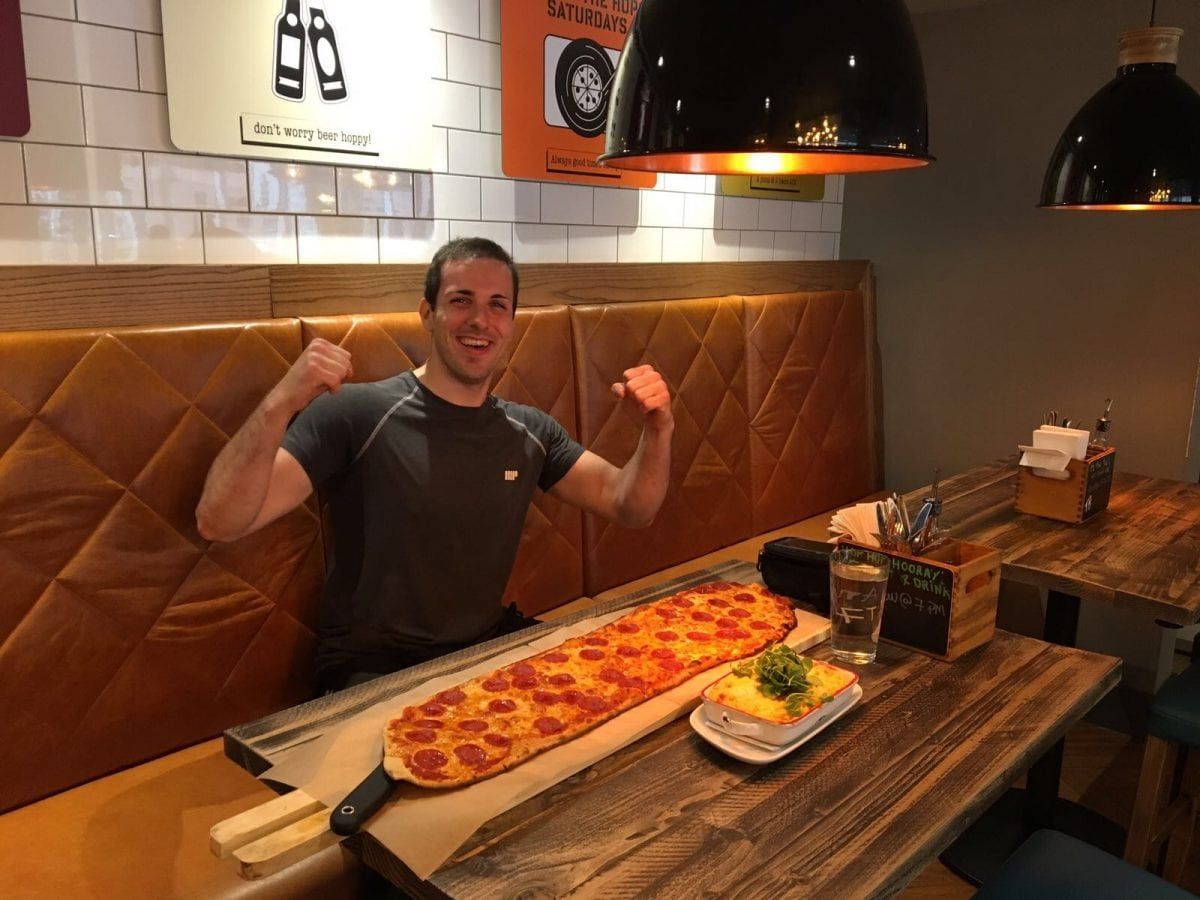 http://www.tankandpaddle.co.uk/
The challenge: Dude vs Dough. A metre long pizza with toppings of your choice and one full side of mac and cheese
Time limit: 15 minutes
Reward: £20 entry fee back and a £20 bar tab