We film fans often complain about the lack of originality in what the American film industry puts out. One major focus of this irritation tends to be the Americanised remake. At times it can seem like whenever we see an interesting film in a foreign language it is only a matter of time before some studio will come along to reshoot it in English, often while ironing out all the things that made it challenging and interesting – all the things we liked about it – to begin with. We've seen it in horror cinema for years, from J-Horror reduxes like Pulse, Dark Water, The Grudge and The Ring to more recent remakes of new French extremity classics Martyrs and Inside. However, it's not as though this trend is confined to horror. In the pipeline are remakes of The Kindergarten Teacher, The Raid, Gloria and Toni Erdmann, among others. We're hyper-aware of the trend now thanks to social media, but it's not as if the practice is new, and today we're looking at one of the remakes that sticks closest to its foreign language template: John Badham's take on Luc Besson's Nikita, known to US audiences as Point Of No Return and UK audiences as The Assassin.
Both films centre on a young woman (Bridget Fonda's Maggie or Anne Parillaud's Nikita) convicted of murders committed during a break in in which she and her friends were seeking drugs. The world believes that she's dead, but a mysterious man (Gabriel Byrne / Tchéky Karyo) offers her a chance to train as an assassin for the government. After training she's sent to live in the real world. She establishes a small but happy life with a boyfriend (Dermot Mulroney / Jean-Hugues Anglade), but that happiness is threatened when she has to begin going on missions.
John Badham's film is all but shot for shot and word for word identical to Luc Besson's for the first 75 minutes. In the third act, slightly strangely, it hits on many of the same specific images, but finds a rather more direct route to them. Watching the films back to back is an exercise in deja vu, and which you prefer will largely come down to personal taste. Badham's film is a bit more spacious, thanks to a larger budget. The training facility feels more like a major government programme in the American film, whereas it could easily be off the books, housed in any repurposed warehouse, in the original. Neither film gets into the inner workings of the programme, but both of these ideas are interesting and reflective of the larger differences between the films. The difference in budget also shows itself in Nikita / Maggie's first mission as a full operative, with the American film opting to show us an explosion, where Besson's leaves more mysterious exactly what Nikita has done. That's perhaps a good metaphor for US remakes of foreign films as a whole.
As close a remake as it may be, Point Of No Return stands on its own, and it's worth looking at it more closely without simply comparing it to its source material. John Badham is not a great stylist or an auteur, but he has had a long lasting career as an efficient director, often of action films. This is the film of a craftsman rather than an artisan, the action scenes are solidly executed, with a few flourishes and the third act allows Badham to create a few set pieces of his own, particularly a nicely extended moment that traps Maggie and the 'cleaner' played by Harvey Keitel under a car.
The casting is largely good all round. As 'Bob', the operative who recruits Maggie, Gabriel Byrne has a charm that can play as slightly creepy in the intensity of his gaze towards Fonda and also give way to a threatening intensity. Harvey Keitel, as the 'cleaner', anticipates his better remembered role in Pulp Fiction, creating in short order a character whose ability to make problems disappear is truly ruthless. The other memorable cameo comes from Anne Bancroft, whose character has to refine Maggie, to make her 'a lady'. It's underexplored (as it was in the original), but the inference that she used to be in Maggie's position is an interesting one. Among the supporting cast it's only Dermot Mulroney who disappoints, a bland actor with a role only slightly better defined than its Nikita equivalent (at least here we get to see him doing his job, and the story makes him seem slightly less hopelessly naive for believing Maggie's cover story), he doesn't really convince as Fonda's boyfriend.
However, the film doesn't really rest on the shoulders of any of these people. This is Bridget Fonda's show. Fonda seems unlikely casting for Maggie. Radiantly beautiful, she was often cast as the girl you fervently wish lived next door. Sometimes (as in Shag or Doc Hollywood) she was flighty and flirty, sometimes (Singles) insecure and sometimes (It Could Happen To You), the pure Hollywood ideal of the girl next door. Playing a character who starts her journey as a strung out drug addict, kicking against authority at every opportunity, only to develop a conscience just as she becomes a professional killer, is something of a departure. Maggie's love of Nina Simone, not present in Nikita, feels like something that comes from a more typical Fonda character, and it acts as a humanising trait in early scenes in which Maggie is all violent energy, kicking out at every opportunity. Though slender, not someone you'd see as a threat at first glance, Fonda captures that violent energy.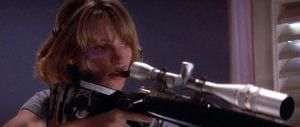 In the early scenes we can see something of the softer Maggie that is moulded by her training. It comes through in her music and in her humour. She catches her karate instructor off guard with a mock Bruce Lee routine, before kicking him square in the balls, smirking… the process is incomplete at that point. Equally, after the transformation is theoretically complete, Fonda retains some of the edge of the earlier Maggie, it's there in her prickly refusal to answer her boyfriend's personal questions and in the moment she kisses 'Bob', before turning to him and saying, cold as ice, "I'll never kiss you again". Fonda's performance is deceptively detailed in its combination of the earlier Maggie and some aspects of her training making her an efficient killer and her training with Bancroft's character and falling in love reforming her, helping develop a conscience she didn't have on drugs. Throughout, she makes us feel the push and pull of her new life and the price she's paying to have it. Overall, I prefer Fonda's version of the role to Parillaud's more hysterical take on the part. As the film unfolds, Fonda's Maggie turns more of her old persona inward, and her version of the character seems to evolve more.
25 years after this film, and 15 since her last cinema release (the Jet Li starring Kiss Of The Dragon, featuring Nikita's Tchéky Karyo as the villain), there is perhaps no actor I miss seeing on screen as much as Bridget Fonda. She consistently grew as an actor throughout her career, turning in her best work in Sam Raimi's still underrated neo-noir masterpiece A Simple Plan. Following an awful car crash and the birth of her son with Danny Elfman she seems to have no plans to emerge from retirement, this film is one of many great reminders of why I wish someone would write her a part she simply can't turn down.
On a larger scale, it's almost impossible to look at Point Of No Return entirely in isolation, as it gets most of its virtues and most of its issues from its source. The asinine sequence of Maggie apparently being unaware of how supermarkets work, following a woman around and piling her own trolley high with all of the same items is lifted directly from Nikita, right down to the fact that the first item she buys is tinned ravioli. It makes just as little sense here as it did there. First of all, why would she not know how to shop for food, and secondly, if she didn't, why would she not be trained in that before leaving the facility? Equally though, Badham lifts the fantastic action sequence as Maggie escapes the restaurant where her first hit takes place almost shot for shot from Besson. That said, he does effectively extend the first half of this sequence, drawing out Maggie's approach to her target, and focusing on how the small framed Fonda is dwarfed by the hand cannon of a gun she has been given for the assignment. Badham also brings in Maggie's love of Nina Simone, given an added resonance when she is given her operational name "Nina". There's a subtext to this; a corruption of the one thing the film uses to humanise Maggie in the early scenes, which gives the code name a weight, an obscenity, that it doesn't carry in Nikita.
When, in the third act, Badham departs more from Besson's film, his version is more straightforward. The aims of the final hit are better defined and the focus more squarely on Maggie, rather than letting her, late in the film, recruit an entire team of new characters to assist her. For me, the dynamics of the scenes work better in Point Of No Return.
There's really no right or wrong answer to whether Nikita or Point Of No Return is the better film. Both are flawed, often in the same ways. For me Point Of No Return comes out on top thanks largely to Bridget Fonda's performance, but I concede that visually Besson's film – inevitably much more of an auteur's piece – is the more arresting most of the time. If you like one you'll almost certainly like the other, and I think there is enough to choose between the film's two leading performances that both are well worth seeing. Perhaps not within two days of each other though.
RELATED
https://www.thelondoneconomic.com/film/flashbacks-to-93-cb4/13/03/